The Flyers will soon part ways with Steve Mason. The team raised some eyebrows when they re-signed Michal Neuvirth last season despite Mason's superior performance—especially during the Flyers' 10-game win streak. Many then expected the team to trade Mason by the deadline, which didn't happen.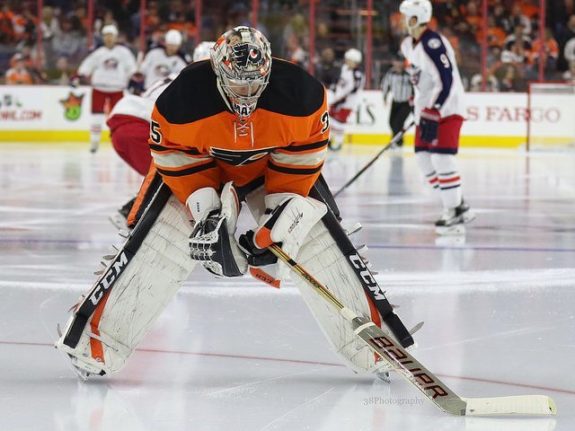 As we approach the 2017 NHL Expansion Draft, we now know that the Flyers have left both Mason and Neuvirth unprotected in favor of Anthony Stolarz. What we don't know is what the Flyers will do next.
Mason's Ups and Downs in Philly
While few would argue that Neuvirth is the better goalie, fans shouldn't lose any sleep if Mason walks. Sure, his 104 wins are the third-most among all Flyers goalies, and his .918 save percentage ranks second among Flyers goalies with at least 50 games played. But other than his admittedly stellar 2014-15 season (2.25 GAA, .928 SV%) while on a bad Flyers team, he hasn't done enough to cement his spot on the roster. And rumor suggests that Hextall might not be the only GM who feels that way.
https://twitter.com/rumorbreak/status/874808986830331904
Mason's numbers since his first full season in Philadelphia are mediocre compared with the rest of the League since then: His 100 wins rank 17th, his .917 save percentage is tied for 21st among goalies with at least 50 games played, and his 2.47 goals against average ranks 29th. To be fair, his five-on-five numbers in that span are among the best in the NHL. But based on his generally streaky play and the team's current situation, Hextall has apparently decided to look elsewhere.
Mason has been described as a head case, which might be why he'll likely be looking for a new job. After winning the Calder Memorial Trophy and earning a Vezina nomination with the Columbus Blue Jackets in 2008-09, his play fell off.
Working with goaltending coach Jeff Reese in Philadelphia, though, he was able to turn things around. But late in his incredible 2014-15 season, Reese quit, apparently because of the way the club was handling Mason's injuries. Mason seemed to lose his new-found confidence as a result and his play declined in each of the two seasons since. He was at his worst during the stretches when the Flyers favored Neuvirth, even when Mason was the better goalie. This led to criticism that Mason couldn't deal with competition.
Where Do Mason, Hextall Go From Here?
Hextall hasn't ruled out re-signing Mason, but Mason's agent considers that unlikely.
"In all honesty, he would have hoped the Flyers would have been interested enough to enter into contract negotiations with him right now, but they didn't, so you move on. That's business." Anton Thun (Sam Carchidi, Philly.com)
If they don't re-sign him, what will the team's next step be?
Mason might not be an elite goalie, but he is a solid NHL starter. Trading him would've been preferable to letting him go for nothing, but it shouldn't be hard for the Flyers to find a serviceable replacement. They could even land a significant upgrade thanks to the expansion draft.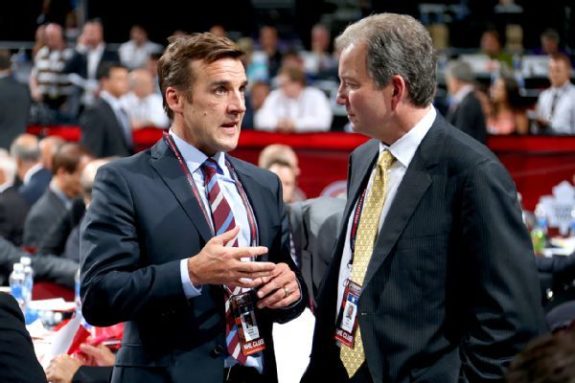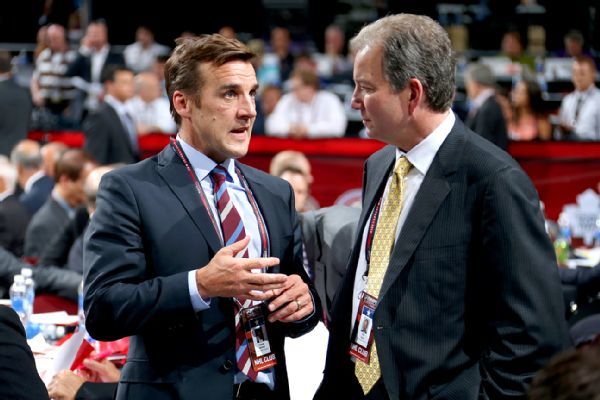 Rumors that Vegas will take Marc-André Fleury and trade him to Philly cropped up shortly after Fleury waived his no-movement clause. A sign-and-trade by Philly or Vegas is also technically possible but unlikely. As mentioned, Hextall hasn't confirmed that he won't re-sign Mason.
Vegas, meanwhile, will have two days before the expansion draft to negotiate with pending unrestricted free agents. While Fleury is the best goalie available via expansion, Vegas may acquire additional goalies and trade them later. So if they see value in Mason, they can sign him and trade him. (Neuvirth, who played for Vegas GM George McPhee in Washington, might be attractive in that light; solid backup goaltenders are more valuable than ever, and the Flyers' exposed list doesn't offer a ton of value.) But Mason would presumably prefer entering free agency in order to control where he goes.
If the draft passes and Mason is still without a contract, the Flyers could trade his rights before free agency begins on July 1. Such trades are rare, however. (Remember, though, that the Flyers signed both Scott Hartnell and Kimmo Timonen after trading for their rights in 2007.)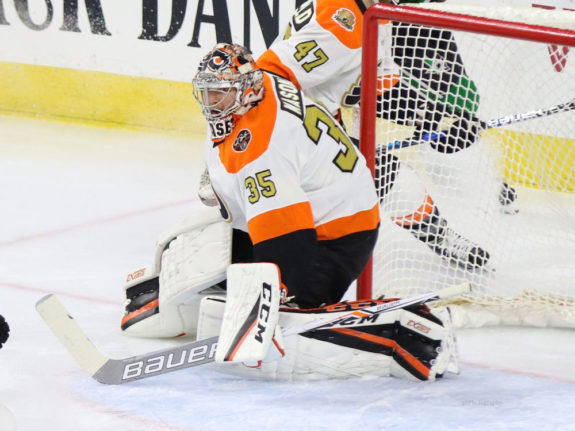 Finally, the free-agent market is also a viable option. The team has promising goalie prospects, so they don't need to sign a franchise netminder right now. Hextall may be looking for a decent veteran (Ryan Miller?) who can mentor the Flyers' prospects for a few years.
Flyers' Rebuild Enters Next Phase
By now, we're all familiar with the Flyers' defensive prospects. If they keep the second pick in the draft, they should acquire an important addition to their forward pool. Hextall now seems to have his sights set on laying the groundwork for a future goalie. It's hard to imagine that it will be Neuvirth, but given the Flyers' goaltending history, who can say?
No fan wants a top-tier goalie more than Flyers fans do, but the team is still rebuilding. Mason is a good goalie, but he's not the long-term answer. He likely would've done well enough for the Flyers over the next few years, but he wasn't able to convince Hextall that he's an integral part of the rebuild.