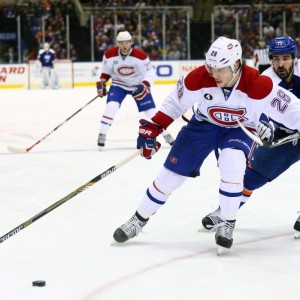 The Las Vegas Golden Knights' main goal is to collect as many futures as possible over the next few days. Ahead of the Expansion Draft though, it's Montreal Canadiens GM Marc Bergevin who had better hope a side deal for even more Habs assets is eventually revealed to have been in place with counterpart George McPhee.
There's just no other way to justify how he traded away Nathan Beaulieu to the Buffalo Sabres for next to nothing.
Beaulieu for a Third-Round Pick
With an embargo on side deals made with the Golden Knights, all analysts can do is speculate on reasons why specific players were made available for the Expansion Draft.
and part of the message from the NHL to GMs was to make sure NOT to leak any trades made with Vegas to media ahead of big June 21 reveal…

— Pierre LeBrun (@PierreVLeBrun) June 14, 2017
Oh, there are ways to explain why the Canadiens would deal away a 24-year-old, former-first-round-pick, puck-moving defenseman, who had just reached a career-high 28 points. None of them are really good, though.
For example, Bergevin may have acknowledged to himself that Beaulieu was probably going to be taken by the Knights for all of the reasons listed immediately above. Instead of losing him for nothing, he might have figured it would be best to get something for him, even if that something was a mere third-round pick (which has less than a 33.3% chance of developing into just a serviceable NHLer).
Here's the rub, though: the Knights still have to pick one Canadiens player. So, instead of hypothetically losing just Beaulieu, the Habs will be losing him and another player, all for a third-round pick (2017). So, potentially a Brandon Davidson, Charles Hudon or even Alexander Radulov.
No Excuses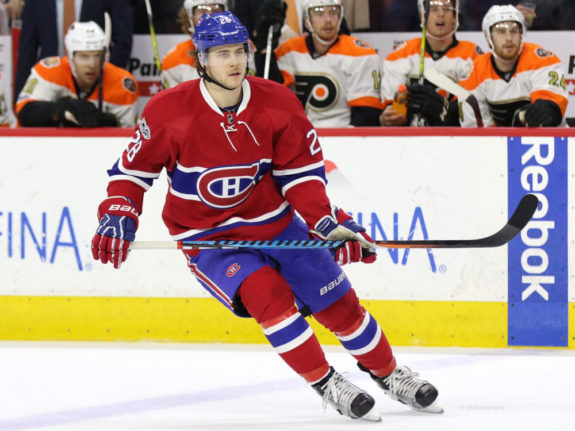 So, in other words, if Bergevin so strongly believed Beaulieu was headed out of town, he didn't have to trade him at all. In fact, he shouldn't have, if only due to the absolute, undeniable fact that any of those above players are certainties and worth more than a third-round pick. Beaulieu alone, with all the resources the team has pumped into his development, is arguably worth a first-round pick, especially in this year's weak Entry Draft.
If, on the other hand, Bergevin wasn't so certain that Beaulieu would be taken, why make the move at all? He would essentially be in the same exact position, just with one more valuable asset in the bank.
Assuming no side deals were made, the only way this makes any kind of sense is that Bergevin just really didn't want Beaulieu on his team. So much so that he was going to trade Beaulieu away anyway, regardless of whether or not a draft was coming.
Of course, if that were the case, there would be still no excuse for Bergevin to openly criticize and devalue Beaulieu at this year's post-mortem press conference.
Bergevin on development, when asked about Beaulieu: "At some point players have to take ownership, know where their game is at." #TSN690

— Amanda Stein (@amandacstein) April 24, 2017
That's just horrible asset management and it's something Habs fans have seen a lot out of him recently, with the most obvious example being the Sven Andrighetto trade to the Colorado Avalanche (for Andreas Martinsen).
The impending Expansion Draft should not be used as an excuse here, if for no other reason than the Buffalo Sabres opted to use one of their precious protection slots on Beaulieu. That would be at the expense of Zach Bogosian, who, at 6'3", 228 pounds, ironically seems like a player Bergevin would have protected instead.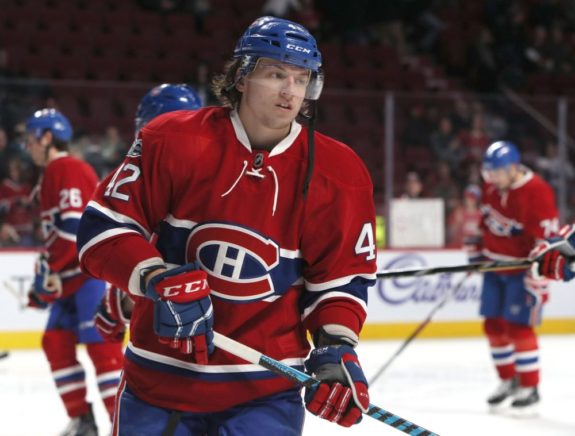 So, the argument that there were no takers for a guy like Beaulieu, because a protection spot would have to be used on him wears kind of thin. Of note, the Avalanche also protected Andrighetto (not that they had a lot to choose from, admittedly).
Bergevin Under the Gun
All this taken into consideration, Bergevin needs to have a side deal in place to make Habs fans better understand how he could:
First devalue a one-time prized former-first-round pick so significantly,
Then trade him away, making him the fourth former-first-round pick he's dealt,
For 25 cents on the dollar, if that,
When the Habs are in such dire need of puck-moving defensemen, by his own admission,
And they will now lose another, potentially valuable player, as well.
Got that? Hopefully Bergevin does too. And hopefully he was able to use that third-round pick he got to entice McPhee to steer clear of Hudon in particular. After all, Hudon is how he was able to justify trading away Andrighetto, remember? You would think the plans the team has for him were more ambitious than to make him mere expansion-draft fodder.
"We felt comfortable moving Sven because of what we believe players like Charles Hudon can do for us down the road." – Marc Bergevin

— Canadiens Montréal (@CanadiensMTL) March 1, 2017
Beaulieu no doubt had his fair share of struggles in the defensive zone. So, it made sense to a certain degree that Claude Julien would scratch him for what would end up the team's last game of the season against the New York Rangers. However, at the end of the day, however Bergevin tries to spin this, he and the team ultimately gave up on yet another high draft pick.
You would think that Bergevin of all people wouldn't have such a defeatist attitude. You would think that a management group that prides itself on hating to lose wouldn't have made such an obviously bad trade, in which they lost not only the deal itself but years of time and effort put into Beaulieu.
Bergevin need only look to his recent prized acquisition, Jonathan Drouin, to see how badly he may have just screwed up. The Tampa Bay Lightning could have cut their losses and dealt Drouin when he failed to report to the American Hockey League last year. However, they waited it out and stuck with their player. That takes character.