December is a great time to be a hockey fan. Not necessarily because there is a lot going on in the NHL, but because fans will be treated to the annual U20 World Junior Championships. This year, the tournament is being held in Helsinki, Finland.
The tournament gives fans a glimpse into the future stars of the game, and also provides some of the most entertaining hockey you will see all year. The 2016 tournament will provide plenty of intrigue for all hockey fans, but it is an especially exciting time for Flyers fans.
When Ron Hextall took over as GM of the Philadelphia Flyers, the farm system was looking mediocre at best. In the two drafts where Hextall has been calling the shots, the Flyers have hit two home runs. Of the 15 players drafted in that time span, seven will be playing in this year's tournament. It would almost assuredly be eight if goaltender Matej Tomek was healthy.
Here's a look at each of the prospects that you will likely see in a Flyers jersey at some point in the near future.
Team Canada
Travis Sanheim, Defense
The smooth-skating defenseman is expected to play a significant role for Canada this year. After leading the WHL in points by a defenseman last year, Sanheim has picked up right where he left off with 31 points in 24 games so far this year. That is fourth most in the WHL, and on a per-game basis, no defenseman scores more points than Sanheim (1.29).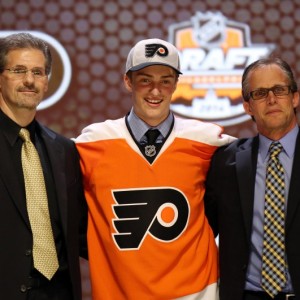 Sanheim's smarts and puck-moving abilities will be a great asset for the Team Canada defense, which is returning just one player from last year's team (Joe Hicketts).
Travis Konecny, Forward
At every stage this year, Travis Konecny has been a stud. It started in the Flyers' training camp in September. Going in, nobody expected Konecny to even have a prayer of making the team. In the two preseason games he played, he was the best player on the team. He was fast, physical, and showed a dazzling set of hands. Despite the impressive display, he was correctly sent back to the OHL for more seasoning.
He kept right on rolling in the OHL, where he led the league in scoring at a number of points early in the season. He currently sits at 10th in the league in points with 45 in 29 games, despite an unusually low shooting percentage, which should rebound to the average with time.
At Team Canada's selection camp, he has shown the same hands and physicality that endeared him to Flyers fans.
Canada's best player easily in the two pre-tourney games thus far: Ottawa 67 Travis Konecny.

— James Duthie (@tsnjamesduthie) December 20, 2015
Travis Konecny delivers the boom for Team Canada. #WJC2016 pic.twitter.com/D3PUlaDeBr

— Brady Trettenero (@BradyTrett) December 20, 2015
Expect Konecny to receive significant top six and power play time for the tournament favorite.
Team Sweden
Oskar Lindblom, Forward
Arguably the biggest surprise of the tournament last year, Lindblom burst onto the scene with nine points in seven games, good for 6th best in the tournament. Lindblom isn't a player that will dazzle you with skill, but he has a big body that uses it well, and has soft hands around the net. He is the perfect complementary player that does the little things right.
This season, he leads all under-20 players in the SHL in points with 18 in 27 games. Lindblom was highly regarded going into his draft year, but due to an average season and questions about his skating, he fell all the way to 5th round. Now, he'll be playing top six (possibly top line) minutes for one of the top contenders of the tournament with significant PP time.
Felix Sandstrom, Goalie
Goaltending is typically a tricky proposition at the World Juniors. Unless you have a stud, it's very much a "ride the hot hand" type of situation. While Linus Soderstrom was the starter last year and is returning this year, that does not mean that the starting job is his. Sweden will likely give each goalie a start or two in the preliminary round before making the final decision.
It's hard to get a read on who is playing better this season as Sandstrom is playing in the SHL this season, with Soderstrom playing in the Allsvenskan, the second tier league. Sandstrom is one of two under-20 goalies to appear in the SHL this season, posting a 2.80 GAA and .905 save percentage. If Sandstrom plays well in the pre-tournament and preliminary games, he could snag the starting job.
Team Russia
Ivan Provorov, Defense
The 7th overall pick in the 2015 draft is possibly the most important player on the Russian roster. He will be the #1 defenseman on the team, relied upon to play big minutes at even strength and on special teams. He has had a strong season for Brandon in the WHL this year, posting 28 points in 30 games, which puts him at 9th in the WHL.
If Russia ends up winning gold, you can bet it will be because Provorov is having an exceptional tournament.
Radel Fazleev, Forward
Travis Sanheim's teammate in Calgary is enjoying a bit of a breakout season this year in the WHL. He already has 42 points in 33 games last year, nine points away from his career-high that he posted last season. That total puts him at 14th in the league in points.
Unlike Provorov, Fazleev is expected to play more of a supporting role for the Russians in the bottom six. Fazleev is chiefly a pass-first player with good speed and a high-energy playing style.
Team Czech Republic
David Kase, Forward
A relatively undersized forward at 5'11", 170 lbs, Kase has been praised for his smooth hands, skating ability, and creativity with the puck on his stick. He has been a good point producer at the second tier level of the Czech Extraliga, but hasn't done much at the top level with one point in 15 games.
Kase was slotted on the second line in the Czech Republic's first pre-tournament game, a 1-0 loss to Team Canada. Kase was also named an Assistant captain for the game, which suggests that he will be a key player as the Czechs try to win their first medal since 2005.
The tournament's schedule and statistics can be found here.