Something dawned on me when the Kings traveled north of the border to take on the Ottawa Senators on December 14th. This seemingly unimportant game between two non-conference foes could very well feature the biggest philosophical debate among hockey enthusiasts. Would you rather have Senators defenseman Erik Karlsson, or L.A. blue line staple Drew Doughty as your franchise point man? Both are dynamic, offensively gifted, and have an enormous effect on their team's successes. Sprinkle in their relatively young ages (Doughty's 26 and Karlsson's 24) and good health, and the decision intensifies.
But that's only half the story. For being in the Men In Black class of defensemen (best of the best of the best, sir!), each megastar plays a completely different game. Karlsson snipes, wheels, and snipes again. Doughty motors all over the ice, taking care of the defensive zone before shifting his attention to his team's scoring chances. Both are well-respected for their elite strengths, and yet unappreciated in the weaker areas of their game (which I should point out that 95% or so of NHL defensemen would be glad to have in their arsenal). Doughty's a little bit country, and Karlsson is more than enough rock & roll. Each has phenomenal flow in their helmets. The choice isn't easy.
Making the Case for Doughty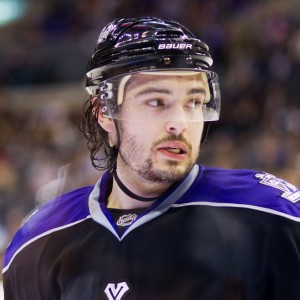 With all due respect to Chicago's Duncan Keith, there isn't a more well-rounded defenseman in the NHL than the man known by his friends as Dewey. Doughty can score and create plays, but first and foremost he can defend. In 31 games this season, he has 19 points and a plus minus rating of +11. For a guy that never leaves the ice (averaging just under 28 minutes a game), Doughty is a fixture on both the power play and penalty kill units for the Kings. His greatest strength is his endurance, having come a long way from being the pudgy Canadian kid who liked to indulge in a few Coke's after games. Doughty has improved his conditioning every year, and has kept the Kings blue line in order amid injury and outside turmoil.
No defenseman can affect the game in more ways than Doughty can. When the Kings need a breakout, he simply skates the puck out of the defensive zone himself. When his team needs help in the offensive zone, he uses his extraordinary vision and decision-making to create plays like this one against Montreal:
And when the Kings are looking for a physical presence, #8 delivers the boom:
There are better goal scorers, a few that might be better at shutting down an offensive attack, and several penalty killing machines that will block shots with their face if that's what the situation calls for. But nobody has the combination of all three like Drew Doughty.
Making the Case against Doughty
By no means is Doughty the perfect defenseman, because that simply doesn't exist in the new age NHL. Forwards are fast, systems are complicated, and everyone can get beat on any given play. Doughty never struck me as the most physical fit human in the world, and despite his high level of conditioning there are times when he appears to lumber on the ice. I mean, he's just a man, and everybody gets tired eventually.
Doughty also has a knack for being a little too reckless at times, going for a bigger hit or a perfect finesse play when a good option is available. It's no secret that in professional sports the better players get a longer leash when making creative mistakes, but a few of his have been costly. If it seems like I'm nitpicking, it's because I am. We're at the elite level of the NHL blueline landscape, and having to separate these two titans was like picking sides in the 2pac/Biggie feud. I'd like to see him expand his role in the offensive zone a tad, and look to unleash that monster shot of his more often. It's crazy to think he can get better, but Doughty certainly has the tools to enter the 20 goal club for a season.
Making the Case for Karlsson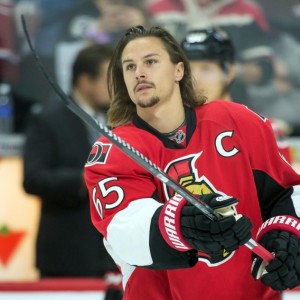 There certainly isn't a defenseman more offensively gifted than Erik Karlsson in the NHL today. A 20 goal machine each season, Karlsson has morphed into a one man snipeshow for Ottawa quicker than anyone could have expected. When all is said and done, I think there's a realistic chance that Karlsson will go down as one the top five offensive defenseman to ever play the position (Orr is number one in that list if you are new to the sport). But with him, it's more than just shooting. Karlsson is a terrific skater who can lead the offensive charge, and moves with the agility of a smaller forward. This was the Senators game winning goal against the Blackhawks earlier this month:
I know it was 3-on-3 and normal rules do not apply during that chaos, but that was the hallmark Erik Karlsson play. Steal the puck, fly down the ice, and put the puck on a tee for a teammate. Lost in the goal scoring hoopla is the fact that Karlsson produces tons of assists each year, and also logs killer minutes nightly (27:38 per game this year). His defensive game is not weak in the slightest, as he too can make an impact despite being typecast as just a goal scorer. Karlsson rebounded from a dreadful plus minus rating of -16 two seasons ago to become a consistent plus player. With improved play across the board (his stats are projected to rise from previous years), and a propensity to shoot the puck even more often, the best might be yet to come for the young Swede.
Making the Case against Karlsson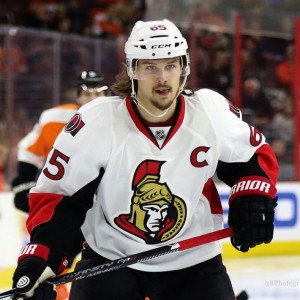 As I just mentioned, Karlsson is not a weak player in the defensive zone for NHL standards. But just as Doughty isn't quite the sniper as his Swedish counterpart, Karlsson's defensive game does not hold the same weight as his Canadian rival. Whether it's disinterest, exhaustion, or simply not having the same fundamental skills and instincts, Karlsson has had some bad moments against opposing offenses. Every defenseman will get beat, but with Karlsson there seems to be an added element of getting pushed around. Several teams have tried to bully, intimidate, and pick on the young defenseman, in part because he is not the most physical player in the world. Karlsson will throw a calculated check to perfection, but he still does not have the reputation of being a bruiser in the corners or in front of the net. And he might never be acknowledged as such.
Again, it seems absurd to nitpick into the level of Karlsson's greatness, but is a player with not quite elite defensive skills really the best player at the position? Karlsson's offensive wizardry is something to behold, but if we are truly selecting the game's best defenseman, we need to grade him as a complete player. The original question I posed was not who is better, but rather which player would be the better cornerstone for your NHL franchise. If you're primary objective is to play a wide-open style that relies on constant goal scoring, Karlsson is your guy. But I wonder how he would thrive in a system like Los Angles (or St. Louis and Boston, for that matter) where team defensive concepts are more ingrained in the culture.
And please, don't get me started on the Norris Trophy. I respect the lineage of the award and the men who have won it, but the selection process has no rhyme or reason. Are we awarding the best offensive defenseman, or the best defenseman with a hint of offensive prowess? The Grammy's and the ESPY's have company in the "Awards I Don't Understand" club.
The Verdict
Doughty. Karlsson is a tremendous generational talent, and has years of offensive productivity ahead of him. But give me the guy who can control the game in more areas than one, and who can lock up any forward line in the NHL. Erik Karlsson is a dominant offensive force. Drew Doughty is a dominant all-around defenseman.
And if you disagree, I can't blame you that much. I have a feeling we'll be having this debate all the way to Toronto one day.