Jim Neveau, NHL Correspondent
One of the more difficult decisions this awards season had to do with who the three finalists for the Vezina Trophy would be. Quite a few goaltenders had stellar seasons between the pipes, but in the end, there were going to be several worthy candidates who would be left out of that select group.
To the surprise of some, one of those goalies left on the outside looking in was Montreal netminder Carey Price. He helped guide the Habs to the sixth seed in the Eastern Conference with a 38-28-6 record, a 2.35 GAA, and an impressive .923 save percentage. He may have been overshadowed by Tim Thomas within the Northeast Division, but Price had a very nice season in Montreal.
The other main contender that was not included among the three finalists was Henrik Lundqvist. He led the NHL in shutouts this season with 11, and he also put up some respectable numbers in the Big Apple, going 36-27-5 with a 2.28 GAA and a .923 save percentage. Without Hank's contributions, the Rangers likely would not have made the postseason, and he established himself once again as one of the top goaltenders in the game.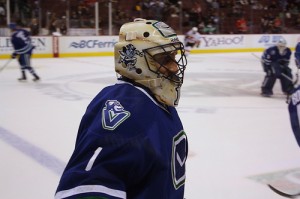 Now that we've looked at the goaltenders who were unable to crack the top three, let's look at those that did:
Roberto Luongo, Vancouver Canucks
Perhaps the biggest catalyst behind the Canucks' wild success during a President's Trophy winning campaign, Luongo had arguably the best season of his NHL career. He posted an impressive 38-15-7 record, beat his career GAA by nearly half a goal by putting up a 2.11 GAA and had an impressive .928 save percentage. He managed to do all of this a season after giving up his captaincy, and while overcoming the intense scrutiny that came his way after the team's last two unceremonious playoff exits.
The big knock on Luongo's candidacy has to do with the emergence of Cory Schneider, his back-up. Obviously Luongo has no control over how well his stand-in plays in games that he gets off, but Schneider's success this season (16-4-2 record, 2.23 GAA, and .929 save percentage) seems to indicate that Luongo got a lot of help from a very solid defensive team in front of him. Of course it still takes a skilled goalie to take advantage of that defense, and Luongo had the added challenge of losing quite a few of those crucial defensemen to injury during the season.
Defining Game:
Luongo has had several high quality games this season (including a Game 1 shutout of the Chicago Blackhawks in the opening round of the playoffs), but one that particularly stood out was his effort on March 23rd against the Red Wings. In a hostile Joe Louis Arena, Luongo withstood a barrage of shots to come up with a 39 save effort in a 2-1 victory. He displayed some great athleticism and concentration in this battle, and he helped Daniel Sedin's two goal effort stand up.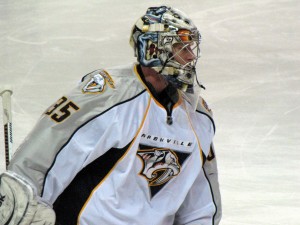 Pekka Rinne, Nashville Predators
Rinne doesn't get a lot of publicity because he plays his games in a non-traditional market, but this season he finally got hardcore hockey fans to notice. Fully moving out of Dan Ellis' shadow, Rinne won 33 games for the Predators this season, and had the second best save percentage in the NHL, stopping 93% of the shots that he faced. He also had the 3rd best GAA in the league with a 2.12, and his effectiveness in the 64 games he played in helped Nashville to a fifth seed in the rough and tumble Western Conference.
There really aren't any knocks against Rinne's game, and his performance in situations in games are definitely a testament to his worthiness of being nominated for the Vezina. He had a solid .912 save percentage when his team was short-handed during the regular season, and his even strength performance was key as well, stopping shots at a .932% clip.
Defining Game:
Rinne's best performance of the season arguably game in back-to-back games on a Predators road trip in January. On the 5th of that month, Rinne stopped 40 of 41 shots in a victory over the Anaheim Ducks at Honda Center, and a couple of nights later, he brought his big boy pads again, stopping 42 of 43 shots against San Jose at the Shark Tank. These back-to-back games helped Nashville finish off a three-game road trip with a flourish with four critical points.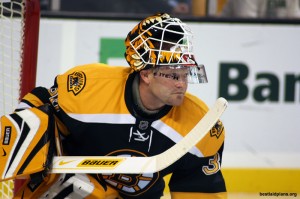 Tim Thomas, Boston Bruins
Thomas is the unquestioned front-runner for the Vezina, and his numbers speak for themselves. He led the league in GAA with a 2.00 mark in that category, and he also set an NHL record with a .940% save percentage. Factor in his nine shutouts (second in the league to Henrik Lundqvist), and you have a resume that absolutely screams for the recognition that this award would give him.
What makes Thomas' story even more remarkable is that he wasn't even the team's starting goaltender when the season started. Tuukka Rask overtook Thomas for the job last season, and after struggling in the early going, Thomas was given a shot and made the most of it. At 37 years old, Thomas showed that age is just a number, and he has re-established himself as one of the best netminders in the game.
Defining Game:
Just like Rinne, Thomas' defining moment of the season came over the course of two games. On December 1st Thomas stopped all 41 shots in a Bruins' victory over the Flyers in Philadelphia, and the very next night he stopped 37 of 38 shots against the high-flying Lightning to pace Boston to a win at the Garden.
And the Winner Is……
All three goalies have very good arguments to win this award. Thomas had a stellar season after losing his starting gig a year ago, and Luongo helped his team to a President's Trophy, but the winner of this award should be Rinne. Pekka may not have the statistical prowess that the other two have, but his game featured an important X-factor: he was the most important player on his team. Yes, Thomas was crucial to the Bruins and without Luongo the Canucks wouldn't have gotten where they did, but when push comes to shove, the Predators have to give more credit to Rinne for their success than any other player.
Thomas will likely win the award (and it is impossible to argue conclusively that he shouldn't), but when you look at the blend of statistics and sheer value to their team, Rinne is the guy.