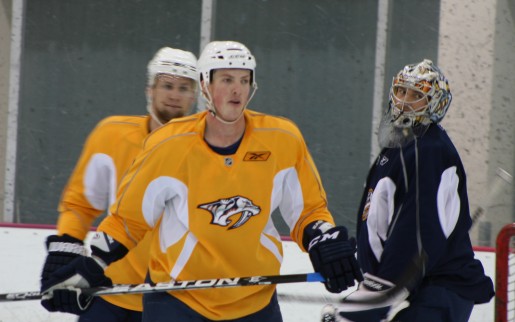 by Jas Faulkner, Nashville Correspondent
I still want to punch Jarkko Ruutu in the junk.
I'm sure Martin Erat (not to mention Mrs. Erat) has a greater claim to Ruutu junk punchage than I do, but still… He got what?  A double minor?  No, wait.  That was Joel Ward for high sticking.  Oh, yeah, now I remember, he got a ten-minute penalty for game misconduct and uh…no that was Tootoo, (who is my id for today).
I also recommend that the people of Anaheim blame Ruutu for what happened last night.  No reason.  You don't need a reason.  I blame him for me forgetting the battery to my good camera on Wednesday, causing me to have to use my emergency backup "brownie".  We could also blame him for tomato blight, pinworms and Justin Beiber.
There, I feel much better now.**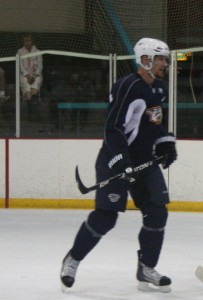 Now, about Game Five…
Kevin Klein hit first in the back and forth game that had Pete Weber and Terry Crisp having to reload the similes and metaphors during intermission.  His netter was followed by a goal from The Wrong Blake during second period and then nothing until third when Bobby "Stompy" Ryan got the puck past The Great Wall of Finland less than a minute into the period.
Preds Radio's Tom Callahan and Wade Belak needed fresh air and throat lozenges by the postgame show.  Why?  The Ducks and the Cats managed to pack a game's worth of action into a little under twenty-two minutes of play. At a little past the halfway mark of Third, Joel Ward got past Ray Emery and evened up the score.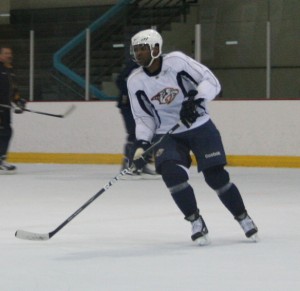 However, things looked a little tenuous for Nashville just pasth the fourteen minute mark, when The Wrong Blake scored yet another goal.  No rain of hats for TWB last night, but there was a lot of cheering in Nashville as The Cannon let loose a tidge before the final buzzer, putting Nashville back in the game.
 What looked like it might be a long, ugly slog through 20 minutes of oh-tee was mercifully and thrillingly cut short by Jerred "The Death Glare" Smithson.  In a move that had all four Nashville talking heads speaking in tongues and ANA saying "Wha…?"  Smithson sniped the puck past Emery, thus winning the game foe the big cats.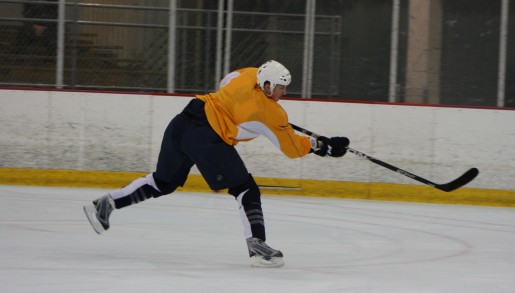 The boys are back in town, along with the Ducks and one game stands between the Predators either making it to Round Two or taking yet another trip to the Gehry sketched hall of the Rat King.   Tomorrow only knows cats, kittens and hound dawgs.
This is Jas Faulkner who is going to be packing a few organic lozenges in her camera bag. I'll be seeing you at the Stone and the Plex and online at Facebook and Twitter!
       ————————————————————————————————————-
*In all fairness, I have used  said "brownie" all season and have gotten great pictures from it, but I was feeling all princessy on Wednesday.  
**More like happy, mellow Tootoo, who is also my id for today.