Jim Rutherford and the Pittsburgh Penguins should have a fairly uneventful offseason. Except for the whole Marc-Andre Fleury situation of course. However, with the NHL salary cap officially set at $73 million, filling out the few remaining spots on this roster could be a challenge.
According to CapFriendly.Com, the Penguins are currently sitting at $74,483,332 in money spent, which puts them roughly $1.4 million over the ceiling. That total includes Pascal Dupuis' $3.75 million, which will come off the books when he's placed on long-term injured-reserve at the start of the 2016-17 season.
That should leave the Penguins with nearly $2.5 million in cap space this summer.
Ben Lovejoy is set to become an unrestricted free agent on July 1 and will likely get a decent offer from someone other than Pittsburgh. Matt Cullen, at least for the moment, is also leaving via free agency and might retire. Justin Schultz, who is a restricted free agent, will test free agency as the Penguins will likely pass on extending a qualifying offer. Schultz can be re-signed later, but to qualify him as a restricted free agent is far too expensive.
That leaves some holes needing filled. Will Derrick Pouliot be ready for full-time NHL duty? Will Oskar Sundqvist be able to step into Pittsburgh's fourth line center role and replace Cullen? Can Chris Kunitz continue playing in the top six?
These are tough questions to answer at this point in the summer but either way, additions are needed. The Penguins can add to their stable of top six wingers and grab some help on the blue line without breaking the bank this offseason. Below are a few of the names floating around in the market that would fit perfectly with that approach.
Valeri Nichushkin – Dallas Stars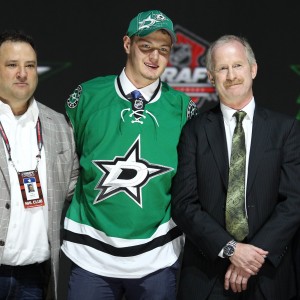 At 6-foot-3 and a shade over 200-pounds, Nichushkin has a fairly large frame but still possesses the speed and skating ability to keep up with the Penguins uptempo system. However, his biggest attribute is arguably his shooting ability, which has been compared to Alex Ovechkin in the past. He would likely fill a top-six role on this team right out of the gate and would fit nicely alongside Evgeni Malkin.
The Stars selected Nichushkin with their first round pick (10th overall) in 2013. He scored 14 goals and added 20 assists as an 18-year old in his rookie season playing primarily alongside Jamie Benn and Tyler Seguin.
Unfortunately, his sophomore season was essentially lost after he had hip surgery in November 2014. He played eight games that season, scoring his lone point with an assist in April following his return. After what was considered a disappointing return for the 2015-16 campaign, Nichushkin found himself in the midst of trade rumors leading up to this past February's trade deadline.
All indications are that he's still available for the right price.
Dallas is spending a fortune at the goaltending position, only to end the season unhappy about the production in that department. The Penguins happen to have a veteran goaltender that could help the Stars in that regard but Pittsburgh would likely need to take a net minder back in return.
A package that sends Fleury to Dallas in exchange for Nichushkin and Antti Niemi may make sense. The Penguins would also need to include another player to help sort out the cap space. I don't like to guess on names
Nail Yakupov – Edmonton Oilers
Recent reports out of Edmonton have pegged Yakupov as the individual most likely to be moved at this weekend's NHL Draft. If that's the case, Rutherford should be phoning Peter Chiarelli early and often.
All things considered, the former first overall draft pick has been a failure in Edmonton. However, he's still a very skilled young winger with a ton of upside if he finds the right fit. At 22-years old, Yakupov is a gamble worth taking, as the Penguins may have the perfect spot alongside Malkin that will allow him to blossom.
It's widely assumed that a third round pick is enough to acquire his services or even another prospect that hasn't put it together with his current club. The Penguins don't have a third round pick but could they part with Derrick Pouliot?
Matt Hunwick – Toronto Maple Leafs
Hunwick, a 31-year old puck-moving defenseman who has one year remaining on a contract that carries a cap hit of $1.2 million, might be the perfect replacement for Lovejoy in the Penguins lineup.
Hunwick boasts the type of skating ability the Penguins require on the back end. His shot suppression numbers suffered a bit with the Leafs but that could easily change in Pittsburgh when you consider their style of play and the skill set he offers. He's able to log big minutes when needed and like Lovejoy did so well in the postseason, he can move up and down the lineup as injuries occur.
The Leafs should be active this summer and Hunwick is a name that may very well be moved. Again, it's nearly impossible to speculate who or what general managers in this league are looking for but Hunwick should come fairly cheap.