The first quarter of the 2018-19 season is through, and it's not one the Pittsburgh Penguins would like to replicate the rest of the way.
After finishing October with a 6-2-2 record and a plus-12 goal differential, the Penguins fell into a November swoon as they've gone 3-6-3 with a minus-seven goal differential in 12 games; bringing their season record to 9-8-5 with a plus-five goal differential in 22 games. The Penguins' struggles saw them fall to last place in the Eastern Conference last week, albeit briefly.
On the bright side for the Penguins, they earned six of eight points in a four-game slate this week, moving out of the Metropolitan Division and Eastern Conference basements for the time being. Working in the Penguins' favor is the fact that, despite digging themselves into another early-season hole, they sit just three points out a playoff spot.
There's been plenty to take away from the Penguins' performance after one-quarter of the season, both good and bad. But the three most important takeaways are: attempting to find a stable bottom-six, Kris Letang's return to form, and the situation between the pipes.
Finding Stability in the Bottom-Six
What set the Penguins apart from the rest of the league during their consecutive Cup victories in 2016 and 2017 was their ability to get production from the entire lineup. But throughout last season and the first quarter of this season, they've fallen back to their pre-Mike Sullivan ways. If the top players aren't scoring, the team isn't playing a competitive game.
The top-six — when healthy — is made up of Sidney Crosby, Jake Guentzel, Patric Hornqvist, Evgeni Malkin, Phil Kessel, and Tanner Pearson — formerly Carl Hagelin. Those players have 52 of the 62 goals (84 percent) scored by the team's forwards, or 70 percent of all goals scored by the Penguins this season. As the Penguins have witnessed before, a top-heavy offense works during the regular season, but in the playoffs, it leads to a relatively quick exit.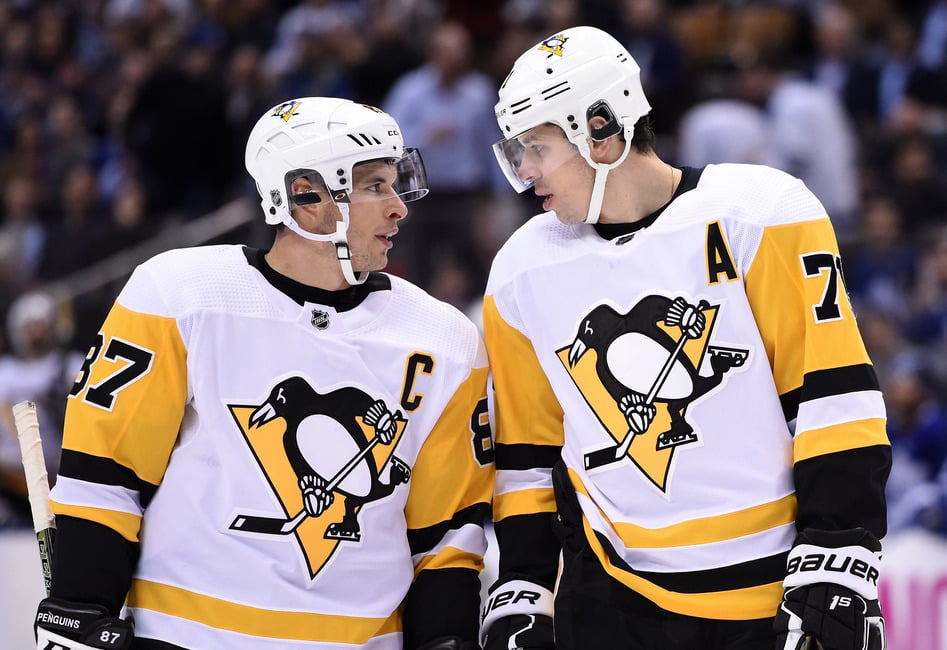 The bottom-six isn't full of bad or below-average players like it was during the days of Dan Bylsma and Mike Johnston. In fact, it's one of the better ones in the league talent-wise, but they just can't score. This was on display from Oct. 25 until Nov. 17, when the bottom-six didn't score a goal for ten consecutive games. Derick Brassard did miss nine of those games due to injury, but missing one player shouldn't result in an entire group going goalless for three weeks.
The players in the bottom-six have consisted of a mix of Dominik Simon, Derek Grant, Daniel Sprong, Riley Sheahan, Bryan Rust, Brassard, Matt Cullen, Garrett Wilson, and Zach-Aston Reese. So there's a lot of talent in the group, but they have scored 10 goals this season. Only Simon (four) has scored more than twice; while Grant, Wilson, and Sprong have yet to score. They've looked a lot better in recent games, but haven't capitalized on their chances.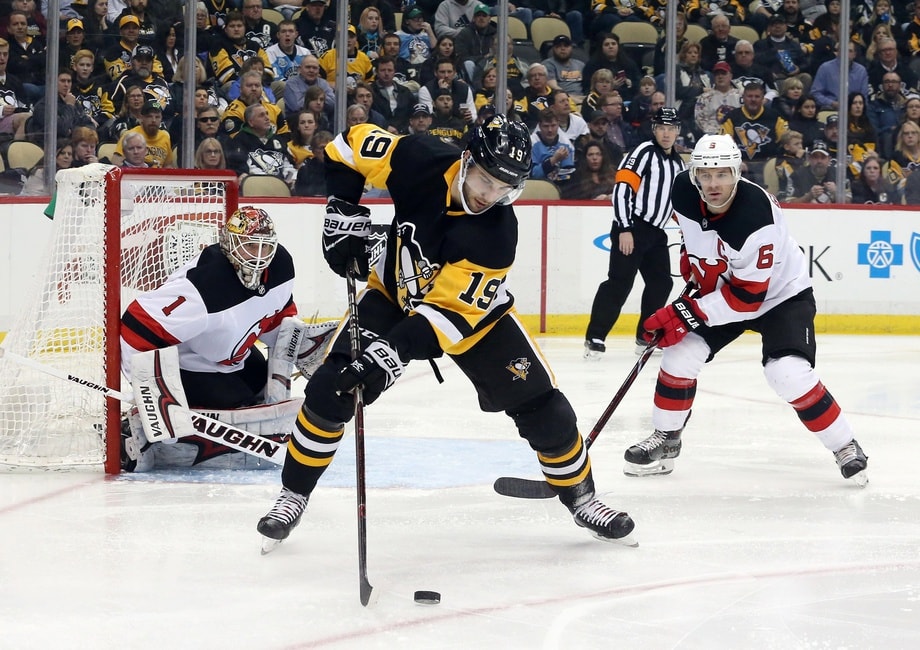 Chances are good, it means the bottom-six is knocking on the door of success but eventually, they'll have to stop knocking and bring the door down instead. Otherwise, changes will have to be made and last week's Penguins Pulpit looked at some internal options if the scoring continues to be dry.
Related: Penguins Pulpit: Last Place in the Eastern Conference 
If there's one thing working in the favor of the Penguins' bottom-six, it's shooting percentages and positive regression. For the first half of last season, the entire team dealt with low shooting percentages before rebounding in the second half. This season, it seems to have only infected the third and fourth lines, as Simon and Brassard are the only players shooting above 8%. Of course, not every player is going to shoot at a 12% clip, but half of the bottom-six isn't going to continue to shoot 3.5% or below, either.
When fully healthy, the third and fourth lines should consist of Aston-Reese, Brassard, Simon, Rust, Sheahan, and Sprong. Those are the six best players in the bottom-six and give the Penguins their best chance at hitting their stride offensively, and in short order.
The team is in a position where their top players are good enough to compensate for rough stretches. But if the Penguins are going to have any realistic shot of turning their season around, they'll need their bottom-six to start putting pucks in the net. With Brassard fully healthy and up to speed, the turnaround could come quickly.
Letang has Returned to Form
It was evident Kris Letang was playing catchup last season after missing eight months of training and game action. He often looked lost, made a number of mental mistakes while trying to be a conservative decision maker, was on the ice for a career-high 77 goals against at five-on-five and struggled in the defensive zone in all situations.
While Letang remained productive offensively and stayed healthy (51 points in 79 games), it was obvious he wasn't the same player who anchored the Penguins to a Stanley Cup in 2016. Though if there was any silver lining in his season, it was some of his struggles were linked to bad puck luck as opposed to a serve decline. With a full offseason to further himself from his surgery and some better fortunes, Letang looked like a good bet to rebound in 2018-19.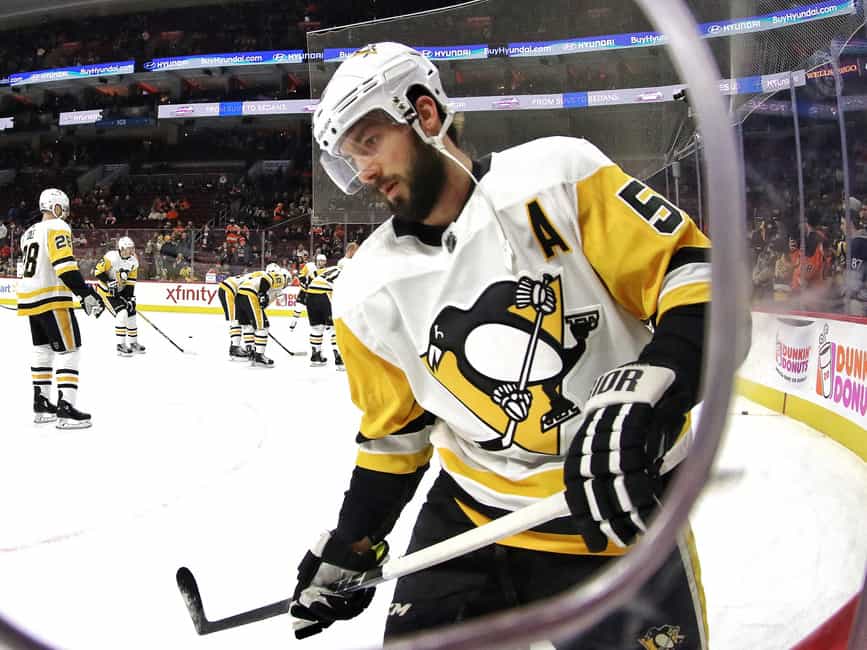 Related: Penguins' Letang will Rebound in 2018-19 
And he's done just that. During training camp, Letang said he felt a million times better than he did at the same point in 2017. This, along with a turn in luck, has resulted in Letang returning to his form as one of the best defensemen in hockey.
On offense, Letang has five goals and 19 points in 21 games this season, which puts him on pace for 71 points in 81 games. It would be the first time in his career he'd surpass the 70-point milestone. It would be the latest in a number of milestones Letang has reached this season including his 100th career goal on Oct. 18, 350th career assist on Nov. 15, and becoming the highest-scoring defenseman in Penguins history on Oct. 6 against the Montreal Canadiens.
On top of Letang's improved counting stats and milestones, his advanced metrics have seen a return to an elite territory, as Jason Mackey of the Pittsburgh Post-Gazette tweeted on Saturday night.
Kris Letang's turnaround through 21 GP:
CF% was 52.3 in 2017-18 … 54.7 now
SCF% 52.1 then … 55.4 now
HDCF% 50.0 then … 55.6 now
GF% 29.0 then (27 GA) … 61.1 now (14 GA)
*Five-on-five, per @NatStatTrick

— Jason Mackey (@JMackeyPG) November 25, 2018
After a career-low 6.55 on-ice shooting percentage last season, Letang's seen that number improve to 8.56% this season. And while the Penguins' goaltending hasn't been much better than last season, Letang's play has contributed to his on-ice save percentage (SV%) at five-on-five improving from .887 in 2017-18, to .929 this season. Both of these factors have given him a PDO above 100 (101.5) for the first time since 2014-15.
Despite the improvements analytically, Letang's numbers don't tell the entire story about his turnaround this season. His decision making has improved, leading to fewer errors on both sides of the ice, been more involved in plays he would've avoided a season ago, started to shoot more on the power play — something Letang's been hesitant to do in the past — and has also gone back to being aggressive with opponents in the defensive zone — which is when he's at his best.
Letang's defensive play this season has been some of the best of his career. He's taken away passing opportunities on odd-man rushes, hustled back and knocked the puck off an opponents stick on breakaways and has often forced opponents into bad passes and shots; turning possession back into the Penguins' favor.
Letang's start has earned him national attention as a Norris Trophy candidate, something that hasn't been common for him over his career.
After how badly Letang struggled last season and the fact he's firmly on the wrong side of 30, the Penguins wanted Letang to play less than the 25:20 per night he averaged in 2017-18 in an attempt to keep him healthy and productive.
Those plans were scratched after Justin Schultz's injury in October left the Penguins with no choice but to rely heavily on Letang. Although with his return to form, it's not something the team will complain about anytime soon. So far, Letang's 25:58 time on ice (TOI) per night is third most in the league, behind Drew Doughty (26:50) and Seth Jones (26:07). Barring a dramatic drop in ice time, this season will be the fifth consecutive in which he's averaged more than 25 minutes a night.
He's also played 545:23 total minutes this season, 20th among skaters, but his 21 games are the fewest among the top 20. It's just the latest in Letang's showcase as a workhorse. Since taking over as the Penguins' top defenseman prior to the 2010-11 season, Letang has played 12,295:52 minutes, 42nd most among skaters, but is the only player in the top 50 in TOI who's played fewer than 500 games (486). His average TOI of 25:18 is sixth most in that span as well.
Crosby and Malkin are the Penguins' best players, but the skill drop-off on the blue line after Letang is significant. And it makes him the team's most important player. Without Letang, it's easy to imagine the Penguins with a worse record than what they currently own.
A Need for Consistent Goaltending
After posting a team SV% of .906 last season, the only way the Penguins' goaltending could go is up. But somehow they've managed the same SV% of .906 through the first quarter. That would've won a number of games in the 1980s, but in 2018, it makes your goaltending a liability.
After starter Matt Murray dealt with injuries and poor on-ice play en route to a .907 SV% and 2.92 GAA, the Penguins were banking on a bounce-back but in 11 games this season, Murray has posted a .877 SV% and 4.08 GAA. The most damning number on Murray is in eight of his 11 starts (73%), he's failed to record a SV% above .900. Murray's been victimized of poor play by the team in front of him, but he hasn't made timely saves when he needs to, either.
He's also suffered two injuries so far. He suffered a concussion in October and is currently dealing with a lower-body injury which will likely keep him out until 2019.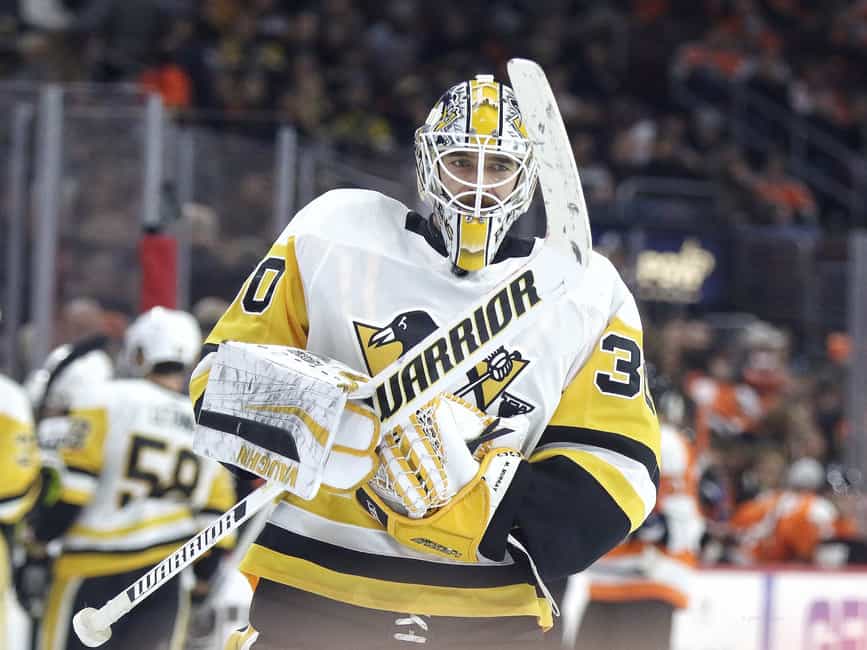 Murray's health issues and his struggles have caused the Penguins to rely on backup Casey DeSmith more than they'd have liked to. But so far he's been up to the task with a 5-3-3 record and a .927 SV% and two shutouts in 14 games (10 starts). He's made a number of highlight-reel saves and has stolen a few games for the Penguins, but he's also given up far too many weak goals, and they've become more common in his recent outings, which will likely be exposed if he becomes the de facto number-one for the time being. DeSmith's shown to be just fine as a starter in short windows. But over an extended period? He'll likely struggle, and it has to be a concern for a team desperate to keep their heads above water.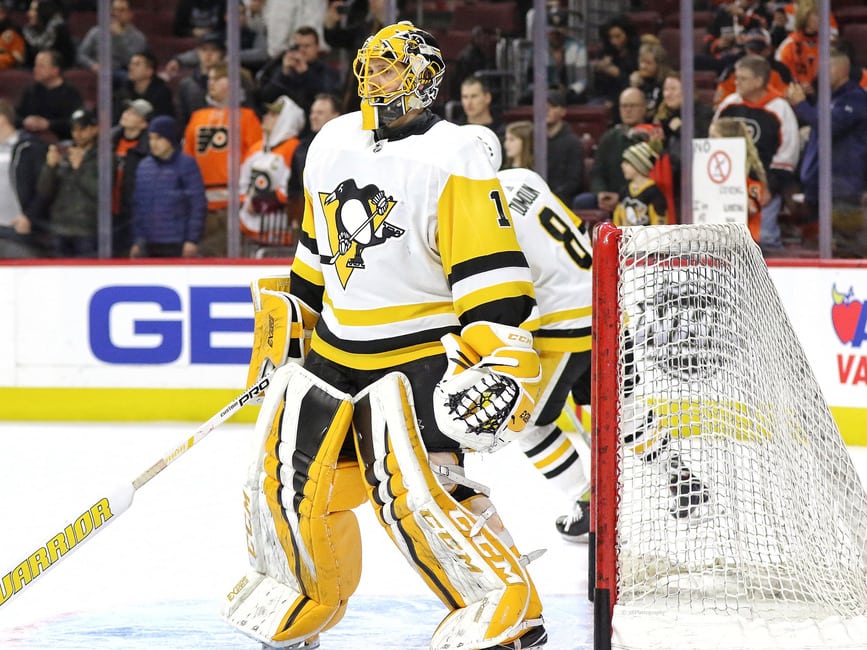 Which is where top prospect, Tristan Jarry, comes into play. He's taken longer to develop than the organization hoped, but the 23-year-old has always been looked at as part of the future in the Penguins' crease.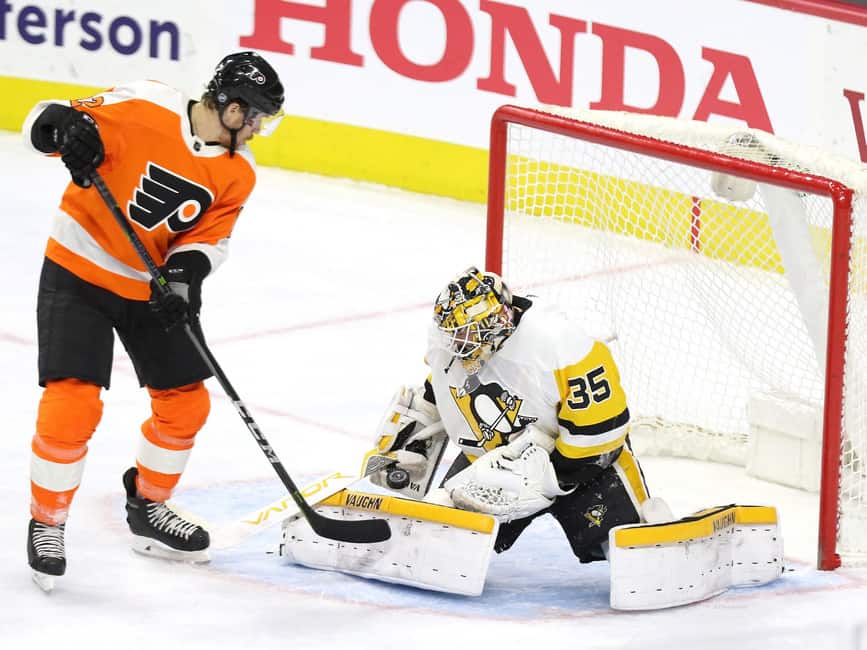 Before his latest recall, Jarry had appeared in 11 games with Wilkes-Barre Scranton of the AHL, posting a 4-5-1 record with a .909 SV% and 2.89 GAA. He also scored a goal during a Nov. 14 game against the Springfield Thunderbirds.
Jarry, who appeared in 26 games for the Penguins last season, made his 2018-19 debut on Friday night against the Bruins, stopping 35-of-37 shots in the Pens' 2-1 overtime loss. He made a number of difficult saves and was the main reason the team could salvage a point.
Games like Friday are also why the Penguins chose Jarry 44th overall in the 2013 draft and why he's often been viewed as the goalie with the highest ceiling in the organization. He's likely the better choice as the number one between him and DeSmith since he's the more athletic and technically sound goalie, but DeSmith has the upper hand because of the results he's posted at the NHL level. Although if DeSmith starts to slip, and Jarry puts forth more efforts like Friday, that could change in short order.
A 13th consecutive playoff appearance is still possible for the Penguins. But they'll need their top players to continue shouldering the load long enough for the bottom-six and goaltending figure it out.
Conner McTague is a recent graduate of the Journalism program at Durham College. He covers the Pittsburgh Penguins for The Hockey Writers. He hopes to make a career out of sports reporting.