The St. Louis Blues took drastic action earlier this week when they decided to fire head coach Mike Yeo and replace him, at least temporarily, with Craig Berube. While Berube wears the title of "interim head coach" at the moment, the 1,000-plus game NHL veteran is hoping that if he coaches well enough, he can remove the interim tag altogether.
Whether it's for a little while or many years to come, Berube now joins a fraternity of 26 men that have coached the Blues, a fraternity that includes all four of the winningest head coaches in NHL history (for now, until Barry Trotz catches Al Arbour in that category later this season). It is a noble group, and Berube is its latest member. Let's get to know the newest head coach in St. Louis.
Craig Berube the Player
Craig Berube is one of just 321 men who has played in over 1,000 games in the NHL, which he did in stints with the Philadelphia Flyers, Toronto Maple Leafs, Calgary Flames, Washington Capitals, and New York Islanders. It is a truly astounding feat for anyone.
While Berube scored just 159 points in his 1,054-game tenure, that was never what he was kept around for. "Chief," as he's affectionately known due to his Native American heritage, was one of the most prolific fighters in the history of the NHL, as shown by his ranking seventh all-time in penalty minutes.
Though he was a "grinder," Berube's credentials as a player are a significant advantage as a coach. A thousand games played is a tremendous achievement, whether one gets there with his fists or with his wrist shots and the fact that he survived a thousand games while playing that physical a style speaks all the more to his grittiness. His career in the league has earned his players' respect.
Berube as a Coach
This is not Berube's first round as a head coach. The Flyers also chose Berube as a mid-season head coach replacement when they fired Peter Laviolette after three games in the 2013-14 season. That year, Berube took the Flyers into the playoffs with a 42-27-10 record, earning them 94 points and third place in their division. They lost in the first round, but only after a long seven-game series with the New York Rangers.
Berube's second season in Philadelphia wasn't nearly as successful, as the team posted only a 33-31-18 record. Unsurprisingly, that was not enough to satisfy Philadelphia and its ownership, and Berube was let go. All told, he posted a 75-58-28 record in his time with the Flyers, technically above .500 by the Gary Bettman standard, but certainly not the type of record that will have Blues fans salivating.
From the Flyers, Berube found his way to the Blues' organization by being hired as the coach of the Chicago Wolves, their AHL affiliate at the time. He performed very well there, winning the Central Division of the AHL with a 44-18-8-5 record, and making it to the second round of the playoffs. He also aided in the development of a number of young players who are now fixtures on the Blues' roster.
Craig Berube turned a lot of heads in his only year coaching with the @Chicago_Wolves where he played a huge role in the development of several young players, who now play for the #stlblues. Vince Dunn, Sammy Blais, Ivan Barbashev, Ville Husso, and J Schmaltz excelled that season

— Andy Strickland (@andystrickland) November 21, 2018
Berube's strengths as a coach are his gravitas (coaches who have had as significant an NHL career as Berube are not common in today's league) and his approachability. He is generally labeled a player's coach, someone who is a good communicator with his team. These are traits that could serve him well with the Blues, where players have seemed to grow deaf to the input of Yeo and Ken Hitchcock before him.
So What's Different?
All of this leads to one question: what will Berube offer the Blues that Yeo did not? The answer may be as simple as a fresh face. Hitchcock spent parts of six seasons with the Blues, and while he is a future member of the Hockey Hall of Fame, there's no question that Hitchcock wears on his players over time.
In Hitchcock's final season, the Blues made the strange decision of bringing Yeo in as a "coach-in-waiting." This was because Hitchcock claimed that he wanted to coach only one more season (earlier this week, Hitchcock was hired as the head coach of the Edmonton Oilers, his second team since that claim).
The "coach-in-waiting" decision was a strange one, as it provided no actual "break" from the Hitchcock lineage while also putting constant pressure on Hitchcock to succeed in his final season with the Blues. Though Berube was also a member of Yeo's staff (he was promoted to assistant head coach of the team after his successful season in the AHL), he was never the heir apparent, so he offers a clean break as a coaching succession.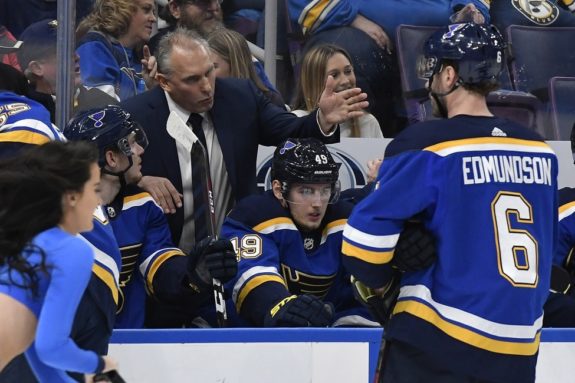 Berube also has clout as a former player, as we've mentioned. Hitchcock never played the game at any significant level, and Yeo never rose above the AHL. While it may feel insignificant, Berube's credentials as a player should command him more immediate respect from the players. Whether that makes a significant difference in the win/loss record remains to be seen.
Blues' Coaching Search
While Berube manages the players in the interim, Doug Armstrong is embarking on a deep search for the Blues' next head coach. In the press conference introducing Berube to the media, Armstrong indicated the lengths he would go to to find the right head coach for his team:
"As a manager, you have to multitask," Armstrong said, explaining how he would support Berube while searching for a potential long-term replacement. "I throw my full support behind Craig and his staff right now as we try to, uh, cauterize the wound, and get back into the playoff picture. [While] doing that, though, we're going to start the process of putting a list together of head coaches.
There's going to be experienced head coaches on that list, there's going to be European head coaches on that list, there's going to be college head coaches on that list, major junior… we're not going to minimize or limit the scope that we're going to look at, but it's not going to be something that's done over the next day or two…"
When asked whether that coach could be installed before season's end, Armstrong responded, "it's possible. I'm not sure it's probable, but it's possible." When asked directly about Joel Quenneville, Armstrong played coy. He gave every indication that the coaching search would be long and thorough.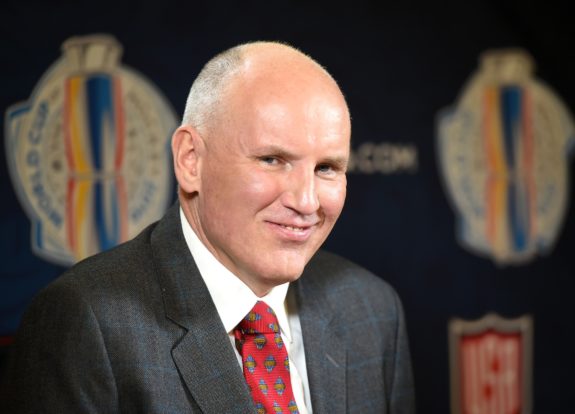 The Blues have a 1-2 record under Berube, with one dominant win over the Nashville Predators (their first division win over an opponent other than the Chicago Blackhawks since Feb. 9) bookended by embarrassing losses to both the Predators and Winnipeg Jets. He will have to orchestrate a miraculous turnaround for the Blues to remove the interim tag from his title.
If he wants to have that success, Berube must focus on the present. The Blues need to start winning games immediately to turn their season around. Their new coach cannot afford to be so future focused that he's not good for the present. They need him to be the gritty and determined leader that he was during his time as a player.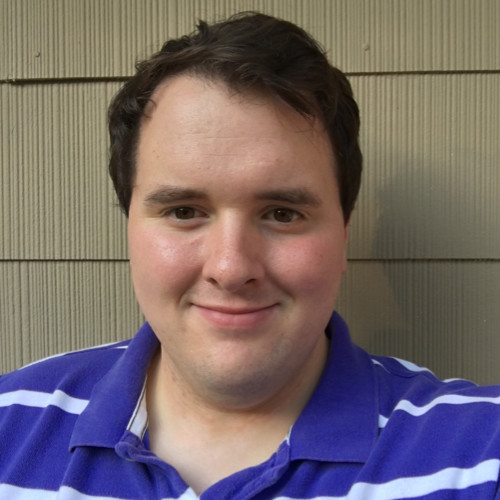 Stephen Ground is a veteran of over three years at THW, focusing on the St. Louis Blues, NHL goaltending, and the annual World Junior Championship. He is the co-host of the Two Guys One Cup Podcast, a hockey podcast focused on the Blues.