It's not often that someone who has been recently fired becomes the hottest commodity available, but that is what happened when Joel Quenneville, the second winning-est coach in NHL history, was fired early Tuesday morning by the Chicago Blackhawks. Despite coaching the team to three Stanley Cup championships, an unexpected downturn in performance coupled with growing tension between Quenneville and the front office, led to the Blackhawks' decision to move on.
Quenneville is now a free agent and will be hotly pursued by any team that's looking for a new coach. This morning, before the announcement, we took a look at several candidates that the St. Louis Blues could turn to if they decided to part ways with their struggling head coach, Mike Yeo. Now, there is a clear favorite and not only should the Blues consider Quenneville but they should take immediate action to bring him back into the fold in St. Louis and begin to undo one of the franchise's biggest mistakes.
Quenneville's History in St. Louis
The Blues and Quenneville are not strangers. In fact, it was in St. Louis where Quenneville coached his first eight seasons in the NHL. In that time, he had an impressive 307-191-77 record and the team made the playoffs each of his eight seasons at the helm. He won the Jack Adams award as the league's best coach in 1999-2000, which was also the season in which the Blues captured their lone Presidents' Trophy.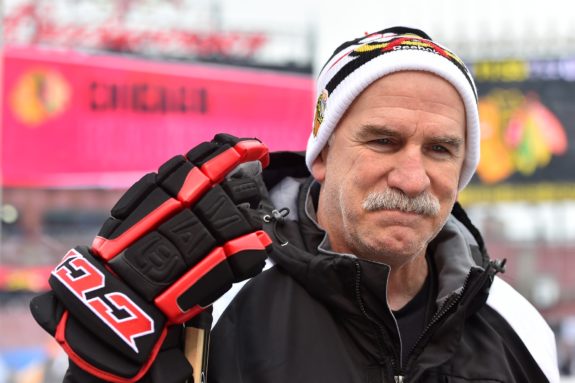 Unfortunately, the end of Quenneville's time as head coach coincided with one of the most difficult periods in Blues' history. Frustrated with a lack of playoff success, and probably looking to save some money, owner Bill Laurie decided to fire Quenneville during the 2003-04 season. They still made the playoffs but the following season, which was cancelled due to the lockout, was the final nail in the Blues' coffin.
The rest was history: Quenneville went on to coach the Colorado Avalanche and in Chicago, where he won Stanley Cups in 2010, 2013, and 2015. Laurie gutted the team in preparation for a sale, trading cornerstone defenseman Chris Pronger (who would appear in the Stanley Cup Final with the Edmonton Oilers), leading goal scorer Mike Sillinger, and leading point producer Doug Weight (who would win the Cup with the Carolina Hurricanes). The result was the worst season in Blues history (2005-06), which ended in a last place finish and facilitated the sale of the Blues to Dave Checketts.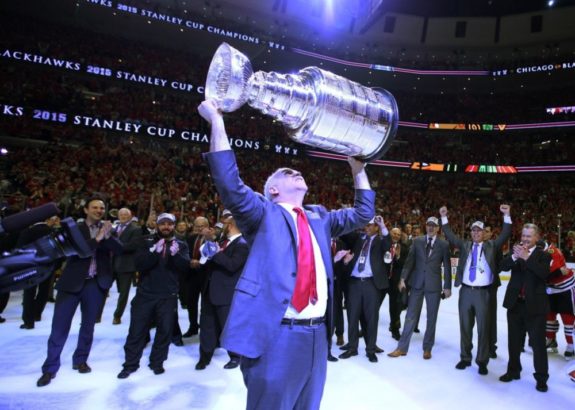 It took years for the franchise to recover from this era, and while the Blues eventually found sustained success with another future Hall of Fame coach, Ken Hitchcock, they never quite captured the same magic they had in the Quenneville era.
Yeo's Struggles
Moving to the present day, the Blues might not be in position to consider a coaching change but for the fact that Yeo has taken a rehabilitated roster to a faltering start. They have a 4-5-3 record, dead last in the Central Division (four points behind the Blackhawks, in fact) and desperate for a change in momentum. By his own admission, Yeo's job as head coach is and should be in jeopardy.
"Heck, my job should be in question right now."

Blues coach Mike Yeo had some strong words after his team's 7-4 loss to the Blue Jackets. https://t.co/SsrTByHK8U

— NHL.com (@NHLdotcom) October 26, 2018
But Yeo has only been at the helm of the Blues for a season and a half, is it really time to move on? If history is any indication, it may be. When Yeo was released by the Minnesota Wild, some of the key issues were his inability to foster young talent and his over-reliance on disappointing veterans. In the 2018-19 season, the Blues have already had issues utilizing Jordan Kyrou and Robert Thomas, while players like Jay Bouwmeester have received unquestioned playing time, despite extremely poor performances and possible injury.
If Yeo were an up-and-coming coach with an unquestionably bright future, it might be appropriate to buy him more time to prove himself. But he has now shown the same flaws in two different head coaching gigs, indicating that they'll be his flaws going forward as well. If there's little room for improvement then there is little reason to keep him, particularly with a coach as incomparably qualified as Quenneville available.
Blues Should Move Fast
With all that in mind, what is keeping the Blues from firing Yeo and hiring Quenneville? Nothing really. The Blues face the Hurricanes on Tuesday night and should they lose, it could be the last game in St. Louis for Yeo. General manager Doug Armstrong did far too much to the roster this offseason to allow an inefficient head coach to derail the whole season.
Moreover, with every day that passes, Quenneville may be talking to other teams, growing closer and closer to signing with one of them. Given his history in St. Louis and given the team's strong roster (despite their recent performance and a struggling goalkeeper), the Blues might appeal to Coach Q but he won't wait for them forever. One thing is certain: Quenneville will coach in the NHL as soon as he wants to. If he wanted to coach a team tomorrow, he'd have a job offer. So the Blues cannot afford to wait.
Hope Blackhawks fans recognize everything Quenneville did for the franchise by giving him a long standing ovation next Wednesday when he and the Blues are in town.

— Down Goes Brown (@DownGoesBrown) November 6, 2018
And wouldn't it be poetic if, when the Blues faced off against their arch-rival Blackhawks on Wednesday night hockey next week, Quenneville was coaching the Blues not the Blackhawks? It would be a chance to celebrate the man's incredible career even as he starts his next journey, but it would just as importantly be an opportunity for the Blues to get a leg up on the Blackhawks, something they haven't done since Coach Q first arrived in Chicago.
The Blues have made lots of poor decisions in their history and the decision to fire Quenneville the first time is near the top of the list. Now, they have an opportunity to undo that. It makes too much sense for them not to.
Stephen Ground is an author with The Hockey Writers and is co-host of the Two Guys No Cup Podcast. He enjoys studying the numbers and providing fresh looks at various stories.