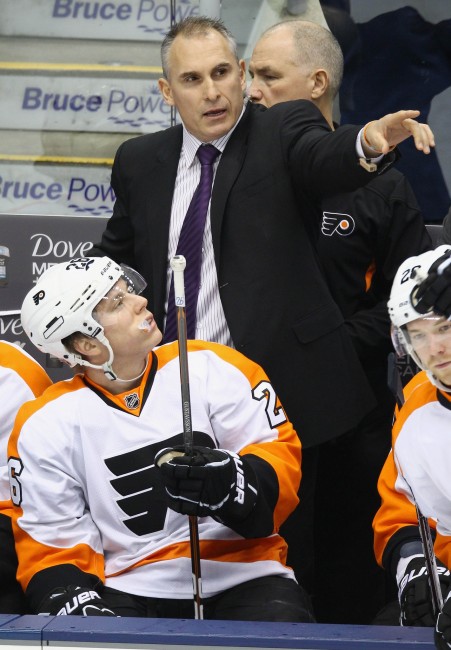 While we all knew Philadelphia Flyers coach Peter Laviolette was on a short leash this season, no one could have imagined it was this short.  After just three regular season contests – and a dreadful training camp – the team's front office decided to send the city's longest tenured coach packing.
The change came the morning after the Flyers looked lifeless in a 2-1 loss at Carolina.  Laviolette spent five seasons – 272 games, to be precise – behind Philadelphia's bench but became the quickest coach to be fired to start a season in modern day NHL history – ahead of Denis Savard (2008-09 CHI), Ivan Hlinka (2001-02 PIT) and Jacques Jean Demers (1995-96 MTL), all of whom coached four games.
But as fans were left picking up the pieces left from the bomb the team dropped, the Flyers made another announcement which came as sort of a surprise.  The team named longtime assistant coach Craig "Chief" Berube head coach – but not for an interim status, no this was for the foreseeable future.  With the news came the announcement of who the assistant coaches would be moving forward and while Joe Mullen stayed onboard, two new faces were brought in to help out Berube – John Paddock and fan favorite Ian Laperriere.  Before the Flyers look to get back to their winning tradition, first take a look back at Berube's career and get to know the 19th head coach in team history.
AN NHL ENFORCER
Berube was born to play Flyers hockey and although he considers himself first and foremost a Flyer, he spent more of his NHL career with the Washington Capitals – 96 games more.  Though he spent 15 seasons in the NHL, Berube didn't follow the typical path to success.  The 6-foot-2, 215 pound left winger came into the league in 1986 as an undrafted free agent, after making his way through the Western Hockey League (WHL) and American Hockey League (AHL).  He signed with Philadelphia and spent seven games with the team during the 1986-87 campaign, amassing zero points and an impressive 51 penalty minutes – impressive given his short time on the ice.
Immediately, he took to the enforcer roll as one of the league's bad boys.  Throughout the course of his career Berube would fight almost every notable goon the league had to offer – and even punched official Kevin Collins during a 1990-91 fight with Lindy Ruff.  Berube never backed down from a fight and although he was somewhat reserved off the ice, he had plenty to say while skating on it.
At the beginning of the 1997 campaign, as a member of the Washington Capitals, Berube called Florida Panthers left wing Peter Worrell – one of the few African American players – a "monkey".  He was suspended one game for the comment and hopefully, for Wayne Simmonds' sake, it was simply a mistake made in the heat of the moment – because emotions can get the best of a player.
Berube hung up his skates after a minor league stint with the Flyers' AHL affiliate the Philadelphia Phantoms in 2003-04.  It might not have been an easy decision but after 1,054 games, 61 goals, 98 assists and 3,149 penalty minutes – seventh most all-time – it was time.  Plus he knew he had a career in coaching with the Flyers organization once he called it quits.
BEHIND THE BENCH
After retiring, Berube spent two seasons as assistant coach of the Phantoms, before landing the head coaching position prior to the 2006-07 AHL season but that wouldn't last long.  After just six games, the Flyers front office promoted Berube to assistant coach of the Flyers – but that too wouldn't last long.
Due to reorganization in staff for the 2007-08 season, Berube once again found himself with the Phantoms, this time as head coach.  In 80 games behind the bench, he led the Phantoms to a 46-27-0-7 regular season record, before losing to the Wilkes-Barre/Scranton Penguins in five games.  But once gain he was promoted back to the big club – and this time it was for good.
The 47-year-old spent the last five years behind the bench assisting both Laviolette and his predecessor John Stevens, gaining knowledgeable experience during some of the franchise's highest of highs and lowest of lows, and becoming a favorite among the players for an attitude similar to his playing days.  He isn't the most vocal of coaches but certainly gets his point across when he has to.  Maybe players are afraid of him but whatever the case may be, he's a no nonsense type of leader that expects the most from his players and if the past is any indication, he'll call out those who fail to hustle and give it their all.
"We need to play a lot better without the puck, you know, we need to play a lot better," a soft-spoken Berube said during his introduction press conference.  "And I think we need to compete harder."
He takes over a Flyers team desperate for an identity and a scoring touch.  In three games this season the team has mustered just three goals and for the first time in ages, goaltending hasn't been the issue.  With training camp in the rearview mirror and a few regular season games in the book, it's going to take Berube time to implement a system – or simply tweak the one in place – with the personnel provided.  It won't be an easy task and given the recent coaching history, so he's got a huge uphill battle.
Ed is a die hard sports fan from Philadelphia who follows all of the city's local teams. He has written for a number of print and internet media sources and is a hockey junky. When he is not watching a game, he is spitting out useless trivia knowledge, or upholding his title as movie quote extraordinaire. You can follow Ed on Twitter @PhillyEdMiller.