Alexander Ovechkin is a beast and Devan Dubnyk can't stop a beach ball. There is your week one analysis. Thanks for reading! Okay, there is a lot more to get into as it was a very entertaining first week of fantasy hockey.
Same Player + New Team = Profit
Holy Mikhail Grabovski! His first career NHL hat-trick comes in his first game not wearing a Toronto Maple Leaf sweater. Five points over his first three games and killing it with the man advantage. Will he keep this pace and notch 82-goals this season? You can keep dreaming but 60 points is definitely possible. Good job if you grabbed him as a sleeper this year and props if you beat your buddies to him on the waiver wire.
Why was Grabovski a 4th liner for the Leafs again?

— Dustin Nielson (@nielsonTSN1260) October 4, 2013
[Also: Free entry for a chance to win $100 – Single Day Fantasy Draft, Take a Look]
Mason Raymond and David Bolland as a dynamic duo? I definitely predicted that. Said no one ever. These two were once part of a dynamic Western Conference rivalry but are now sniping pockets together. Such a surprise but you always have to expect the unexpected. Do you grab one of these guys off the waiver wire? Their point per game production will slow down eventually but in a deep league, you can't go wrong. Bolland is feisty and adds penalty minutes while Raymond looks to potentially have a fresh start in Toronto.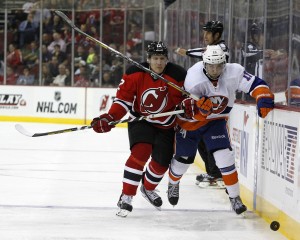 Damien Brunner is off to a blistering start in New Jersey with three goals and an assist over three games. The Devils are less loaded offensively than the Wings and Brunner is becoming a top offensive force on New Jersey. He flew under the radar in most fantasy drafts as it was unclear which team he would play on. Roll the guy with confidence.
Unlikely Heroes Carrying Ducks
How about Jakub Silfverberg and his filthy sniping? There is no way the Ducks would trade away Bobby Ryan without getting a potential superstar in return. Silfverberg is young and has two goals over his first three games with the Ducks. He is worth it now but wait until he gets to play with Getzlaf and Perry to see his true potential.
Mathieu Perrault comes over from the Caps and immediately makes an impact. His two goals are nice but the fact that one of them was an OT winner is even better. I loved this guy with Washington but always saw some consistency problems. Be careful if you pick up him up. Throw him in your lineup when he is hot and bench him when he slumps.
Mathieu Perreault became the 2nd player in #Ducks history to score his first regular-season goal with the team in overtime. #NHL

— John Grigg (@John_Grigg) October 6, 2013
Ovechkin and Green: Back on Top Again?
Ovechkin with four goals over three games already. Three coming on the power play. How do you not love a guy who is averaging a power-play marker every game? Even better is the fact he is the NHL's leading scorer and also has the most shots on goal. There will be no slowing down. He will finish near the top this season. Cheers to any of you who selected him in your fantasy drafts.
Green hasn't scored yet but he has tallied four helpers through three games. If he remains healthy all season, can he rediscover the glory of his 76 point season in 20o9-2010? How does 60 points sound to you? That would be great considering many people were skeptical of him heading into the season due to his history of injury. He will keep producing because Washington has the firepower up front. Bombs away.
"Top Line" Scoring is Overrated in Montreal
Lars Eller. Enough said. He alone has as many goals as the Philadelphia Flyers this season. I should mention that number is three but it's early in the season. Linemates Brendan Gallagher and Alex Galchenyuk are punching their possible sophomore slump in the face and lighting it up. Gallagher has scored twice while Galchenyuk has four helpers. This line is hot for Montreal and you need at least one of these guys on your team. The production will slow down as the big guys will balance out the scoring soon enough though.
Eller,Galch and galg are relentless forcheck and backcheck basically in ur face hockey, very very hard to play against constant pressure!

— bobby dollas (@bobbydollas1) October 7, 2013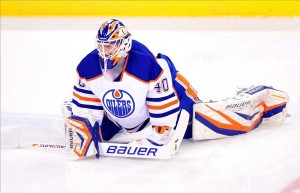 Dubnyk Struggles Early
This is a tough one for me as I projected the netminder to notch 40 wins this season. I stand by that because we are only one week into an 82 game season. Dubnyk is looking scary bad with his 6.52 goals against average over two games. He will bounce back though. Edmonton is going to score a lot this season and he just needs to be average to pick up a huge slate of wins. Don't drop this guy yet.
Flyers Top Guns Are Invisible
Giroux, Voracek, Simmonds, Read, Couturier, and Hartnell all don't have a point through three games. Keyword is "three games". The fan base needs to work on their patience and so do fantasy owners. A new coach will change the environment and help the boys get a new slate. I expect them to start putting up big numbers as soon as Tuesday. They have hit rock bottom and are only going to go up from here.
Who Does Alex Chiasson Think He Is?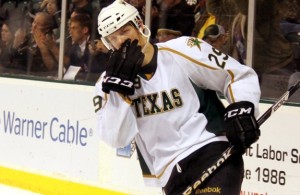 The fact Chiasson has nine goals over his first nine NHL games is mind-blowing. It is plain ridiculous. This guy isn't ordinary and fantasy owners need to take note now. Two goals in two games to start the season this year and playing on the second line with power-play minutes. He needs a lot more attention in fantasy hockey because we will be talking about him for years to come. Just because you may have never heard of him, doesn't mean he shouldn't be on your team. If he is still available, go grab him now and reap the rewards.
Those were the major storylines from the week and stay tuned for next week's edition where I do it all over again. Thanks for reading!