When Toronto Maple Leafs GM Dave Nonis revamped his club this summer, it was likely not a coincidence that he made the moves he did. Look at it like this – you have a young team that just took an embarrassing beating in Game 7 of the 1st round, and your job is to prevent that collapse from damaging your youth. What do you do? If you said, "trade em all," that's a good answer, but not feasible. Nonis did the next best thing. He brought in players who have conquered playoff failure, or been real close.
The New Additions And Why They're Here
Jonathan Bernier: 2012 Stanley Cup Champion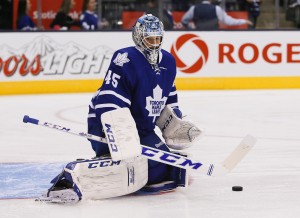 Newly acquired Leafs goaltender Jonathan Bernier won a Stanley Cup ring with the Los Angeles Kings in 2012. He didn't play the games, and that counts for something don't get me wrong. But he was there. He put on his uniform and spent every day and night of that run observing his team as they won big game after big game.
Bernier was privy to the best behind the scenes moments endured by a Stanley Cup champion team. Do you think he's more prepared because of it? I'd be shocked if he isn't. He may not have played the games but he experienced the ups and downs of the journey with the rest of his teammates. He's a Stanley Cup champion.
Dave Bolland: 2 time Stanley Cup Champion
On draft day, there couldn't have been a more obvious symbolism at work when the Toronto Maple Leafs traded to attain the player who scored the goal that eliminated the Boston Bruins from the Stanley Cup Finals.
If Leafs players subconsciously feel inadequate matched up against the Bruins because of last year's collapse – Dave Bolland feels superior, because he put the B's out. I know, I'm getting psychological here, but why not? The Hockey Writers provides "News & Opinion," and this bit is opinion.
You could see it the other night in Philly. You could tell the difference between Dave Bolland and the rest of the Leafs if you had a keen enough eye to pick up on it. The Leafs were getting outworked and outsmarted by the Philadelphia Flyers. It was the second night of a back-to-back for the Buds, and Philly's home opener, to boot. In the 2nd period of that game, David Bolland started to change momentum. He started to be, well, Dave Bolland. While Phil Kessel, Nazem Kadri, and the bunch continued failing at 2 on 2 rushes, Bolland started chipping it in and going to work. He was joined by Jay McClement, ensuring two lines on the Leafs were taking the necessary steps to sway momentum. In the 3rd period, David Bolland was rewarded with two goals.
David Clarkson: Stanley Cup finalist in 2012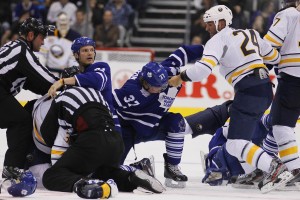 Bernier and Bolland have won Stanley Cups. The Leafs big free agency splash, David Clarkson has not. But Clarkson came very close in 2012, going up against Bernier's Kings in the Stanley Cup Finals.
Clarkson's loss in the finals must have him so hungry to get back there, this time playing in his home town (Toronto), adopting the role of his favourite player (Wendel Clark). I think we all saw just how revved up Clarkson is to restore the reputation of Toronto's hockey club when he hopped the bench in a preseason game against the Buffalo Sabres for a piece of giant John Scott.
Clarkson's suspension was ill advised and irresponsible, and awesome. Now the rest of the league knows what happens when you try and fight Phil Kessel. Every player on the ice will mug you and some of the guys on the bench will join in. In a way, sending that message is much more significant than a 10 game suspension. The Leafs have 7 tries to win 2 games, at which point they will have achieved a minimal winning percentage of 500 hockey during the suspension of their high profile free agent acquisition.
Mason Raymond: Stanley Cup finalist in 2011
Throw in Mason Raymond, just because he's here too now. Although he may not have always been part of the plans, he's done well in his short time with the Leafs. Raymond is a recent Stanley Cup finalist with the Vancouver Canucks in 2011. The best thing about Raymond is not even the offence or the speed, which are both great. Watch him leave the zone at the first sign of danger. Watch him put back pressure on opponents through the neutral zone. Alain Vigneault did a good job with this one. Raymond's work ethic is something needed on a Leafs forward group that's a little too flash sometimes. The new additions greatly compliment the already in place offensive guys.
It's early in the season and there is no telling how things will transpire. The Leafs are good, and other teams are good too. Only 8 make the playoffs and no one thinks it's going to be easy to get in, for anyone. That being said, in the short term, small sample size we've had to work with – Nonis' moves are looking very good at the moment. Very strategic.
Featured Writer | Contributing Leafs Writer for TheHockeyWriters.com | Editor & Founder at TheHockeyDaily.com | FOX Sports affiliate | Yardbarker Network | Follow on Twitter @S_Ientile & @TheHockeyDaily for daily hockey featured stories and discussion.