The Washington Capitals season began last week and their prospects' 2013-14 season began right after that as well. The American Hockey League (CHL) season is underway, along with the CHL (Canadien Hockey League) and the NCAA isn't far behind. Washington has numerous key prospects in these leagues that could join the Capitals in a few years. The Hockey Writers will bring weekly updates this season on Washington's system.
AHL
Hershey opened the regular season with a 4-3 overtime loss to the Adirondack Phantoms, in Mike Haviland's home debut as the next Bears coach. You can view THW's game recap, here. Australian forward Nathan Walker played in his first game as a pro, skating with Captain Dane Byers and elite AHL passer Jeff Taffe on Hershey's top line.
| Player | Sept. 30-Oct. 6 |
| --- | --- |
| Cameron Schilling | 1 SOG |
| Dmitry Orlov | -1 |
| Garrett Mitchell | 1 SOG |
| Michael Latta | SH goal, A, 2 SOG |
| Michal Cajkovsky | DNP |
| Nate Schmidt | G, 3 SOG |
| Nathan Walker | 3 SOG, 2 PIM |
| Patrick Wey | DNP |
| Stanislav Gailev | DNP |
| Tomas Kundratek | 1 SOG |
The play from forward Michael Latta, acquired in the Martin Erat trade, stood out enormously. He totaled two shorthanded points, with a breakaway goal and an assist on Derek Whitmore's first goal of the year. Nate Schmidt netted his first goal of the year to open the 2013-14 scoring for Hershey, but an overtime turnover led to the Phantoms winning goal.
"I knew [Brandon] Segal was behind me and I heard him call for it," Schmidt told the Patriot News. "It was my fault. I should have known he's a right-hander. I put it on his opposite side. Just a little minute play like that and it can get turned over and it's in the back of the net.
Capitals prospects Patrick Wey and Stanislav Gailev were healthy scratches in the opener, due to a jam logged defense and forward core. Michal Cajkovsky also didn't make the lineup following a strong training camp in Washington. View news and notes on individual players below.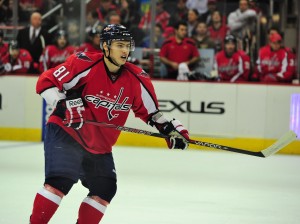 Dmitry Orlov: He skated on the third defensive pairing, with Chay Genoway. "I thought he practiced well today," Haviland told the Patriot News prior to opening night. "I liked his energy. He's a skilled guy. His mindset was perfect. Like anybody, upset about coming down, but I think he took it in stride. He knows that he needs to separate things and move forward."
Tomas Kundratek: Skated with Cameron Schilling on opening night, head coach Mike Haviland is looking for more consistency from the Capitals defensive prospect. ""He plays poised with the puck and we'll work with him all year. He wants to get back to the NHL and I love that attitude. That's the right attitude to have right now," Haviland told The Hockey Writers.
CHL
Andre Burakovsky: Had a five point night last Saturday, his best game in the OHL. He's playing in Erie this year and is projected to be a top six forward in the NHL in a few seasons.
Chandler Stephenson: He already has eight points to this point in the season as he returned from training camp in Washington.
| Player | Team | Sept 30-Oct 6 | YTD (Year to Date) |
| --- | --- | --- | --- |
| Andre Burakovsky | Erie Otters (OHL) | 1 G, 4 A | 3 G, 5 A, 1 PPG, 2 PT/G |
| Blake Heinrich | Sioux City Muskateers (USHL) | 1 A (PP), 2 PIM | 1 A (PP) , 11 PIM |
| Brian Pinho | Indiana Ice (USHL) | 2 G, 2 A, +4, | 2 G, 2 A, .143 SH %, .8 PT/G |
| Chandler Stephenson | Regina Pats (WHL) | 1 G, 2 A, -1 | 5 G, 3 A, 1 PPG, 2 SHG, 1.33 PT/G |
| Garrett Haar | Portland Winterhawks (WHL) | 2 A, +5 | 1 G, 8 A, 1 PPG, 1.29 PT/G, +9 |
| Jaynen Rissling | Calgary Hitmen (WHL) | 3 G, 2 A, 2 PPG, 15 PIM | 3 G, 3 A, 2 PPG, 1.20 PT/G, 24 PIM |
| Madison Bowey | Kelowna Rockets (WHL) | 2 G, 3 A, 1 PPG, 12 PIM | 3 G, 5 A, 2 PPG, 1.33 PT/G, 18 PIM, +6 |
| Tyler Lewington | Medicine Hat Tigers (WHL) | 1 A, 11 PIM | 1 G, 4 A, .83 PT/G, 16 PIM, +5 |
| Zach Sanford | Waterloo Black Hawks (USHL) | 1 SOG | 2 PIM, 6 SOG, +1 |
"Being a leader and having experience in this league, you're relied on to play big minutes. You want to win games for your team. It's a start you don't want to see but we have to keep doing what we're doing because we're playing good hockey. We just have to put more pucks in the net," Stephenson told the Leader-Post.
Mitch Marner 9P (@GoLondonKnights), Andre Burakovsky 8P (@ErieOtters ), Travis Konecny 7P (@Ottawa67sHockey) top 3 scoring #OHL rookies

— Brendan Ross 🇨🇦 (@RossyYoungblood) October 7, 2013
NCAA
The NCAA regular season schedule begins this week, but some exhibition games have already been played. Below are some notes on Washington specific prospects.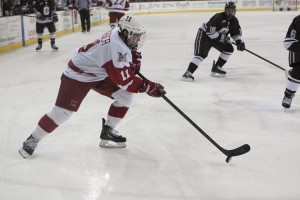 Riley Barber: Washington's sixth round pick from the 2012 draft earned first start honors in Miami University of Ohio's 8-2 preseason win over Windsor. Barber registered two goals and an assist with two goals and an assist. His second goal in the third period came shorthanded. He's looking to get quicker on his skates this year in his sophomore season.
"The name of the game nowadays is being able to skate," Barber said in a pre-season press conference. "When Enrico's out there and tells you to basically use all your skill. It's pretty cool to have the coach believe in you."
Austin Wuthrich: Tallied an assist in Notre Dame's exhibition win over Guelph. His regular season with fellow Capitals prospect Thomas DiPauli begins Friday night against Western Michigan at home.
You can follow Matthew on twitter @m_speck and email him at mspeck21@yahoo.com with any questions or comments.
Matthew Speck covers the Washington Capitals organization for The Hockey Writers. He provides coverage of both Washington at the NHL level and prospect related content. Matthew also covers local sports for the Lebanon Daily News in Central Pennsylvania. You can email him at mspeck21@yahoo.com with any questions or comments.