HERSHEY – A lackluster first period proved costly as the Hershey Bears dropped their regular season home opener by a 4-3 score in overtime. Three second period goals weren't enough following a first period two goal deficit which they overcame in the second frame. Adirondack (1-0) defenseman Brandon Manning rammed home a rebound 3:22 into the extra frame, following the original shot on goal by forward Petr Straka.
"Our compete level has to go way up," Hershey head coach Mike Haviland said after his first regular season game behind the Bears' bench. "We got outworked in the first (period), I liked that we battled back in the second (period), but way too high risk on the backend."
"We turned pucks over [and] we made some poor decisions on our pinches and our reads. That has to change, more of a simple game and more of a complete game from everybody."
The Phantoms' game-winning goal came off a result of an offensive turnover for Hershey, as defenseman Nate Schmidt turned the puck over leading to an Adirondack offensive rush.
"We think we got to score on every shift," said Haviland. "Everybody wants to make a play, everybody wants to beat two or three guys before we make a play. That's not the way you play. We got to play the right way and that's maybe what we learned tonight. We have to protect the puck a lot better."
Phantoms goalie Yann Dannis (1-0) earned the win in net for the Philadelphia Flyers AHL affiliate, totaling 25 saves on 28 shots. Ben Holmstrom, Tye McGinn and Brandon Alderson also registered goals for Adirondack.
Hershey's power play was ineffective (0-5), but the Hershey penalty kill (2/3) was during the Bears three goal second period. Third line center Michael Latta netted his first goal of the season on a breakaway during the kill and winger Derek Whitmore tallied Hershey's third straight goal and second shorthanded on the night with 5:21 remaining in the second stanza.
"I liked him a lot," said Haviland of Derek Whitmore's performance. "Him and Latta had some sort of spark together so we put them together right away. They for sure will be a pair going forward into our next game. He plays hard and he works, when you work you get results. Those two guys were our best two forwards tonight for sure."
"It's the first time we've ever played together," Latta said of newly formed chemistry with Whitmore. "He's easy to play with, he's smart and makes good plays on the fore check."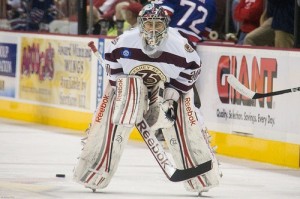 Hershey goalie Philipp Grubauer recorded 25 saves on 29 shots in his first start in goal. Most of Adirondack's key chances come off rebounds and were a result of an unfulfilling Bears' defensive effort in their own zone.
"We gave them too many chances," said Haviland. "We have to tighten up in front of [Grubauer]. We played too care free for me."
The Phantoms grabbed a 2-0 lead just 3:48 into the first period, scoring two goals at even strength. Adirondack's Captain Ben Holmstrom scored 1:13 into the contest, as his line mates Michael Raffl and Brandon Alderson set up the goal. Philadelphia Flyers top prospect Tye McGinn scored just 2:35 later, assisted by first line forwards Nick Cousins and Jason Akeson.
"We looked so nervous and I didn't know why," said the Bears' coach. "We were grabbing the sticks tight, it was everyone. Our nerves got to us. We had forty minutes to go and we had to start chipping away."
"I think we did a good job in the neutral ice on the fore check," Haviland said. "We made them make plays before the blue line and that is what gave us two goals shorthanded."
Hershey hits the road for their next game, traveling to Wilkes-Barre/Scranton to take on the Penguins on October 12th. Adirondack travels to Hartford on October 11th to square off against the Wolfpack.
"We get a point, but we got a long way to go. We got a lot of stuff to work on here. We'll definitely have good video for teaching and teaching for the week ahead."
Game Notes
1. Attendance: 8,753
2. Hershey fell to 87-77-15 all-time against Adirondack
3.  Bears Injuries: Josh Brittain
4. Hershey Healthy Scratches: Defensemen Patrick Wey, Julien Brouillette, Patrick Wellar, Michal Cajkovsky and David Kolomatis and forwards Jamie Johnson, Stanislav Gailev and Ryan Stoa
5. Bears Lines:
Forwards
Dane Byers-Jeff Taffe-Nathan Walker
Derek Whitmore-Casey Wellman-Brandon Segal
Tyler Ruegsegger-Michael Latta-Nicolas Deschamps
Matt Watkins-Peter LeBlanc-Joel Rechlicz
Defensemen
Cameron Schilling-Tomas Kundratek
Nate Schmidt-Tyson Strachan
Dmitry Orlov-Chay Genoway
7. The Hershey Bears held a jersey auction after the game that benefits local charities
Three Stars
1. Brandon Manning (game winning goal and four shots on goal)
2. Michael Latta (shorthanded goal, one assist, plus two and two shots on goal)
3. Derek Whitmore (one goal and three shots on goal)
You can follow Matthew on twitter @m_speck and email him at mspeck21@yahoo.com with any questions or comments.
Matthew Speck covers the Washington Capitals organization for The Hockey Writers. He provides coverage of both Washington at the NHL level and prospect related content. Matthew also covers local sports for the Lebanon Daily News in Central Pennsylvania. You can email him at mspeck21@yahoo.com with any questions or comments.