Damien Brunner lit the lamp for the first goal of the New Jersey Devils season.  The horn blared, "The Rock" roared and then something different happened.  The goal song.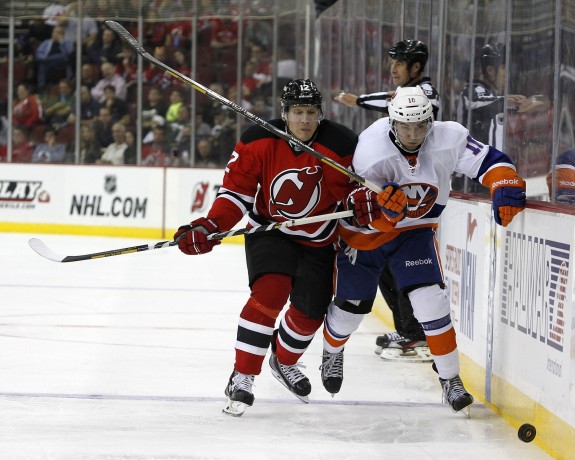 Surely they must have been "Bruuuuu-ing" for Brunner right?  Alas the Prudential Center crowd was not.  The goal song that came on was by New Jersey's very own Bon Jovi, called "This is our house." Upon this realization the Devils Army, section 233 crazies and maybe even Tommy and Gina, weren't having it and the boos rained down.
For those not aware or wondering why you would boo every time after your team scores because of a goal song, the way things have worked in recent years for the Devils is after a goal the team would play the "Rock and roll part 2" song by Gary Glitter.  That would be convicted child molester Gary Glitter but hey when does that stop arenas from playing anything by Michael Jackson and his alleged transgressions but I digress.  During the "Hey song," Devils fans would chant, "Hey-you-suck!"
One can question the merits of chanting "hey-you-suck!" especially if you're getting smoked on the scoreboard.  Having said that, I also believe there can be a better compromise than having any Bon Jovi song after 1991.
So, what other options could there be and for the love of God why are we putting so much emphasis on a goal song?
Another Bon Jovi song:
Down 5-1 in the third period?  Why not break out "Livin' on a prayer?"
Bruce Springsteen:
Yes a somewhat cliche New Jersey option but how are you going to boo "The Boss?"
Van Halen or AC/DC:
Again a little cliche, be it "Runnin' with the devil" or "Hells Bells."
Player choice:
Much like a baseball player has individualized walk-up music before an at-bat, each player could have his own goal celebration music.
Organ music and or nothing:
What a novel concept and throwback option?  You mean there was actually a time when the PA system didn't need to have something blaring between every stoppage?
Team song:
This one always carries the risk of toeing that fine line of trying to create a team identity and sounding too corny.
In summary I believe a goal song should be something that gets the fans involved and identifies with the team and or the city.  I also believe that's what the Devils were going for with the Bon Jovi song.  I'll be the first guy to defend the originality of chants and cheers but regardless of whatever song gets chosen, fans ought to care more about applauding when their guy scores a goal.
Michael Gwizdala covers the New York Islanders for The Hockey Writers. Michael is also an Associate Producer at WNYT NewsChannel 13. Additionally, Michael was once a Media Relations intern for the AHL Albany River Rats. Michael is a graduate of The College of Saint Rose in Albany, NY.