The Hershey Bears enter the 2013-14 in a state of change. Former head coach Mark French did not have his contract renewed by the club and Bears' General Manager Doug Yingst brought on Mike Haviland, former assistant coach with the Stanley Cup winning Chicago Blackhawks. The Hockey Writers previews Hershey's upcoming season below.
2012-13 by the Numbers
Record: 36-31-3-6 (17th)
Home Record: 18-15-3-2 (22nd)
Power Play: 18.0% (11th)
Penalty Kill: 84.2% (10th)
Goals Per Game: 2.68
Goals Against Per Game: 2.58
Opening Night Roster
Goalies: Philipp Grubauer, David Leggio
Defensemen: Julien Brouillette, Michal Cajkovsky, Chay Genoway, David Kolomatis, Tomas Kundratek, Dmitry Orlov, Cameron Schilling, Nate Schmidt, Tyson Strachan, Patrick Wellar, Patrick Wey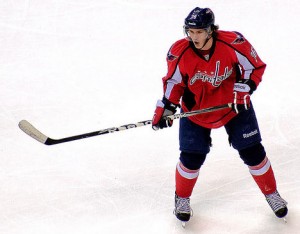 Forwards: Josh Brittain, Dane Byers, Nicolas Deschamps, Stanislav Galiev, Jamie Johnson, Michael Latta, Peter LeBlanc, Garrett Mitchell, John Mitchell, Joel Rechlicz, Tyler Ruegsegger, Brandon Segal, Ryan Stoa, Jeff Taffe, Nathan Walker, Matt Watkins, Casey Wellman, Derek Whitmore
Can Hershey Form Elite Goalie Tandem?
The Washington Capitals brought in talented goalie David Leggio this offseason, signing him to a one year, two way contract. He'll spend the whole season in Hershey, unless there's an injury to either Braden Holtby or Michal Neuvirth in the nation's capital.
Leggio, 29, played the last two seasons for the Rochester Americans, AHL affiliate of the NHL's Buffalo Sabres. He posted a career AHL best 2.56 goals against average and .924 save percentage last year. In 2011-12, Leggio appeared in 54 games, recording a 2.63 goals against average and .917 save percentage.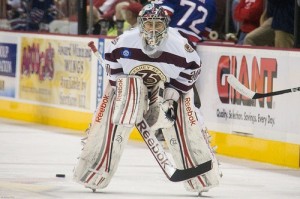 "I watched the game last night," Hershey goaltender Philipp Grubauer said after Hershey's second preseason win over Wilkes-Barre/Scranton. "Leggio was unbelievable in the net and the team played well."
Grubauer enters his first full season with the Hershey Bears this year, as the top goalie prospect in the Washington Capitals organization. At 21 years of age, the young goalie already has two years of NHL experience. He played in 28 AHL games last regular season, registering an outstanding 2.25 goals against average and .919 save percentage. Grubauer played in all five of Hershey's first round playoffs series against the Providence Bruins, holding a 3.79 goals against average and .901 save percentage.
"It makes you feel really confident when you have two goalies like them," Haviland said.
New Captain in Town
Hershey named forward and second year Bear Dane Byers 41st team captain, as the AHL veteran takes over that role following the departure of Boyd Kane to the Kontinental Hockey League (KHL) this summer with French. Forwards Jeff Taffe and Garrett Mitchell were named Hershey's alternate captains.
Byers joined Hershey on April 2nd last year around the trade deadline, following 58 games with the Oklahoma City Thunder, AHL affiliate of the Edmonton Oilers. He registered 11 penalty minutes in five games with Hershey and ten points for Oklahoma City last year. Hershey's new captain wore the "C" for the Connecticut Whale (now the Hartford Wolfpack) from 2009-2011 and the Springfield Falcons during the 2011-12 season.
Mike Haviland Takes Over For French
Following the decision not to retain French as head coach, the Hershey Bears hired Mike Haviland to be their next bench boss. Haviland was an assistant coach for the Chicago Blackhawks from 2008-12, a tenure that including a Stanley Cup Championship. He was an associate coach for the Norfolk Admirals last season.
"It's nice to get back at," Haviland said of being a head coach again. "I enjoy it, I was saying to somebody I haven't done a speech in a little bit and it was nice to do one the other night. You get right back at it and get the juices flowing."
"I'm on honest with them, they know where they stand with me. We're going to demand from them excellence and an effort every night."
New Additions
The Hershey Bears added forward Jamie Johnson from the KHL, previously of the Grand Rapids Griffins. He played for Riga Dyamo last season, totaling 30 points in 52 games. Johnson totaled 96 points in two seasons with Grand Rapids from 2010-12.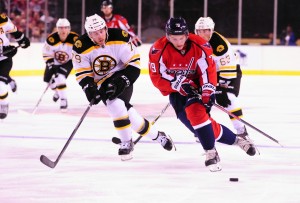 "I think he's progressing," Haviland said of Johnson's ability to adjust to the North American game coming from the KHL. "I like his effort and I like the way he gets around the puck. A very smart player, I think he's getting into that game-mode as he keeps playing period. I think he's going to fit in really well with us."
Hershey also added Australian forward Nathan Walker during the offseason on an AHL contract, following a strong training camp with the Washington Capitals. He played on a line with center Jeff Taffe and Johnson at the wing during preseason.
Defensemen David Kolomatis, Patrick Wey and Tyson Strachan join Hershey on the blue line, and forwards John Mitchell, Josh Brittain and Brandon Segal highlight the Bears' roster additions at forward.
You can follow Matthew on twitter @m_speck and email him at mspeck21@yahoo.com with any questions or comments.
Matthew Speck covers the Washington Capitals organization for The Hockey Writers. He provides coverage of both Washington at the NHL level and prospect related content. Matthew also covers local sports for the Lebanon Daily News in Central Pennsylvania. You can email him at mspeck21@yahoo.com with any questions or comments.