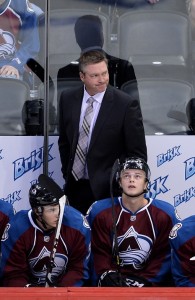 So far, so good for the Colorado Avalanche. Two wins from two games is a welcome start to the season for a club who have sleepwalked through the last few years.
Against Anaheim, the story wasn't the win of course – it was Roy's flip-out behind the bench, screaming at a calm Corey Perry to "shut the f*** up" and then nearly toppling the partitioning glass on top of Ducks coach Bruce Boudreau.
Was it necessary in the context of the game? No. It was over and done with, though tensions had been simmering, coming to a head with Ben Lovejoy's questionable knee-first hit on Nathan McKinnon. But a quick internet peruse of the game leaves you saturated with commentators and Avs fans virtually falling over themselves to deify Roy for his actions, on the basis that one raging argument constitutes the rebirth of a franchise.
Let's take a breath. First of all, whilst Patrick Roy was one of the finest goaltenders ever to grace the NHL he is a man who has, in the past, conducted himself extremely poorly as a coach. When with the Quebec Ramparts in 2008, he encouraged his goaltender son to go after opposing goalie Bobby Nadeau during a game against the Chicoutimi Sagueneens. Jonathan Roy duly obliged, sidestepping officials to pummel an unwilling Nadeau, before giving a one-fingered salute to the arena.
Fines were laid out and apologies were made, but it was a truly ugly episode and it needs to be brought up when by simply winning two games and losing any semblance of dignity and self-control, Roy is turned to some kind of Messiah figure.
Here's the other reality – the act only works when it leads to wins. Two games does not a season make (take note Maple Leafs fans). If and when the Avalanche hit hard times, all the tantrums and screaming and coach-baiting in the world won't make the Avalanche successful. Successful coaching requires intensity on occasions. However, it also requires professionalism, control, maturity, patience, man-management and tactical smarts. At the Avalanche, Roy appears to have shown snippets only of the last one thusfar.
Those same Avalanche fans currently hailing Roy will be the same ones on his back, a few weeks or months down the line, when the Avalanche hit a poor run of games. Such is the fickle nature of sports fans. Rather than calling for a "standing ovation", they should be more inclined to cautiously welcome the intensity that has been brought to the team and hope the other elements of good coaching follow suit.
It could also be argued that Roy has simply played his hand too early. He appears initially to have a similar coaching style to John Tortorella, a style which became wearisome for many in New York and was a major factor the Rangers' decision to can him. Players can be like children who begin to ignore a shouting teacher when he becomes used to it. A coach needs a trump card when his club hits on hard times, and Roy may have already thrown his on the table.
The Avalanche needed a jump start – they've got it. Don't get me wrong – Patrick Roy deserves respect. He is an all-star goaltender and one of the finest of his generation. But has he proven anything at all as an NHL coach? No. That takes time and requires winning lots of games.
So let's perhaps give him a little more time before we start calling for standing ovations.