In 1966, Ed Snider's dream of making hockey a reality in Philadelphia came true. In the 47 years that have followed, he has transformed Philadelphia into one of the most passionate hockey cities in the United States. Two Stanley Cups, eight Stanley Cup Final appearances, and five jersey retirements are evidence that his life of achievement in hockey is deep and gratifying.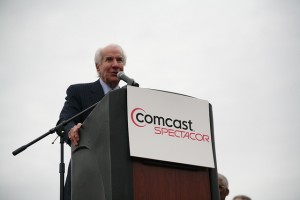 However, a very tired sports cliché indicates that all good things must come to an end. For the Flyers, the culture Snider instilled in his beloved team from day one just does not seem to fit the NHL mold anymore.
Snider Has Lived the Ups and Downs
Before the salary cap era in the NHL began following the 2005 lockout, Snider's spend-happy mentality often paid big dividends. While it was often his general managers who received credit or blame for the moves, Snider undoubtedly had a major role in determining the moves, both good (acquiring John LeClair & Eric Desjardins, then re-acquiring Mark Recchi) and bad (signing Ilya Bryzgalov) that shaped the Flyers' franchise.
However, with the birth of the salary cap in 2005, it has become abundantly clear that homegrown talent and excellence in scouting get rewarded heavily. From the exploits of rookie Eric Staal of the 2006 Stanley Cup champion Hurricanes (coached by none other than Peter Laviolette) to the two Stanley Cups won by drafted and groomed Blackhawks Jonathan Toews and Patrick Kane, building from youthful energy has become the norm in the NHL.
Even more noted veteran squads, like the 2007 Ducks and the 2008 Red Wings, achieved success in large part because of contributions from players who grew up in their systems. Among them were such stars as young guns Ryan Getzlaf and Corey Perry in Anaheim and lifetime Red Wings Pavel Datsyuk and Henrik Zetterberg (both of whom were taken in late draft rounds).
This is not to say that acquired veterans cannot have a helping hand in lifting a Stanley Cup. After all, the Flyers' acquisition of Chris Pronger, while risky at the time in 2009, nearly paid off with the biggest dividend of a Cup. Sadly, concussions have all but ended the imposing defenseman's career. Pronger did hoist a Stanley Cup, though, as a veteran leader alongside Scott Niedermayer in Anaheim, while towering Zdeno Chara put his career demons to bed by captaining Boston to a title in 2011.
Snider & the Flyers Denying the Big Picture
The Flyers' problem now is one of denial, and it stems from the top, with Snider. On Monday, he argued that the Flyers "do not need a fresh perspective."However, that statement is hard to believe given the rash amount of disjoint within the locker room, a group that had, in Snider's own words, "one of the worst training camps (he had) ever seen."
On a front office level, general manager Paul Holmgren's overspending on aging veterans like Vincent Lecavalier & Mark Streit, as well as the massive re-upping of Scott Hartnell's contract, are perhaps just extensions of the Snider way. Even noted tough guy and offensive rarity Jay Rosehill garnered a contract to the tune of $550,000, keeping hope of another "Broad Street Bully" roster alive.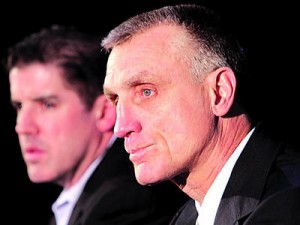 Meanwhile, what has gone unnoticed is the fact that the Flyers have perhaps the shallowest prospect pool in the entire NHL. With the exceptions of Union College's Shayne Gostisbehere and Rimouski's Samuel Morin, there is little hope for a defensive stalwart anywhere in the Flyers' farm ranks. Offensively, the pool remains shallow when you get past 2012 first-rounder Scott Laughton & perhaps generously add names like Petr Straka and Nick Cousins, who all need a lot more grooming.
Scouting has never been at the top of the food chain of priorities to Snider, and to be fair to him, it is hard to teach an old dog new tricks. His deep pockets gave the Flyers financial opportunities to go after players other teams never dreamed of landing in the pre-salary cap era. What used to be a veteran's league has quickly yielded to youthful exuberance and speed, a style the Flyers have almost never had.
What's Next for Snider & Holmgren?
With Craig Berube hired as the new head coach (for now) following Laviolette's strangely timed departure, yet another former Flyer takes on an integral team role, alongside Holmgren and assistant GM Ron Hextall. Snider's loyalty to those who previously contributed to the organization, while admirable to a point, just does not seem to be helping the Flyers anymore.
In a league where success stories have often come from the bottom up (see Pittsburgh & Chicago for proof), the Flyers refuse to use the term "rebuild" or even "build" for that matter. Winning is expected in Philadelphia, and any off year is unacceptable. What the fans need to understand, though, is patience has been shown to be the new key to long-term successes in hockey.
Could this mean the Flyers are years away from a title? Quite possibly. But one way or another, it is going to take a new approach from all parties, from the owner and President, to the GM and all the way to the coaching staff and players.
Do not be surprised if Laviolette's firing is just the first of many dominoes to fall. While Snider claims he does not overrule his staffs, ultimately, what he says, goes.
Ryan Smith is a proud graduate of Penn State University, having attained a degree in broadcast journalism. His experience in hockey is extensive, having covered PSU Men's ice hockey for USCHO.com as an Arena Reporter for its first NCAA season in 2012-2013 while also serving as Penn State Athletics' voice of women's ice hockey home games. He was also the sports director for Penn State's ComRadio, a student based radio station endorsed by the College of Communications. In that position, he broadcasted Penn State hockey since for four years. He can be followed on Twitter @RyanSmithHockey.