Kyle McLaren hitting Richard Zednik. As we watched Lars Eller face down on the ice following a check from Ottawa's Eric Gryba in last May's playoff race, my mind immediately raced back to an incident over 11 years ago. Kyle McLaren hitting Richard Zednik. In a first-round playoff game between the Habs and the Bruins on April 25th, 2002, defenseman Kyle McLaren levelled Richard Zednik in an illegal open-ice check that would end Zednik's season, as well as McLaren's.
Zednik was sidelined into the off-season with a concussion and facial fractures, McLaren would be suspended for the rest of the series (3 games). Now fast forward 11 years, following the May 3rd hit by Gryba, Eller would be sidelined for the season with a concussion and facial fractures, and Gryba would sit for a 2-game suspension imposed by the league.
To call McLaren's hit an "illegal check" even by 2002 standards, would be a gross understatement. It was the hockey equivalent of a clothesline in the WWE, then and now. Even with the stern focus in today's NHL on restricting and penalizing hits to the head, McLaren's penalty was equally punitive in terms of 2002 standards.
The length of his suspension underlined the unacceptable nature of his action, regardless of the hockey era.
Without readdressing the debatable legality of Gryba's hit last May, while Eller was being tended to by the medical professionals I continued to think about the Zednik-McLaren incident and how it began the certain decline of the careers of both players at the time. Would Gryba's action and Eller's horrible injury be a negative influence on the future of Lars Eller and Eric Gryba?
Undoubtedly such a horrific hockey-play-gone-wrong would be devastating to both players involved, and their future performances would suffer as a result. Or would they?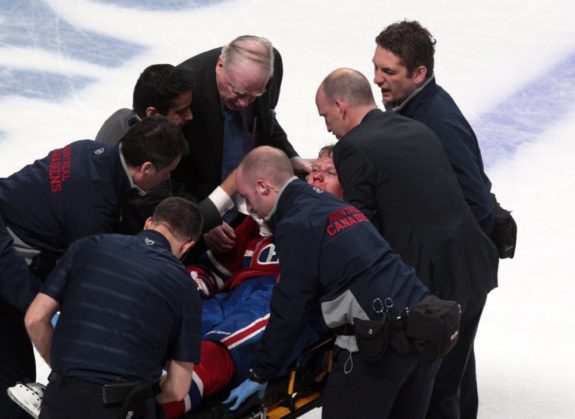 Comparable Events?
The similarities are eerily apparent in the Eller-Gryba hit versus the Zednik-McLaren hit. A) First round playoff game between division rivals. B) Loss of a key, young, energetic Montreal forward. C) Taken down by a hit from an opposing defender (although Eller's hit took place exiting the defensive zone while Zednik was entering the offensive zone across the blueline). D) A loss of both players for the remainder of the season (Montreal ended up winning the 2002 playoff series from the Bruins, 4 games to 2). E) Polarizing, public debate over the details of the hit and the penalty and suspension imposed, (as can only be the case when hockey-crazy fans of Montreal, Boston, and Ottawa are involved).
I'd even argue the hits were equivalent in terms of severity and impact on their clubs and the playoff series. Go ahead and debate.
McLaren would never play another game for the Bruins following his hit on Zednik, being traded to San Jose in the off-season. Still with the Habs in following seasons, many would admit that Zednik's game and playing style was never the same following the McLaren hit. The inside puck drive that he used to employ with great effectiveness on slower or smaller defenseman was almost routinely replaced with a drive to the outside, frequently resulting with an easy snuff along the boards by defenders.
Zednik seemed to be considerably more cautious on skating to the inside offensive zone, as he had been doing at the moment of the 2002 season-ending hit by McLaren.
The Impact of a Devastating Hockey Hit?
So, were Richard Zednik's and Kyle McLaren's careers sent into a death spiral following the incident, as most might assume? Well, no. We may never know what their careers might have been if the horrible incident hadn't occurred. Surprisingly, following "the hit" Zednik and McLaren both posted multiple seasons of greater point totals, and better stats than prior to "the hit".
Even though Richard Zednik knowingly or unknowingly changed his style of play, his performance on the ice resulted in career improvements by most measures. In following seasons he posted career highs in goals and points. Similarly, McLaren had several breakout years in San Jose.
I wouldn't necessarily be suggesting that "the hit" improved their play, rather, that it didn't have the negative effect that most people would assume would be the case.
What do Eller and Gryba's Season Hold in Store?
In the end, no one knows what this season holds in store for Montreal's Lars Eller and Ottawa's Eric Gryba. Eller has already showed early signs of being dominant in his first two games of this young season. Although, his success has been at home, shielded from the opposing team's preferred line matchups with the final line change. Gryba has not demonstrated any significant improvement in play in his single appearance so far this season.
Will Eller unconsciously change his style of play? Should he? Both players have since publicly declared they are symptom free from the incident and look to be eagerly awaiting the coming season. Do you believe Lars Eller and Eric Gryba are going to post career numbers this year? If both remain relatively healthy, I do.
A career boost? Likely not. A career event of relatively minor significance? Likely.
Lead Writer for the Montreal Canadiens at TheHockeyWriters.com. Also, tracking man games lost data for pro sports at ManGamesLost.com. PhD in cell biology from McGill University. Lifelong Habs fan.