Brad Richards is in a contract year.  With two key goals in a 3-1 victory over the Los Angeles Kings, he's sure playing like it.
Despite being just two years into a nine-year, $60 million deal, all signs point to him becoming a free agent next summer. The Rangers have one compliance buyout remaining, and it's likely earmarked for Richards. It's not so much about his performance – which admittedly was disappointing last season – as much as it's about his salary. More specifically, it's about his cap hit.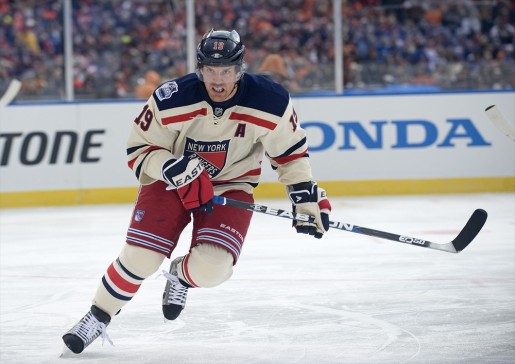 From Larry Brooks of the New York Post earlier this year:
The final three seasons of Richards' nine-year, $60 million front-loaded deal are worth $1 million per. Under the cap-recapture formula that was among Brian Burke's pet projects, if Richards were to retire with three seasons remaining on his deal, the Rangers would be hit with a dead-space charge of $5.667 million per.

If he were retire with two seasons remaining on the contract, the charge would be $8.5 million per. And, counterintuitively, if he were to play all but the final season of his deal, the Rangers would be hit with an untenable charge of $17 million for 2019-20.
No matter how well he plays in 2013-14, they're going to have to let him go.  (Assuming they can.  If he's injured, he'd be ineligible for a buyout and would be stuck on the team's roster through 2020.)
For the duration of the season, he'll be a Blueshirt. For him and for the Rangers, he'd better make it a bounce-back year.   Here's why it will be:
Better Preparation
Richards had a good first season in New York, posting 25 goals and 41 assists. The pending lockout that came after redirected his focus. Instead of training, he spent the following offseason focused on CBA negotiations.  While many players found game action overseas during the lockout, Richards limited himself to just a few charity games.  There was no training camp prior to the start of the abbreviated season.
His regular season was disappointing, with the final numbers boosted by a season-ending hot streak.  His playoff numbers, though, were disastrous, with just one point in 10 games before becoming a healthy scratch.  Without training camp and at a sub-par conditioning level,  it appeared that Richards was simply not prepared to play.
"A lot of things can snowball from that when you're playing and things aren't going the way you expect them to go," Richards told Newsday. "But, [this season] I'm back to normal. I know I can play the game. I just want to get going."
https://twitter.com/BRichards_1991/status/355504433582456832
This offseason, Richards worked hard to get in shape, training with former teammate Martin St. Louis. Better conditioning plus a full training camp will give Richards a better start to the season and improve his chances of rediscovering his game.
A Clean Slate
Richards ended the truncated 2013 season as a healthy scratch.  It's not the way any player wants to end his year, especially in the playoffs. His relationship with coach John Tortorella was tarnished. It was apparent that one – or both – might not be back.  Torts was the odd man out.  Now it's up to Richards to prove he can still be an elite player.
He'll get to do it under new head coach Alain Vigneault, whose mantra in camp has been "Clean Slate" — something Richards must have been relieved to hear. "I've told him to turn the page and, as much as he can, not answer questions about last year because it has no significance or importance to now," Vigneault told ESPN.
"I am happy I am here, thrilled…I'm ready to start new and fresh and get back on track"-@BRichards_1991 #NYRTC

— New York Rangers (@NYRangers) September 12, 2013
Winging It
You can never have enough centers, but you can have too few slots to get them enough minutes.  Such is the case for the Rangers. With Stepan, Brassard, Boyle, and Moore up the middle, Richards has shifted over to the wing.  He's suited up on the left side alongside Derek Stepan and Rick Nash.   Instead of reducing his ice-time, the change will ensure Richards gets top-line minutes.  It also allows the left-handed Richards to share faceoff duties with the right-handed Stepan, depending on where the draw takes place.
"I've played [wing] a little in Tampa, and played with [Mike] Modano in Dallas …  but I've never really played full time," Richards said, as reported by Newsday.
So far, the move seems to be paying off.  Here's his goal that opened the scoring Monday night against the Kings:
It remains to be seen how the lineup will change when Carl Hagelin returns from injured reserve.  The way things are going, the first-line left wing spot is Richards' to lose.  If he keeps working hard and contributing, the P.E.I. native could have a career year on the wing. That should set him up for a nice new contract when the Rangers inevitably buy him out at the end of the year.  The more success he and his team have this year, the more he may be able to get on the market.
As long as he's a Blueshirt, the Garden faithful will be cheering him on.  And Richards, for what it's worth, will be giving his all for the Rangers — and for his next contract.
"Hopefully, this is a positive thing and that's how I'm looking at it, that it'll get me going in the right direction at this point in my career," Richards said to ESPN.  "I'm happy to be here. I'm thrilled. I did not want to end my New York Ranger tenure as [a healthy scratch in the playoffs. I'm grateful that I'm still here and I'm getting the chance to be part of this organization."
---
Follow Josh on Twitter – @joshsmith29
---
Josh is a life-long hockey fan. He grew up as a fan of the New York Rangers, but thanks to their general mismanagement and years of mediocrity, has developed a great appreciation for every team across the league.
He's been writing about hockey on various sites since 1995. In addition to his work at The Hockey Writers, he also keeps tabs on the referees over at ScoutingTheRefs.com.