There's no need to over analyze what happened on Tuesday night when the Pittsburgh Penguins and Columbus Blue Jackets met for Game 4 of the Eastern Conference Quarterfinals. The Blue Jackets — determined to avoid getting swept in the series — outplayed the Penguins in every facet of the game.
It's really that simple. And John Tortorella's guys were finally able to play the crappy locker room music he so anxiously wanted to hear.
Pittsburgh has had issues all series with slow starts. Columbus, on the other hand, has started fast but the patient Penguins have been successful in waiting them out, then striking fast and furiously. Experience and poise have played a major role up to this point and there's little reason to believe that won't continue as these teams head back to Pittsburgh for Game 5. Maybe, just maybe, the Penguins needed a performance like that to really kick things into gear. And did anyone really think they'd sweep the Blue Jackets prior to the postseason starting?
No One Said It Would Be Easy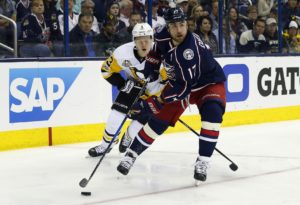 When seeding was finalized and this matchup was set in stone, the hockey world started champing at the bit, anticipating a hard-fought battle between the physical Blue Jackets and the skilled, speedy Penguins. The teams split their regular season series and only three points separated them in the standings. It was supposed to be one of the more evenly matched series in the playoffs, and most assumed it would go a full seven games.
Needless to say when the Penguins jumped out to a 3-0 series lead everyone was shocked.
Interestingly, the 3-0 series tally isn't quite reflective of how things have played out on the ice. Columbus held a 3-1 lead in Game 3, before squandering it and eventually losing in overtime. Both Game 1 and Game 2 were similar in the fact that the Blue Jackets were the better team throughout the first period but each time, Pittsburgh's counter punches in the second period were simply too much for Columbus to handle. The Penguins are simply picking their spots successfully and their ability to weather early storms has been the backbone of their victories.
While on the surface, it may seem as if the Penguins have easily cruised to a 3-0 series lead but they haven't. Winning their fourth game and ultimately eliminating the Blue Jackets will be quite challenging if they continue their current rate of play and if they do walk away successful, sustaining that success will be impossible without improvement.
These Aren't Last Spring's Penguins
When the Penguins began their tear in 2016, they launched to the top of almost every statistical category pertaining to offense and never looked back. They were a dominant possession team, generated tons of scoring chances and by proxy, limited scoring chances against since their opponent never had the puck. That isn't the case for the 2017 version of this squad.
According to Corsica.Hockey, through four games, the Penguins rank ninth among the 16 playoff teams in shot attempts per hour, encompassing all attempts (on goal, missed the net, blocked, etc.). The Blue Jackets, however, are third overall and also boast the second best shots on goal per hour. One area of success for Pittsburgh — prior to Game 4, at least — was keeping Columbus' opportunities from the perimeter. Marc-Andre Fleury has struggled with rebound control but it hadn't hurt them until Tuesday night, mainly due to the Penguins controlling the area around the crease.
That changed drastically in Game 4, and the shot chart below paints a perfect picture of just how well the Blue Jackets infiltrated Pittsburgh's net-front.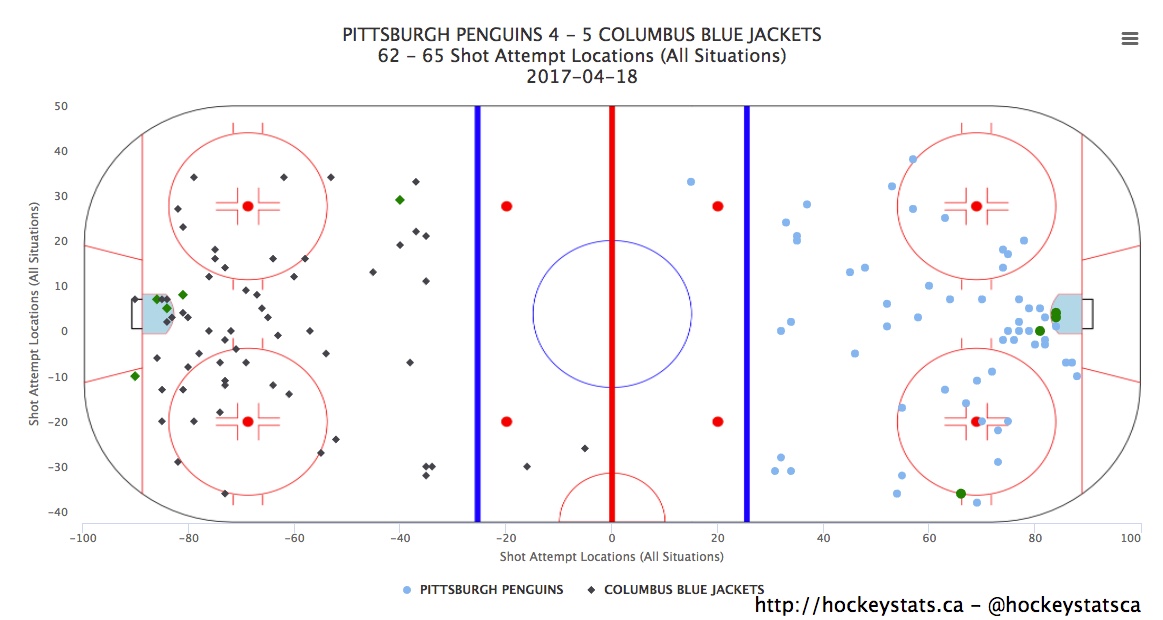 (Courtesy of HockeyStats.CA)
In all fairness, the Penguins are also creating traffic in front of Columbus goaltender Sergei Bobrovsky and that's leading to plenty of scoring chances. Pittsburgh is currently first among playoff teams in scoring chances per hour. The fact that Columbus is controlling play as they are is worrisome, though. Especially when you consider there's a good chance Pittsburgh will see the Washington Capitals next round.
If that's the case, they will indeed make the Penguins pay for slow starts and lackluster puck management.
At the moment, the Penguins are fine. There's very little reason to think Columbus can erase this deficit and beat Pittsburgh four consecutive times. But if/when they move on to round two, they'll need to address their shortcomings in the defensive zone or their title defense will come to a screeching halt. Kris Letang's absence has been very evident when you look at the Penguins' inability to exit their zone cleanly, with possession, and generate the offense we're used to seeing on the rush. They'll have to figure it out, though.