With his shaggy Swedish locks and jaw-dropping speed, Pittsburgh Penguins winger Carl Hagelin is hard to miss. He's ferocious in short-handed situations, a nuisance on the forecheck and never seems to stop moving around the ice. Wherever the puck happens to be, Hagelin is going to be there. But, for all his tenacity and energy, the one place he has tended not to be this season is the scoresheet.
With four goals and 10 assists in his first 50 games, Hagelin is projected to finish the season with just 23 points. On the surface, it doesn't seem like an overwhelming contribution to a team fighting for a playoff spot. Especially for a team that struggles so mightily at even strength and needing goals from anyone other than the stars.
The reality, however, is that Hagelin's production has exponentially increased over the last several weeks and he has Mike Sullivan and Evgeni Malkin to thank for that.
Hagelin Ends Awful Stretch
When the Penguins visited the New York Islanders on the first Friday of January, Hagelin was sitting on only six points for the season and hadn't registered as much as an assist since the middle of December. Pittsburgh won 4-0 behind a vintage night by Sidney Crosby but Hagelin extended his pointless streak to 10 games, registered zero shots and only ended up on the scoresheet at all because of a cross-checking penalty.
The Penguins returned home for a Sunday afternoon matchup with the Boston Bruins. Not only did they come from behind in a wild 6-5 overtime victory but Hagelin made an appearance with two shots on goal and a first-period assist. It seems trivial to highlight a game with a single point and a minus-1 rating as a milestone but when you're in a slump every little bit helps.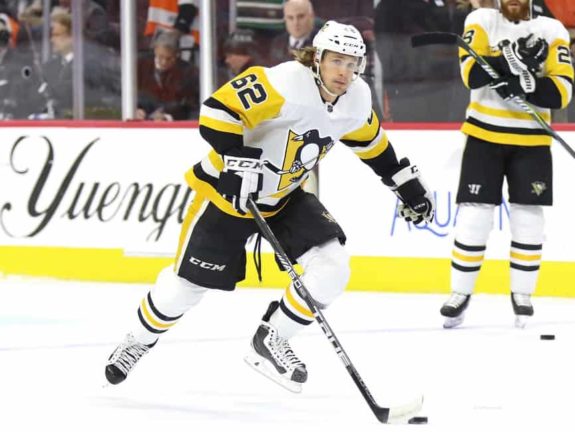 Hagelin went on to register points in his next four games, including his first goal since Dec. 2 and doubled his season's point total by the middle of the month. He even managed to finally surpass 200 points for his career. With a goal and an assist against the Minnesota Wild Thursday night, Hagelin goes into the All-Star break with points in six of his last eight games
More importantly, he's helping the Penguins climb in the standings. After spending parts of December not even in a wild card spot, they've surged to second in the Metropolitan Division behind wins in eight of 11 games this month. Hagelin has points in five of those wins and for the season 11 of his 14 points have come in Pittsburgh victories.
Hagelin and the Penguins might just be getting hot at the same time.
Joining Forces with Malkin
Even if he were to get red hot, Hagelin isn't going to match the explosive contribution he made after Pittsburgh acquired him from Anaheim at the trade deadline in 2016. He had 10 goals, 17 assists and was a plus-18 in 37 games down the stretch for the Penguins after registering 12 points and a minus-10 in 43 games for the Ducks. As an encore, he chipped in 16 points in the playoffs as Pittsburgh claimed its first of two straight Stanley Cups.
The rhythm Hagelin found that spring was a part of the famed "HBK Line" alongside Phil Kessel and the since-departed Nick Bonino. Put together after Evgeni Malkin was injured in March, the trio combined for 45 points in 16 games and even had a sandwich named after them at Pittsburgh's Primanti Bros restaurant.
While the statistics aren't exactly on par, the one similarity between that stretch and Hagelin's current increased level of production is Malkin. This time, though, it's not due to injury but rather joining him on a line with Patric Hornqvist. It's a combination Sullivan went to last year briefly with some positive results but the impact this year has been immediate.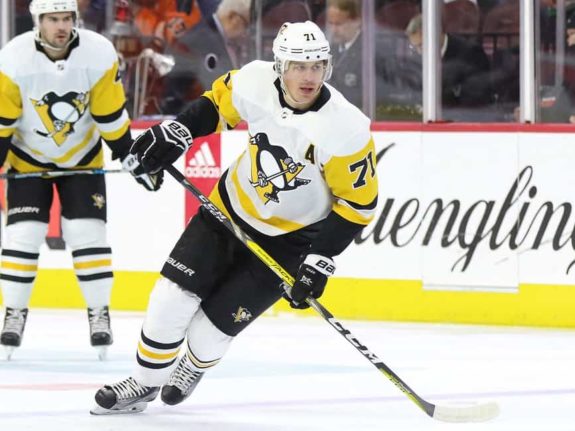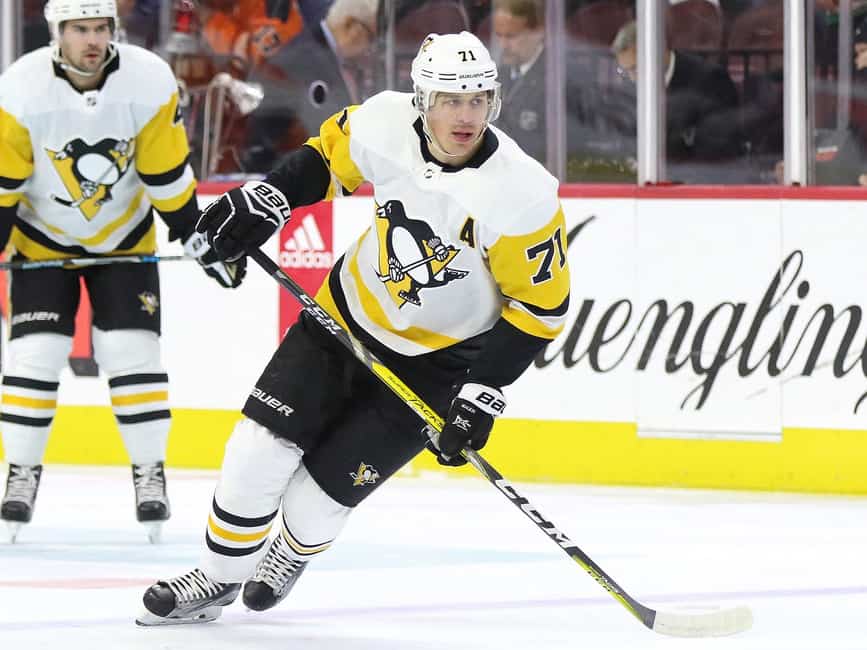 Hagelin isn't the only one benefiting. Malkin has 16 points in his last 11 games and looks as committed and locked in as he has all season. The way he's flying around the ice and finding a way to be involved in everything makes it seem Hagelin's style of play is making an impact on his new linemate.
No Signs of Slowing Down
Sullivan is known for getting crafty with his lines and each game's combinations can often be a guessing game until the puck drops. He seems invested in this trio, but they're not always going to be on the ice at the same time. Which is why Hagelin's performance against the Wild Thursday night was so important.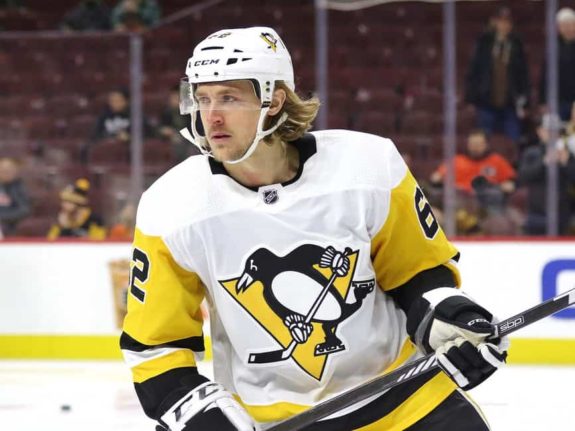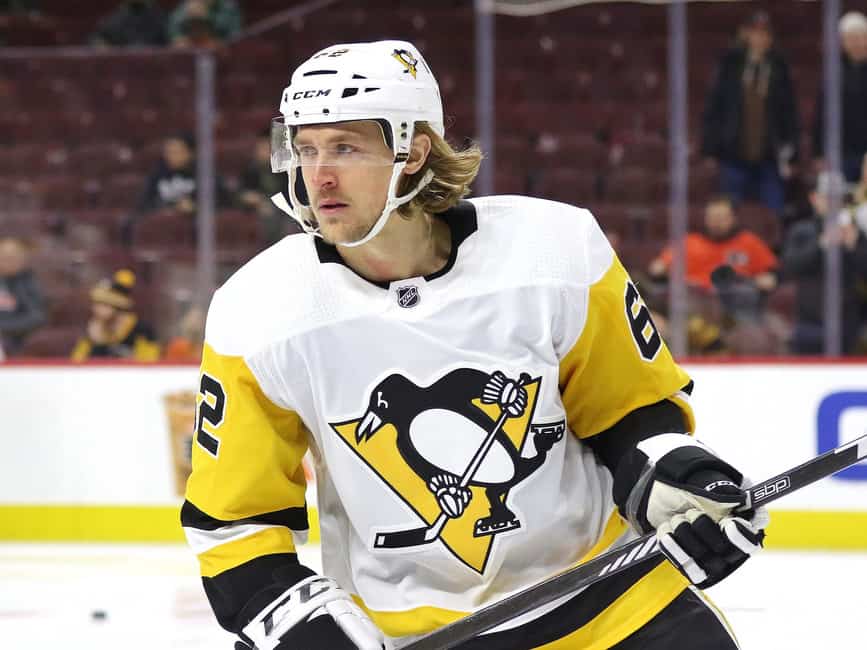 With the Penguins firing on all cylinders and leading 2-0 near the midpoint of the second period, Hagelin took an incredible pass from Malkin in the slot and buried it without hesitation. Less than 90 seconds later, Hagelin found himself on a line with Crosby and assisted on a Brian Dumoulin goal after a series of slick passes with his captain.
So, after having multiple stretches of at least 10 games without a point and registering only an assist in November, Hagelin notched a goal and an assist in under two minutes playing alongside two future Hall of Famers.
Superstars are going to make the players around them better, especially statistically, but only if those players are ready to contribute and ready to make plays.
Hagelin is ready.
Shawn Nicholls covers the Pittsburgh Penguins for The Hockey Writers and is a veteran of the book publishing industry and a former staff writer and hockey correspondent for Sports Illustrated for Kids. Shawn resides with his family in Brooklyn, New York.