For the tenth straight season, which happens to be the second longest active streak in the NHL, the Pittsburgh Penguins are in the playoffs.
While it's easy to get frustrated when your team fails to live up to expectations, Penguins' fans need to understand just how special it is that postseason play has become the norm for this organization. Consistency is almost unheard of in the salary cap era, where professional sports leagues thrive on parity. But, no matter what, Pittsburgh has found a way to compete.
This season though, things are a bit different. The Penguins are a hungry group, clearly not satisfied with simply making the tournament. Yes, the youth on this team will be excited and anxious to get a taste of what the NHL postseason has to offer but I also imagine they'll bring some fire and tenacity, which will be a nice change of pace for Pittsburgh. In recent seasons, they piled up veterans and "playoff performers". The outcome was clearly not ideal.
The Penguins are tasked with facing a familiar foe in round one. For the third consecutive season, it'll be the New York Rangers standing in Pittsburgh's way. There's also a chance they'll have to face the Rangers without Marc-Andre Fleury or Matt Murray, leaving Jeff Zatkoff and 20-year old Tristan Jarry as their options between the pipes. Fleury has practiced and could return to action but as of right now, it's still unclear who takes the crease for game one.
Can they overcome their recent rash of injuries and finally conquer the Rangers?
Pittsburgh Penguins vs. New York Rangers – The Breakdown
The Penguins turned a corner against the Rangers this season but contrary to popular belief, they weren't necessarily outmatched prior. The biggest issue was creating second and third chances and of course, finishing them.
In 2014-15, the Penguins out-chanced the Rangers 79-57 at even-strength in the regular season. This season was more of the same, with Pittsburgh being credited for 91 scoring chances-for and New York recording 74. In general, the Penguins have been the superior possession team throughout the last two seasons.
Below is a chart that reflects Corsi events from the 2014-15 season, courtesy of WarOnIce.Com.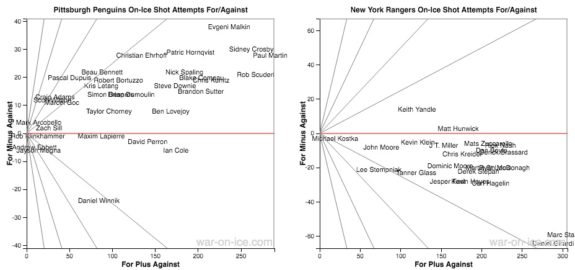 If you aren't familiar with how this reads, it's easy to explain. The red line through the middle is the break even point and if you're located in the bottom half, it indicates a negative Corsi differential. Only Matt Hunwick and Keith Yandle had a positive differential in 2014-15, indicating that Pittsburgh owned a high percentage of total shot attempts throughout those contests.
Unfortunately, it was the same old story, which bled into the playoffs as well and ended with New York eliminating Pittsburgh in five games. The Penguins couldn't score.
Lundqvist last 8 playoff games vs. PIT: 7-1, 1.34, .954 including 4-0 0.99, .965 (111 saves on 115 shots) last 4 on road.

— Rick Carpiniello (@RickCarpiniello) April 11, 2016
So far this season, Pittsburgh looks as if they've solved Henrik Lundqvist. After getting shutout by the Rangers in early February, the Penguins stormed back through the next three contests netting 12 goals, outscoring New York 12-6 and frustrating Lundqvist in the process. They've dominated the regular season series between the two clubs and look to continue that trend into the postseason.
And, maybe most impressive, the final two games of that series which saw Pittsburgh tally eight total goals were played without Evgeni Malkin.
Potential Key Matchup for Pittsburgh
The Penguins pose quite the matchup nightmare for opponents, which will only get tougher once Malkin returns. In the meantime, it'll be interesting to see how Alain Vigneault deploys his defensemen. Yesterday's practice may have provided a hint.
Girardi paired with Marc Staal. Probable Crosby duty.

— Rick Carpiniello (@RickCarpiniello) April 12, 2016
With Ryan McDonagh unlikely to play early in this series, pairing Dan Girardi and Marc Staal against Sidney Crosby makes sense for the Rangers. That leaves Keith Yandle and Kevin Klein, a pair of better skating blue-liners, to try to match the speed and skating ability of Pittsburgh's second line that boasts both Carl Hagelin and Phil Kessel.
However, Girardi has been victimized by the Penguins this season. Throughout the regular season series between these teams, he boasts an extraordinarily bad minus-51 Corsi differential and forfeited 82.4 Corsi-against per 60 minutes. What's that tell us?
For every 60-minutes that Girardi faces the Penguins, they could expect to record a hair over 82 shot attempts. All of this adds up to a very busy series for Lundqvist.
Home Ice Truly an Advantage for the Pittsburgh Penguins
In most cases, home ice advantage means very little in the playoffs. Consider the following results, which speak volumes about how little it matters.
https://twitter.com/JonathanWillis/status/719341755963961345
However, the Penguins are a different story this season. They've squashed the idea that Consol Energy Center is cursed and their home ice results as of late are astounding.
Pittsburgh has gone 17-4-1 at home since the calendar turned 2016 and led the league in scoring on home ice with 85 goals. Also, they boast a plus-34 goal differential at Consol throughout that span. So, while they haven't been good at Consol in recent seasons, they look poised to reverse those fortunes when things kick off tonight.
My official pick for the series is Pittsburgh in five games. If Fleury misses any time and the Penguins have to go with Zatkoff, the series may go six games. Either way, based on recent play, the Penguins are simply too hot right now and trending in the right direction while the Rangers are doing just opposite.
Pittsburgh Penguins writer for TheHockeyWriters.Com and PittsburghHockeyNow.Com. Youth hockey coach, and student of the game.