The Pittsburgh Penguins will visit Vancouver tomorrow night to face the Canucks in what will be the first time Brandon Sutter and Nick Bonino face their former employers. In a somewhat surprising trade this summer, the Penguins sent Sutter and a third round pick to Vancouver in exchange for Bonino, Adam Clendening and a second round pick.
In the eyes of many that cover the Penguins, it was a deal that capped off a very successful offseason for Pittsburgh GM Jim Rutherford, especially considering that the trade cleared up enough cap for the Penguins to immediately sign Eric Fehr via free agency. When it was all said and done, it seemed as if Pittsburgh clearly came out on top in this deal. Essentially, the overall transaction saw the Penguins add Bonino and Fehr as NHL roster players, Clendening as a depth defenseman and they even upgraded a draft pick for the 2016 NHL Entry Draft.
The true test of a trade is the longevity of each player's contributions to their new organization. And, considering how early it is, a lot can change in the future. But, from what we can tell right now, this was a hockey trade that benefitted both organizations and their long-term goal, whether you feel Sutter is worthy of that return or not.
Pittsburgh Penguins Reasoning and Return
If you use analytics as part of your analysis process, as I do to the best of my ability, you likely see Sutter as a defensive liability and an opportunist that can take advantage of scoring chances but doesn't necessarily create them on his own. Despite that, the Penguins seemed to genuinely like him in the lineup. They viewed him as a strong penalty killer, good locker room guy and someone who scored 21 goals for a team that struggled so mightily to light the lamp down the stretch in 2015. But, something had to change. The Penguins were up against the cap and needed to get creative in order to find room for more depth.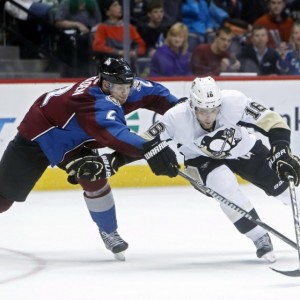 Sutter was the best candidate to create that cap space. Heading into his final year of a contract that paid him $3.1 million annually, he would be looking for a raise at season's end and the Penguins wouldn't be able to afford it. Nor should they have tried to. So, after working diligently on a move that made sense for the future of the Pittsburgh Penguins, Rutherford landed this deal with Jim Benning in Vancouver.
So far this season Nick Bonino has tallied two goals and one assist through 11 games-played. He has helped tremendously in boosting bottom-six production, as he's a player that can create offense for those around him unlike Sutter during his time with the Penguins. And, while Bonino's possession numbers are far from stellar, there's a different dynamic this season which is that the entire team has been sub par in that aspect of the game so far. You can attribute that to many different factors, whether it be poor defensive play, quality of competition so far or bad coaching but the fact remains, the Penguins aren't a good possession team right now.
The reason Sutter received so much criticism last season is that the Penguins were one of the top possession teams in the league, except when he or Maxim Lapierre were on the ice. Nearly every player that recorded minutes with him saw a drop in production. So, while his 21-goal effort was something that any team would love from a third-line center, the rest of his game was severely lacking. How has Sutter performed in his short time with Vancouver?
Vancouver Canucks Reasoning and Return
Jim Benning and the Canucks set out to get a pivotal piece for their franchise's future. Benning referred to Sutter as a foundation piece and playoff performer. The full quote via NBC Sports is below.
He can play a good two-way game. He brings us speed. He goes to the net hard. I thought in the playoffs for Pittsburgh last year, he was really good. He's a playoff player. When the games mean something, that's when he's at his best.
So far this season, Sutter has recorded three goals and four assists through 12 games-played. From the standpoint of underlying numbers, Sutter is still dragging down his line mates, especially while playing on the wing with Henrik and Daniel Sedin. He has changed roles and is now playing second-line center but continues to boast a sub par 45.5-percent corsi-for during five-on-five play according to stats.hockeyanalysis.com. But, if he keeps scoring, does that matter to the Canucks?
In general, Sutter is fairly one-dimensional and is far from the two-way forward that Benning referenced when discussing this trade. However, while I've long been a critic of Sutter's due to his poor play away from the puck and inability to win 50/50 battles, he could potentially flourish in the right situation. Is his situation in Vancouver what he needed to excel? Will he prove to be worth his new five-year, $21.875 million contract?
In the early stages of this swap, it seems that both teams did indeed get exactly what they aimed for. The Pittsburgh Penguins received their cost-effective third line center that can be moved up and down the lineup if needed and the Canucks, at least to this point, received a player that will produce offense to complement their core. Of course, the long-term impact of this trade could be completely different but for right now, while I still believe the Canucks overpaid both in assets and salary for Sutter's services, both teams benefitted.
Pittsburgh Penguins writer for TheHockeyWriters.Com and PittsburghHockeyNow.Com. Youth hockey coach, and student of the game.