Despite the current record of the Toronto Maple Leafs, the team has actually been fairly solid to start the season. It hasn't always shown in the win column, but the Buds have worked hard on many aspects of their game which have alluded them the last few years. They have been much better winning draws, on the fore-check and in breaking out of their own zone.
New coach, Mike Babcock, should be directly praised for these changes. He has the Maple Leafs playing a new system and while it may take some time to sink in completely, it has already shown some benefits and has helped certain players take the next step in their development.
Nazem Kadri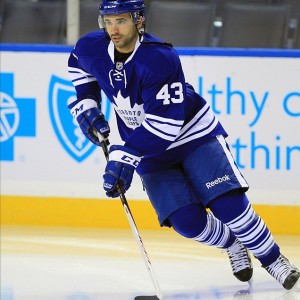 When Mike Babcock agreed to coach the Maple Leafs, one of the first players he issued a challenge to was Nazem Kadri. He wanted the young centre to be an elite player and take the next step in his development. A month and a bit into the season and it appears Kadri has taken the challenge to heart.
He's been vastly improved in both his own zone and the offence side of the ice. He has slowed down his game and is using his linemates much more effectively. He has increased the physical part of his game and it has paid dividends when the Buds attempt to cycle the puck and generate scoring chances.
Despite only one goal and six points on the season so far, Kadri has also been shooting the puck a lot more. There are more ways to help a team win than just scoring and the former first rounder has been all over the ice hitting opponents and drawing penalties, which is one of his best skills.
Morgan Rielly
This kid is something else. The young defenseman has been easily the best Toronto Maple Leaf player so far this season. He's a dynamic skater, he's getting top pairing minutes against the best in the NHL and his offensive instincts are unparalleled.
In 81 games last season, the former fifth overall pick had a total of eight goals. In 11 games this year, he already has three. Rielly has flourished under Babcock's system and has responded extremely well to the changes put in place by the veteran coach.
He looks to take even bigger steps as his third NHL season continues to roll along. The Maple Leafs appear to have found a gem in the former Moose Jaw Warrior who should only get better with an increase in confidence and minutes.
Morgan Rielly had a career-high three points tonight. He now leads the Leafs in scoring with eight points.

— Jonas Siegel (@jonassiegel) November 3, 2015
Leo Komarov
In years past, Leo Komarov was mostly relegated to a third or fourth line role in which he fore-checked hard and got into his opponents' heads. He was never given the chance to play top line minutes with scoring linemates. This year is a bit different. Mike Babcock has jumbled the lines up and has put Komarov with Nazem Kadri and James van Riemsdyk, two players who are most known for their offensive abilities.
Komarov was a scoring forward during his time in the KHL. He's now getting his chance to produce with the Maple Leafs. The former sixth round pick in 2006 provides the line with some needed grit. Komarov loves to hit and that should continue to help the trio pressure opponents in their own zone.
So far, he has taken his chance and run with it. It's an experiment worth keeping an eye on for the time being. At the very least, it's highly entertaining and many fans are happy to finally see Komarov get a legitimate chance.
My name is Anthony Fusco. Through school, I completed a joint degree involving an Honours B.A. in Journalism from Wilfrid Laurier University and a Videography and Broadcasting degree through Conestoga College.
I currently work for the University of Toronto as a Varsity Sports Announcer and for the Toronto Maple Leafs as part of their game presentation squad.
I'm also the play by play voice of the Kelowna Falcons, a baseball team located in British Columbia.
My goal is to one day be a hockey broadcaster.