Halfway through 2016-17, the Pittsburgh Penguins have looked every bit as good as they did last spring on their way to the franchise's fourth Stanley Cup Championship. But as every team does, Pittsburgh hit a speed bump this week.
First, the Penguins fell for a second straight time to the Washington Capitals. Although it's always tough losing to a division rival, the defeat wasn't the end of the world. It was just the second regulation loss for Pittsburgh since Dec. 1, and the Capitals entered the night on a seven-game winning streak. The only other defeat the Penguins had suffered at that point was to the Columbus Blue Jackets. The Blue Jackets were on an even longer winning streak when they knocked off Pittsburgh just before Christmas.
But then the Penguins lost again Thursday against the Ottawa Senators. This gave Pittsburgh its first back-to-back regulation regular season losses in 13 months. That's a span of over 90 games.
This puts Pittsburgh in unfamiliar territory. Although they can correct several mistakes from the last two games, the penalty kill has become an obvious weakness.
No Ben Lovejoy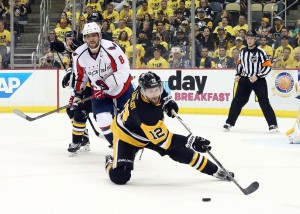 As much as Penguins fans loved turning Lovejoy into a piñata on Twitter last season, he was extremely important to the team's penalty kill. With Lovejoy in 2015-16, Pittsburgh posted an 84.4 percent success rate on the penalty kill, which was fifth-best in the NHL.
But without him this season, the Penguins have killed just 78.3 percent of their penalties. That's ranked 24th in the league. At this rate, Pittsburgh is on track to post its worst penalty kill percentage since 2003-04.
It's hard to argue that one player has that big of an impact on a unit. But Lovejoy is the only loss from the team's Stanley Cup roster. And really, when he left over the summer, Pittsburgh fans should have expected this type of drop off.
Lovejoy missed 16 games due to an injury in February and March last year. In the 66 games where he dressed, the Penguins killed 87.0 percent of their penalties. Over the 16 contests he missed, the penalty kill percentage dropped to 73.5 percent.
Slight Improvement?
The good news is that the penalty kill has been better lately. Heading into their bye week, the Penguins killed 39-of-47 penalties (82.8 percent) since Dec. 1. It could have been even better if not for three power-play goals allowed against Ottawa on Dec. 5.
From Dec. 12 to New Year's Eve, Pittsburgh went through a 10-game stretch where its penalty kill was 28-for-30 (93.3 percent). That's success to build on in 2017.
Pittsburgh has a great offense, but getting better on the penalty kill must happen if the Penguins are to repeat as Stanley Cup champions. The 82.8 percent mark isn't spectacular, but it was good enough to allow the Penguins to go 12-1-2 in December.
This Penguins penalty kill needs to get better or they're doomed in the playoffs.

— alex (@agillyk) January 13, 2017
Struggling in Faceoff Circle
However, all the good feelings from the penalty kill are now gone. That's because the Penguins have allowed five power-play goals in the last three games. Four of those five markers came against a very potent Senators power play – which has five goals versus Pittsburgh this season – and Ovechkin's Capitals.
That's hardly a reason to call for the pitchforks, but these are potential teams the Penguins could face in April and May. Other than re-acquiring Lovejoy (hey, it's happened before), the simplest way to improve the penalty kill is for Pittsburgh to improve in the faceoff circle.
Matt Cullen and Nick Bonino, Pittsburgh's two go-to penalty-killing centers, own a 51.6 and 49.5 percent faceoff win percentage this season. In 2015-16, Cullen was among the league leaders with a 55.7 faceoff win percentage. Bonino had a 50.4 percent rate at the dot.
Pittsburgh's inability to win faceoffs in the defensive zone makes it much harder for the Penguins to clear their own zone when down a man. It leads to goals like this one:
Impact Poor PK Could Have in Playoffs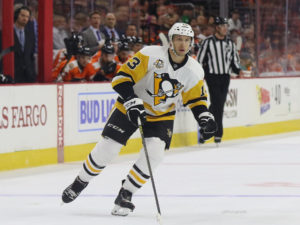 A poor power-play can drive a fan crazy, but teams can survive going through tremendous cold streaks on the man advantage. However, success is usually not sustainable with a poor penalty kill.
Last season, the Wild, Rangers, Panthers, Blackhawks and Sharks all made the playoffs with a penalty-kill percentage in the bottom third of the league. But the Sharks were the only team that advanced past the first round. And don't count on the Penguins repeating that feat. Only three teams ranked in the bottom third of the NHL in penalty kill have reached the Stanley Cup Finals over the last decade.
Pittsburgh saw first-hand how quickly a good team with a poor penalty kill can be ousted from the postseason. The Rangers were 26th in penalty-kill percentage at 78.2 percent last season. In their first-round matchup with the Penguins, Pittsburgh scored nine power-play goals in just five games.
Sidney Crosby's squad appears to have everything firing on all cylinders. But if coach Mike Sullivan doesn't build some momentum on his penalty killing unit, it's tough to see Pittsburgh repeating as champions.