As we approached the 2015-16 season, my expectations for the Pittsburgh Penguins were simple. I thought we'd see a team that started slow while figuring out this roster and steady improvement as the season progressed. I imagined an exciting team, filled with superstars and the potential to force arena crews to change the Bulbs in their goal lamps on a nightly basis. Did I expect a Stanley Cup contender? Not necessarily. But, with a few added pieces to address holes in this lineup, why not?
Why can't a team that boasts Sidney Crosby, Evgeni Malkin and Phil Kessel outscore opponents on their way to a deep playoff run? Why can't a team with young defensive studs like Olli Maatta, Derrick Pouliot and even Brian Dumoulin recognize success as they fine tune their games at this level? And, with Marc-Andre Fleury in goal, the sky is the limit.
Unfortunately, the Penguins are now 15-12-3. So, I guess the real question becomes, how can a team with all of those assets that I mentioned above be a .500 hockey team? Don't mistake those three loser points on the end of their record, earned by simply hanging around long enough, as real reflections on success. Extra innings or not, this team has lost 15 games and we've barely hit mid-December. Was it a coaching issue? Is it due to underperforming superstars? Is this defensive group simply too terrible for this team to overcome with offense? The correct answer is all of the above.
I Don't Want to Hear About Chemistry and Identity
This team, with one minor change that occurred a few days ago when Rob Scuderi was shipped to Chicago in exchange for Trevor Daley, has been playing together for nearly four months. They've had a full training camp and preseason, as well as 30 regular season games in the books. This isn't a chemistry issue. If there isn't chemistry among this group at this point in the season, the Penguins and their fans can start preparing for another extended offseason.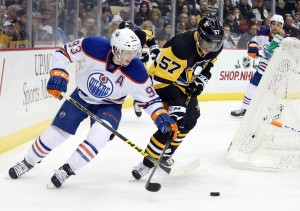 Are they struggling to find an identity? Well, I may have bought into that theory prior to Mike Johnston being fired and replaced with new head coach Mike Sullivan. Johnston and GM Jim Rutherford seemed miles apart in what they expected from this group, which is a team built on offense but found themselves playing a defensive style of hockey. And, they were failing miserably. With Sullivan at the helm, the Penguins are playing a much more offensively minded style. In fact, you could argue that it's even a bit too risky and chaotic. However you look at it, there's no doubt that it fits this roster better than the system they had played up to this point, though. Of course, they're still in dire need of help on the blue line but those things are attainable as the season progresses. Rutherford isn't done adding pieces, nor should he be. It just might take a high-profile acquisition like Dustin Byfuglien to provide this blue with the punch that it needs.
All too often, when unsure of what the real issue is on the ice, everyone wants to point to a team's identity crisis or lack of chemistry. The problems facing the Penguins go much deeper than that. Over their last two games, the Penguins accrued nearly 150 total shot attempts, with 79 of them actually getting on net. Yet, they've scored only one goal. That isn't an identity or chemistry issue.
Signs of Improvement for the Pittsburgh Penguins?
One thing that I can say for sure is that the Penguins aren't lacking effort. With Sullivan running things, Pittsburgh has looked energized and tenacious. That play is also evident in the amount of shots they're throwing at opposing goaltenders. Of course, those shot totals have to be considered in context, since the biggest gap in shot differential has occurred while they were trailing but it's still a positive sign. They're creating chances. Now, if only they could do the same while on the power play.
Fundamental mistakes continue to kill this team. Players like Ben Lovejoy can't continue to make decisions that you'd normally expect from young blue-liners that are learning to play at this level. Last night, Lovejoy had Daniel Sprong in the slot with his stick cocked back waiting for a one-timer. Instead, Lovejoy looked him off and sent the puck low in the corner. Lovejoy also had an instance in which he was the high guy on a three-on-two rush but he chose to pull up and head to the bench for a change. Ian Cole has also been guilty of poor decision-making on multiple occasions. Those types of things can derail a team in a serious way. Consider this goal from last night's game.
First, what was David Warsofsky doing in the neutral zone? He left his man, which led to him having to chase and an unobstructed passing lane to the crease for Ryan Spooner. Second, Cole recovered nicely but turned his back to the pass. There's a time where taking the body in front of the net is the right move. Unfortunately, this isn't one of those times. Cole was in position to play the pass and break it up but chose not to and instead, the puck deflected off his skate and found its way across the goal line.
Things like this happen. That's a tough situation for Cole to be in and these issues are amplified by the Penguins' inability to score goals to counter such events. This team is improving, believe it or not. But, I'm not sure that they can improve enough. Not this season, anyway. At this point, I'll remain patient and let Sullivan transition the Penguins into his team before passing too much judgement on the new head coach. But, I've also adjusted my expectations and understand that while the Penguins should be more fun to watch going forward, they'll also remain quite frustrating and will underachieve yet again. I'm not being pessimistic, just realistic.