The Dallas Stars are entering an era in which they're likely to run into those fabled "good problems to have"; good prospects stacking up without an NHL spot to occupy, tough decisions for head coach Lindy Ruff to make every night regarding which players are forced to view the action from the press box and, eventually, the careful navigation required to maneuver through today's cap-dominated NHL landscape.
The latest of these problems falls within that first category.
Forward Brett Ritchie, who was injured before the season began but has now played five games with Dallas' AHL affiliate, is on fire. The winger has five goals in those contests (with all five coming in his last three games), setting a blistering pace at the AHL level. GM Jim Nill and company probably entered into this conditioning assignment with concerns about the young forward's wrist and how he would respond, but he's shot out of the gate in his attempt to work his way back to Dallas.
In addition to Ritchie, another member of the Texas Stars' roster has already made some noise at the NHL level this season. Radek Faksa, who played 14 games for Dallas and chipped in a goal and an assist, fell victim to the returns of Patrick Eaves and Travis Moen to Dallas' lineup. Faksa has eight goals and three helpers in 15 games in Cedar Park, and he seems to be another that has taken big strides toward outgrowing the American Hockey League.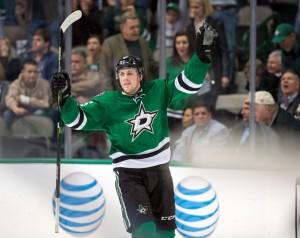 Both Ritchie and Faksa have an energetic, physical presence about them, and both stand at 6-foot-3 and tip the scales past the 210-pound mark. They work hard and play grinding, battling shifts that have the potential to help Dallas possess the puck and neutralize some of that physical pressure that teams in the Central Division tend to lean on the Stars with.
However, if one of them were to come up, someone would have to slide out to make room. Barring an injury, that leaves us with four possible candidates; Eaves, fellow youths Mattias Janmark and Colton Sceviour, and Moen.
So, Who's on Their Way Out?
Eaves is a valuable member of this Stars club; I've written about that on this very site before, and it's easy to see what he brings to Dallas' overall effort night in and night out. He's cheap, making just $1.15 million on a one-year deal, and he's versatile. Ruff has run the forward on several lines to plug holes and thrown him in on the power play, and he brings that same hard-nosed energy that can give the Stars an additional facet to their game. It may not be immediately apparent on the scoresheet through Eaves' first 15 games, as he's recorded just a single point, but what should be apparent is this; he's not going anywhere, at least not anytime soon.
After a period during which he leveled off following a hot start, Janmark has found himself showing up on the scoresheet at a high rate as of late. He's got four tallies in his last seven games, bringing his goal total to seven for the season. He impressed in training camp, started the year by riding that momentum to score three goals in his first seven contests and has now gotten back to that scoring ability. He's providing some key depth scoring, and the Stars can't afford to give that away.
While Sceviour hasn't exactly lit up opponents, he's played in 28 games and it seems as if Nill and Ruff still trust in the forward's ability. He's got six points, and he can bring speed to a fourth-line role. He may not be an extremely long-term part of Dallas' plans, but he seems set for now.
That leaves Moen. He certainly brings a physical game at 6-foot-2, 215 pounds, but he's played in just six games since returning from injury and has no points to show for it. Ruff has shuffled him in and out of the lineup, and he's out again Thursday night against Calgary, according to Mark Stepneski:
Dallas Stars lines this morning: Benn-Eakin-Seguin Nichushkin-Spezza-Sharp Roussel-Janmark-Hemsky Sceviour-Fiddler-Eaves

— Mark Stepneski (@StarsInsideEdge) December 17, 2015
Moen has a cap hit of $1.85 million and is set to be a free agent after this season, when the Stars will almost surely jettison the veteran in favor of their promising youth. Moen serves a purpose, but it seems like the time for that purpose on a young, skilled Dallas team has come and gone. His veteran presence in the room doesn't go as far as it used to, either; with Antti Niemi, Johnny Oduya and Patrick Sharp all adding championship pedigrees to the Stars veteran leadership, Moen has been left behind in that area, as well.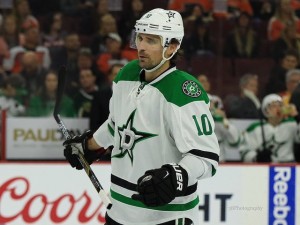 If it's going to be time to bid farewell to Moen in June, which is nearly a certainty, why not go ahead and attempt to flip Moen for a modest return now and make room for either Ritchie or Faksa? The call would likely go to Ritchie due to his service time at the NHL level (31 games in 2014-15), and it's not a stretch to see him going above and beyond Moen's current role. He has the traits to match Moen's grit and adds both a level of skill and a scoring touch, and it's going to be difficult to justify leaving him with the Texas Stars while Moen continues to be on again, off again at the NHL level.
Moen has served his purpose in Dallas, and this shouldn't be a bitter breakup. It's simply time to move on, for both parties' sake.