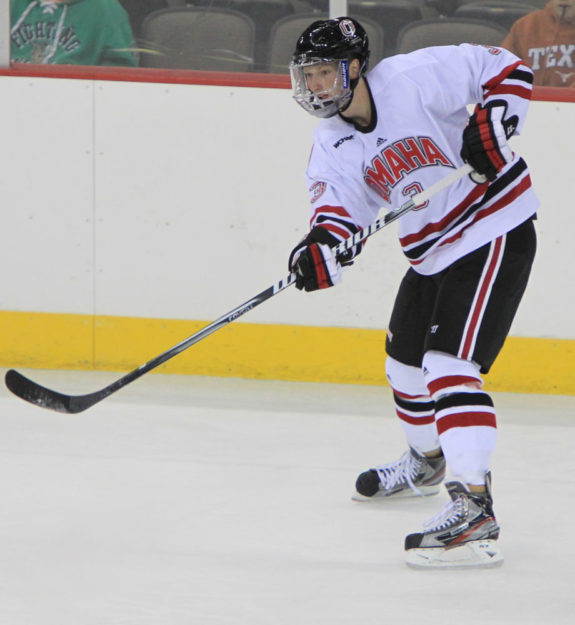 The tallest man amongst the many tall men patrolling the blue line for the University of Nebraska-Omaha's Mavericks ice hockey team is a 22-year-old from the distant reaches of Pilzen in the Czech Republic. His name is Andrej Sustr and he stands 6'8″ tall. His rosy cheeks and smooth baby face belie the fact that at his altitude, Sustr is a giant playing with boys.
NCAA hockey has long been known as a harbor for the slight of frame – a place where small but determined players can succeed despite their vertical challenges (see: Martin St. Louis, Paul Kariya, Adam Oates, et al). Although NCAA hockey fans will surely have noted size starting to creep back into the college game, it is still a truism that smaller players can succeed playing college hockey – though with Sustr playing in Omaha, their job is made that much more difficult.
Indeed, Sustr is a remarkable and rare player, and when he becomes a free agent at the end of his college career, it's safe to say that all 30 NHL teams will be clamoring to add him to their roster.
The Sustr Spree (™) will bear little resemblance to the Justin Schultz saga of the summer of 2012, as Sustr was never drafted, and thus never bound to a particular team. This, coupled with the fact that Sustr simply hasn't put up the kind of dynamic offensive numbers as Schultz, will surely make for a less headline-grabbing courting period. That said, the team lucky enough to land Sustr will be getting a player possessed of one of the few things that truly cannot be taught: size. (And lots of it.)
Below is a link to Sustr's stats for the last five seasons, including a season spent with The Youngstown Phantoms of the USHL.
From Elite Prospects:
You'll notice that while Sustr doesn't put the puck in the net with much regularity, his assist total indicates a player with good vision and the ability to distribute the puck. Those who watched Sustr play for Nebraska-Omaha during the Ice Breaker tournament in Kansas City last weekend, surely noticed that the young man also makes an excellent first pass out of the zone, plays a calm and collected game under pressure, and skates surprisingly smoothly for a big man.
He's also capable of absolutely wiring the puck when given space, as Notre Dame goaltender Steven Summerhays found out in the championship game of the Ice Breaker tournament.
Although Nebraska-Omaha ultimately fell to Notre Dame in the championship game, Sustr was one of the players that stood out all tournament long.
A major factor in Sustr's development to this point is the fact that he left home when he was 18 to play for the Kenai River Brown Bears of the NAHL, where in addition to finding himself in a different country and surrounded by an unfamiliar culture, he had to adjust to the North American style of game. Sustr's leap of faith has served him well, though. As Nebraska-Omaha head coach Dean Blais alludes to in the below video, Sustr is a mainstay on the Mavericks' penalty kill, and has a solid set of hands for a man as big as he is.
Sustr's most obvious comparable is without a doubt big Slovak Zdeno Chara – for obvious reasons. That said, to hear Pierre Maguire tell it, Sustr's play may be more akin to that of Buffalo tower of power Tyler Myers, who doesn't play quite as physically punishing a game as Chara, but instead relies on smart, heads-up decision making.
Get ready to hear Sustr's name a lot as we approach the end of the 2012-13 NCAA hockey season. When he becomes a free agent at the end of his college career, teams will be lined up around the figurative block to secure his services, and whichever team lands the big man may be taking one giant step forward.
For now, a brief video introduction to Andrej Sustr:
As a lifelong hockey fan and resident of Southern California, he recently started a blog called SoCal Puck, which aims to explore all things hockey in Southern California. He grew up playing roller and ice hockey in the Orange County area and currently plays on several beer league teams. Collin also contributes at Sunbelt Hockey Journal.