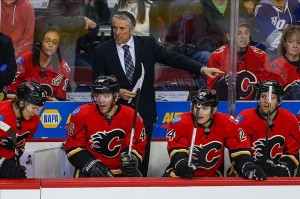 The great Yogi Berra once said, "It ain't over 'til it's over." While the Calgary Flames have five games remaining in their 2013 regular season schedule, their hopes for a post-season berth quietly disappeared on Wednesday evening.
The Flames hosted the desperate Detroit Red Wings, themselves perched on the very edge of the Western Conference playoff picture, entering the game in a tie with Columbus for the final playoff spot. Faced with a no-lose situation – win and your playoff hopes live, lose and your chances at a high draft pick improve – the Flames did what they've done since the trade deadline.
They battled.
And for the fourth time in the last eight games, they emerged with a victory, pushing their record to 17-22-4 (and temporarily jumping three spots in the NHL's league standings into 25th overall. Despite the victory, the Flames were officially eliminated from post-season contention via a Columbus overtime win over the Anaheim Ducks.
Following the game, Flames head coach Bob Hartley had praise for his team's younger players.
"They did good," said Hartley. "To match themselves with Datsyuk, Zetterberg. They have some big bodies, Franzen or Cleary, they're going to drive net hard and they're going to make it tough. Especially when they get behind. That's when I told my two partners, Jacques Cloutier and Marty Gelinas, I said, 'This is going to get interesting. I'm anxious to see our young players in a pressure situation.' I felt that they did quite well."
The big story going into the game was the future of Miikka Kiprusoff, rumoured to be mulling retirement following the season and possibly playing one of his final games on Saddledome ice. Kiprusoff was excellent, making 36 saves for the win, but the big surprise of the night was the team's offensive leader – veteran grinder Steve Begin, who took advantage of two Jimmy Howard miscues to give the Flames the win.
Begin noted that while the Red Wings are trying to keep a 21-year streak of playoff berths alive, the Flames still have things to prove despite failing to miss the post-season for the fourth consecutive season.
"We want to win, on our side," said Begin. "We have things to prove. They brought up some young kids, they also have things to prove. We need to win. We want to win. We want to prove that it was just a bad season, and it's always fun to win against those teams. We know they're battling for a playoff spot, but we're there to win."
Since an 8-2 drubbing by the Edmonton Oilers on trade deadline day, the Flames have gone 4-4-0, despite being without Jarome Iginla, Jay Bouwmeester and a rotating cast of injured veterans.
QUICK NOTES: Flames RW Lee Stempniak opened the scoring with his ninth goal of the season, taking the lead in Calgary's internal scoring race from teammate Mike Cammalleri. Stempniak has 29 points, while Cammalleri has 28… Flames blueliner T.J. Brodie played in his 100th NHL game, while Miikka Kiprusoff made his 574th appearance in net with Calgary. With the departure of Jarome Iginla, Kiprusoff is the active leader in games-played for the franchise. The next active player, Mark Giordano, has played 379 games for the Flames.
Ryan Pike has covered the Calgary Flames and the NHL Draft extensively since 2010 as a Senior Writer for The Hockey Writers and Senior Contributing Editor of FlamesNation.ca. A member of the Professional Hockey Writers Association, he lives in Calgary.