The Montreal Canadiens have traded veteran center Tomas Plekanec and forward Kyle Baun to the Toronto Maple Leafs in exchange for Kerby Rychel, Rinat Valiev and a second-round pick int he 2018 NHL Draft. This deal is one of what is expected to be many coming from the Canadiens this season as the team looks to rebuild for the future after a very disappointing 2017-18. The Canadiens reportedly had three teams seriously involved in talks for Plekanec
Canadiens acquire defenseman Rinat Valiev, forward Kerby Rychel and the Maple Leafs' own second round pick in 2018 from Toronto, in return for forward Tomas Plekanec and forward Kyle Baun.

More details to come…

— Canadiens Montréal (@CanadiensMTL) February 25, 2018
This is the second trade this week that involved division rivals making a deal following the Rangers trading Michael Grabner to the New Jersey Devils.
The 35-year-old Plekanec has played in 58 games this season with the Canadiens, posting a respectable five goals and 21 points. While these totals aren't quite what the Canadiens are used to with Plekanec – the team's third-round selection from the 2001 NHL Entry Draft, the days of the Kladno-born center scoring over 20 goals and 60 points are long in the past.
Scoring 54 points in 2015-16, Plekanec's production took a serious step in the wrong direction in 2016-17 and it was noticeable beyond just the scoreboard. While his 10 goals and 28 points in 78 games weren't encouraging, it was the pace of play and decision making for Plekanec that really stood out as diminished. To his credit, the decision making has been better this season in general, but he's simply no longer capable of playing a top-six role for a successful hockey club.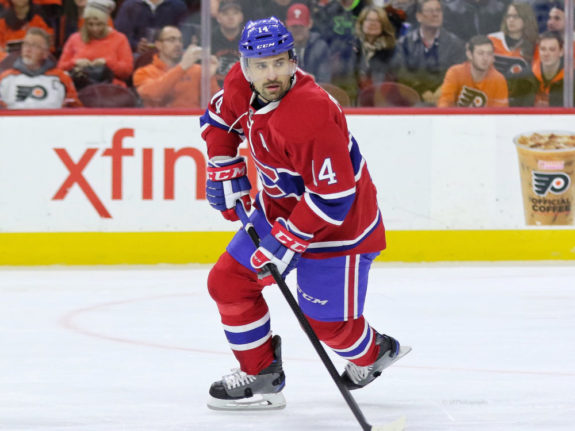 With the Maple, Plekanec will fill out a bottom-six role, one he'll be much more comfortable in, while also being tasked with instilling his leadership traits in the younger players on the squad. With 979 career games in his career as well as 87 career-postseason games, Plekanec has played enough hockey to provide perspective on his new teammates.
Still capable of playing in a defensive role, Plekanec should be able to chip in the occasional point while matching up against other team's bottom-six players, keeping him fresh to also kill off penalties when necessary. A trait that is never overlooked in a player is penalty killing ability, especially when that ability is found in a bottom-six player so as to keep the top players fresh when their team is back at even strength.
Related: 2018 NHL Trade Deadline Deal Tracker
While the Maple Leafs have proven they can score points with the best of them, Plekanec's ability to play a shutdown role adds a significant layer to their offense that it lacked otherwise.
While Plekanec should be an impact player for the Maple Leafs, Baun will likely serve as an AHL player. Playing in five NHL games in his career (three in 2014-15 and two in 2015-16), Baun hasn't made the impact necessary to earn a spot at the next level. He could turn things around in Toronto, but the hopes shouldn't be high for that to happen.
Canadiens Stocking up on Prospects
While it isn't typical to see the Maple Leafs and Canadiens making a trade, all is fair in love and war. With the Canadiens looking destined for the lottery and the Maple Leafs fighting for position in a strong Atlantic Division playoff race with the Tampa Bay Lightning and Boston Bruins, a swap of prospects and a pick for Plekanec should go a long way for both clubs.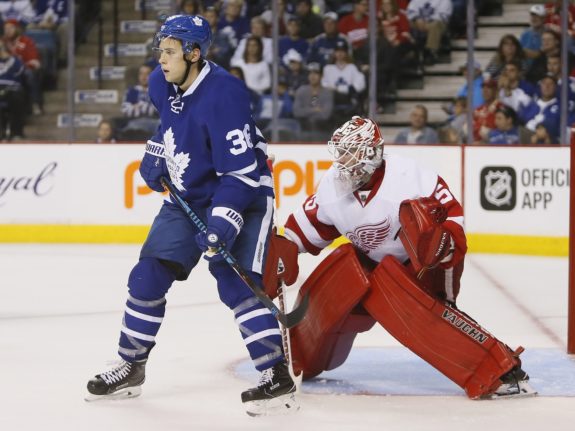 With Plekanec's deal expiring at the end of this season, the Canadiens were smart to capitalize on their longest-tenured player's value. While Rychel hasn't lived up to his status as a first-round talent from the 2013 NHL Draft and is now a member of his third NHL franchise, he is still only 23 years old. With the Canadiens looking like they'll be in the middle of a rebuild, the 6-foot-1, 213-pound winger could find himself in the team's lineup – something he was never able to do in Toronto despite being in the system for a season and a half.
In Valiev, the Canadiens are getting a 22-year-old defender who has decent size and can potentially play a two-way transition style game at the next level. He's played in only 10 games in his career after being drafted 68th overall in 2014, but his potential is there. For the Canadiens, potential is all that matters right now as they look to find pieces for their future. The real kicker in this deal was the Leafs' second-round pick, however, and that's something the team should feel good about collecting in the process.