So they meet again. Peter Laviolette will finally face the team that fired him after three games last year when the Flyers visit Nashville on Saturday night. A lot has changed for both parties since October of 2013, making the "Flyers against Laviolette" storyline an intriguing one.
Were the Flyers right in firing Lavy? Will Laviolette's early success in Nashville be sustained? Can Philadelphia make it four in a row on the road in Nashville? Let's take a look.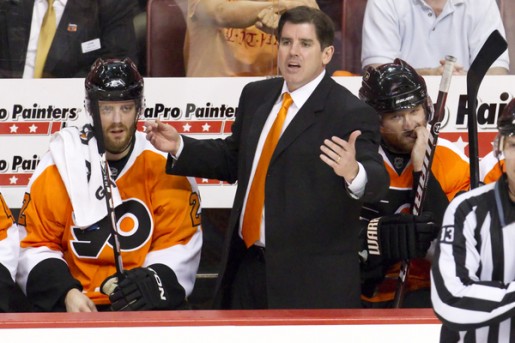 Lavy in Philly
Peter Laviolette's fierce competitive streak, along with an unapologetic emotional drive is what made the 50-year-old coach a fan favorite in Philadelphia – up until the tail end of his tenure with the Flyers, that is.
The Stanley Cup-winning coach relieved John Stevens in December of 2009, taking a 13-11-1 team to the playoffs, and ultimately, the Stanley Cup Final. It was through that push to the playoffs – qualifying in a shootout win over the New York Rangers on the final day of the season – along with the great come-from-behind series win in the Eastern Conference semifinals against Boston that Laviolette's favor in Philly spiked.
… The sight of the Blackhawks hoisting the Stanley Cup in Philadelphia still stings, but the Flyers' ride was undoubtedly Laviolette's defining moment with the team. — Tim Riday, CSN Philly
Laviolette would ride that "defining moment" through the next two seasons, finishing with consecutive 47-win campaigns and trips to the semifinal round. The Bruins would avenge their blown 3-0 series lead in 2011 by sweeping the Flyers the following year, but Laviolette quickly returned his squad to the post-season, where they'd dominate the Pittsburgh Penguins in the opening round. It was in this feisty series that the Franklin, Massachusetts native added to the city's pride by calling Claude Giroux the "best player in the world" after bouncing their heated rivals in six games.
That proclamation was made, of course, well after challenging Pittsburgh's then head coach Dan Bylsma on the team's bench after Danny Briere received a bone-crushing hit near center ice on Apr. 1st of that season.
The pro-Laviolette movement would begin to taper off, however, after his heavily favored team fell to the surprising New Jersey Devils in the following round. Laviolette quickly went from the exceptional motivator, to the guy who was out-coached in every phase of the game by the Devils' first-year coach at the time, Peter DeBoer.
… This is a team that wasn't supposed to beat the Flyers, yet dominated them for significant stretches – outcoached them, outskated them, outworked them, outplayed them. — Nicholas J. Cotsonika, Yahoo Sports
The lockout-shortened season that followed grasped the disappointing elimination in New Jersey and ran further south. Laviolette's 23-22-3 record left the Flyers six points shy of qualifying for the playoffs, marking only the second time since the 1993-94 season that the Flyers would fail to do so. Fans began calling for a new voice, while asserting that Laviolette's window for success with the system that he runs had already shut.
https://twitter.com/DStrehleTFP/status/308978035758075905
Despite a pat on the back from ownership heading into the 2013-14 season, Laviolette's fall from grace avalanched before the season even began. A sluggish 1-5-1 preseason record that snowballed into an 0-3-0 record would turn out to be the breaking point. And shortly after publicly backing the coach, Flyers owner Ed Snider quickly changed his tune after Craig Berube was announced Laviolette's replacement.
"I thought our training camp, quite frankly, was one of the worst training camps I've ever seen," said Snider. "I'm not talking about wins or losses. There was nothing exciting. Nobody shined. Nobody looked good. I couldn't point to one thing that I thought was a positive. Unfortunately, my worries were realized."
More of the Same?
After Laviolette was handed the pink slip in Philly, the Flyers rallied around Craig Berube's "new voice" in the room, despite falling to their worst start in franchise history (0-7-0). The shake up appeared to have righted the ship as the orange and black returned to the playoffs as the sixth seed of the Eastern Conference with a final record of 42-30-10.
But much like his predecessor, Berube experienced first-hand exactly what Laviolette had to work with – a problem that extends to the present day team. The Flyers not only lacked the presence of a dominating defenseman, they were also visibly slow. Philly's glaring lack of speed was exposed by the New York Rangers in last season's quarterfinal round – another trip to the playoffs only to come out as the lesser team.
Berube has spent a good portion of the season living the Laviolette experience in Philadelphia. Not only does Laviolette's former assistant not have that mythical – in Philadelphia, anyway – puck-possessing defenseman, he's been forced to use band-aids in bulk for a defensive unit that lost Kimmo Timonen, and has been desolated by a rather disadvantageous salary cap situation.
The defense has been a problem for the past several years in terms of speed and down-low coverage and remains such even with the additions of Andrew MacDonald, Nick Schultz, Michael Del Zotto and reserve Carlo Colaiacovo.

Braydon Coburn is having a terrible season both at even strength and on the penalty kill units.

The loss of Kimmo Timonen (blood clots) can't be understated, but can't be blamed on anything other than bad luck.

The point is, much of the Flyers' present problems don't lie at the foot of the coaching staff, but at management — and it goes back several years. — Tim Panaccio, CSN Philly
Uh oh! Does that mean Laviolette was unfairly depicted as the scapegoat last season? After all, one of Berube's most difficult challenges has been finding where to fit Vinny Lecavalier into his scheme – a piece that chose Philadelphia because of Laviolette.
A single tear streams down Vincent Lecavalier's face as he deletes Peter Laviolette's number from his phone.

— Flyerdelphia (@Flyerdelphia) July 2, 2014
"I'm not going to lie and say I didn't go here for Lavy," said Lecavalier before being listed as a healthy scratch for the first time in his 16-year career earlier in December. "Of course I did. I met him and (former Flyers GM Paul Holmgren) and had a great meeting. I liked what (Laviolette) said to me. It was obviously a surprise (he was fired), but that's last year and it's a different system and it is what it is. Nothing's always going to be perfect. It's my job to try to work with it and do my best at it."
To Berube's credit, Lecavalier has appeared to have found a home on the Flyers' fourth line, scoring three goals in his last two games. But much like the coach before him, Berube has sorted through team issues on a performance based premise. While Laviolette was often criticized for jumping from goalie to goalie, failing to establish confidence in a true starter, Berube has mirrored that practice in the form of scratching players throughout the lineup.
Laviolette's message may have grown stale in Philadelphia, but it's becoming more palpable that he wasn't the problem. And while Berube gets the credit for cleaining up Laviolette's mess from a season ago, the second-year coach continues to find out first-hand what it's like to be asked to prepare a lavish feast with only a portion of the ingredients.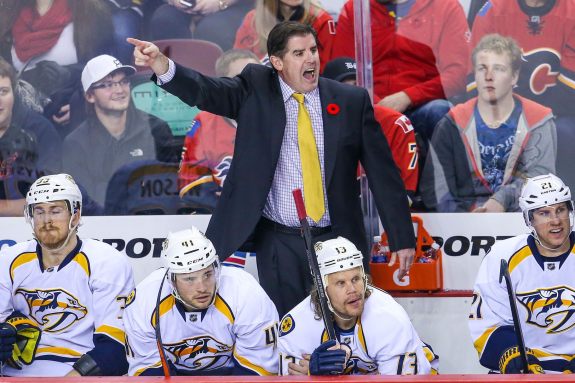 A Nashville Revival
Through 33 games this season, however, it appears as if Peter Laviolette is enjoying a satisfying last laugh. After being held responsible for Philadelphia's recent drop off, the high-strung bench general is off to a superb start in his first season directing the Nashville Predators.
The Predators have been exceptionally fearsome on home ice this season. The club currently boasts a 12-2-1 record at home. Overall, the club is 22-9-2.

In their 33 games played through the Christmas break, the Predators rank second in the NHL in fewest goals allowed per game (2.09) and tops overall in five-on-five scoring differential (a ratio of 1.66 even strength goals scored to each one allowed). — Bill Meltzer, Hockey Buzz
Nashville is witnessing the instant gratification that Laviolette rewarded past teams such as, the Carolina Hurricanes, and the Flyers themselves with. Only Chicago, Anaheim and Pittsburgh have more points than Nashville's 46 through the holiday break, while the Preds' 32 shots per game are a direct reflection of their intense head coach's uptempo system.
Amazing & true: If Preds keep pace, Forsberg (Calder), Poile (GM), Laviolette (Adams), Weber (Norris), Rinne (Vezina) could sweep at Awards.

— Dan Rosen (@drosennhl) December 12, 2014
"He's clearly got the players' attention," said Preds GM David Poile after a 9-2 win over Toronto last month. "I certainly think they like playing for him and playing in his system. Winning makes everything go real well and it's been excellent to this point."
Barry Trotz's replacement in the Music City has paid immediate dividends with a fifth ranked squad in Corsi-For percentage, evidence of Laviolette's effective brand right off the bat.
Laviolette's brand is a contrast from former head coach Barry Trotz's defensive style, but the defense, starting with goalie Pekka Rinne, is a big reason why the Predators are a factor in the Central Division race through the first two months of the season. — Eric Stromgren, USA Today
As it turns out, the contrast in style isn't exclusive to Trotz, who is now in charge of the 17-11-6 Washington Capitals. Much of Philadelphia's blueprint to turning a recent six-game skid around has been predicated on a "defense-first" approach. That's not to say Craig Berube is drawing X's and O's on a dry erase board while blindfolded. In fact, it's personnel driven.
While Berube holds a distinct advantage over everyone else in the league with Jakub Voracek and Claude Giroux, his leverage ends approximately there. In comparison, Laviolette is now directing a team that carries only five skaters under six-foot, with only one of them skating for the defensive unit. Lavy's Preds are perfectly balanced in not only size and speed, but youth and veteran leadership as well.
Mike Ribeiro and James Neal have settled into their new environment with over 20 points a piece, while 20-year-old Filip Forsberg leads the league with a plus-24 rating to go alongside his 32 points. And among skaters who have logged at least 300 minutes, Colin Wilson's 58.4 Corsi-For percentage is eighth best in the league.
That Raffl-Voracek-Giroux line is just filthy, fam. #FlyersTalk

— A Streetcar Named Too Tired (@notlikethecomet) December 22, 2014
Under the same settings, however, Philadelphia's Michael Raffl and Jakub Voracek are the league's top two in Relative Corsi-For percentage, while Voracek and Giroux are the NHL's top two point scorers. But even with Mark Streit tied with Nashville's Shea Weber for 10th in scoring among defensemen (22 points), the Preds compliment their featured defenseman far better than Philly does, with Roman Josi and Ryan Ellis producing double digit point totals.
Perhaps Laviolette had the greatest laugh in finally getting Shea Weber. That joke can be temporarily set aside, though, if the Flyers can extend their current season-high win streak to four. And whether Peter Laviolette was given a raw deal in Philadelphia or not, he seems to be better off now. Time will only tell if the same can be said for the Flyers.
Andy is a contributor for The Hockey Writers, covering the Philadelphia Flyers. He holds a Bachelor's Degree in Communications from Walsh University. He enjoys spending time with his family, golfing, and reading. He is married with a daughter. You can follow Andy on Twitter @ADudones.