The Pittsburgh Penguins power play failed to show up once again, this time in their game versus the Washington Captials.
During the first period, the Pens had a 5-on-3 power play that resulted in "diddly" immediately followed by a 5-on-4 power play earning them "squat."
Mike Johnston #Pens pic.twitter.com/MJZbKpFQJP

— Steelers Depot 🎄 (@Steelersdepot) October 29, 2015
---

Are They Still On a Hot Seat If They Stand All Game?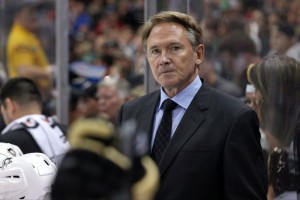 Last night's game began terribly – the Pens received extended time with an extra player on the ice.  Normally a goal-scorer would salivate, or the hockey equivalent of salivating, to lead a team of five against a squad of four. For this team, it's an obviously confusing prospect – being TOO open; having TOO much space.  Such is the current state of the team's power play.
The scoring didn't start until early in the 3rd, when the Caps and Pens traded goals within 24 seconds of each other. A Kessell goal under 2 minutes later gave the Pens the lead for good.
While it's not all on the coach when an entire team suffers through a scoring slump, whatever they are doing now simply isn't working. That much is obvious, but what to do about it?
Recently, head coach Mike Johnston rearranged the lines a bit in an effort to find some scoring.  That shakeup hasn't bore fruit yet and time is running out to find a solution. One option would be Jacques Martin, currently a "Special Assistant to the Head Coach." He has previous head coaching experience with four other teams (Blues, Senators, Canadiens, Panthers).
It was speculated at the time of his hiring that if Johnston didn't work out, Martin would be there to take over.
We're fast approaching a resolution. Johnston bought some time by beating the Caps last night, but that was due to the team playing better when it mattered most. If he wins again tonight versus the guy who he replaced as coach, Dan Bylsma, and his team of pesky Sabres his job should be safe… for now.
---
The Wizard of Croz Vs. The Great Eight:
Tagline: A narrative that grew so large, it actually became true!
http://gty.im/87223667
After a decade of hype surrounding the media-created rivalry, Sidney Crosby and Alex Ovechkin have been shoe-horned into becoming rivals for our entertainment. Think back to the games between these two, and think about how many of those moments were big moments simply because they were supposed to be?
Last night's game was a snooze fest for the majority, resting at a scoreless tie after two periods. A game featuring Crosby, Ovechkin, Evgeni Malkin, Phil Kessell, T.J. Oshie and Nicklas Bäckström with hardly any offense to be found should be a concern for the league brass.  The scoring drought ended in the third with a short burst of goals, but the game could easily have continued as a sloppy slug-fest. Crosby once again earned no points, and Malkin's assist was a result of the puck wandering off his stick.
Dumb luck, but they've been due for some luck other than bad. The Pens hung in there and capitalized when it mattered.
This team is playing .500 hockey right now when they could be a powerhouse. It's time for the league to find a way to bring scoring back to the league. I suggest they start by trimming down the goalie pads and eliminating much of the clutch-and-grab that has become standard defense.
Turning those stars listed above loose would result in what the league (and the Pens) need most – not rivals, but goals.
---

Up: Marc-Andre Fleury
Fleury was once again stellar, dominating the game with multiple spectacular saves. After allowing one past him in the 3rd, he made his presence known with big saves to keep the Caps at bay. He played well enough to deserve a shutout, but it wasn't meant to be.
Down: Pierre McGuire
His repeated pronunciation of Olli Maatta's name was borderline laughable.  "Olli Mah-TAH" with a strange inflection – the kind used when playfully mocking someone, was Pierre's go-to phrase of the night. I'm not insinuating that McGuire was purposefully insulting Maatta, but it stood out as a mistake that really shouldn't happen. Then again, McGuire has a history of mangling names (anyone else remember "Bruce OarPeck" for Brooks Orpik?), so this just becomes the latest example in that series.