It is that time of year. It is starting to get a little chilly outside and everyone is warming up on their couches and putting all the scary movies on as Halloween is just a few days away. So what if NHL teams were some of those movies? Let's find out.
This article may contain spoilers.
Anaheim Ducks – The Happening
You know, the Happening. That movie that got a ton of hype and it was supposed to be one of the scariest movies of all time? Well, it turned out to be terrible and everyone in the film kept dying for inexplicable reasons. That movie was just awful. Everyone hated it too. Maybe the Ducks have a M. Night Shyamalan twist in store for the rest of the league, who knows.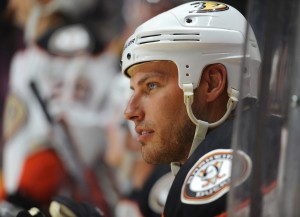 Arizona Coyotes – 30 Days of Night
The vampires in that movie were downright terrifying and the citizens of Barrow, Alaska had no idea they were coming. The Coyotes have burst on the scene after having practically no expectations and are doing quite well to start the season. Max Domi and Anthony Duclair have both been incredibly entertaining to watch and Mike Smith looks like he has rebounded from a tough season. Unfortunately, much like the vampires in 30 Days of Night, their time is likely coming. After all, daylight has to come sometime.
Boston Bruins – Predator
Zac Rinaldo.
Buffalo Sabres – American Horror Story
The Sabres are not quite a movie and are still in the TV show stage right nownow. However, they are quite scary and have a ton of potential. Jack Eichel has shown early flashes of brilliance and the Sabres have played some teams really tough. They are still two or three years away, but this series will become a movie at some point soon.
Calgary Flames – The Ring 2
The first one, The Ring, was an incredible film and scared many viewers to their very core. It just kind of came out of nowhere and took the world by storm. They announced a sequel and people thought to themselves "There is no way they can live up to last year right?". Well, they were right. The second one was not very good, although it showed promise at times. Ultimately we will see if the Flames can prove the advanced stats gurus wrong but it isn't looking good so far.
Carolina Hurricanes – The Omen
Something just isn't quite right in Carolina. While this team isn't necessarily destined to fail, something is going to have to change to get them moving in the right direction.
Chicago Blackhawks – Nightmare on Elm St.
Or the Nightmare on Madison, if you prefer. So why Nightmare on Elm St? Because the way this team continues to succeed has been giving everyone else nightmares since 2010. They don't just beat your favorite team in a playoff series, they take at least several games to overtime so you think you have a chance but then they win anyway and it takes you just forever to get over it. They are probably going to come out with another one too. Ugh.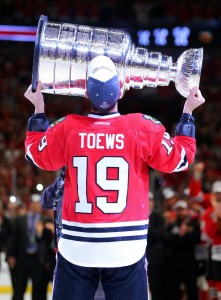 Colorado Avalance – Frozen
No no no, not that delightful Disney movie that everyone loves. The Avalanche certainly are not in the mood to build a snowman this year. No I am referring to the Frozen where three skiers get stranded on a ski-lift up in the mountains and basically have to choose between three different ways to die. That is Colorado this season. They could lose by giving up a ton of goals (jumping off of the ski-lift), not scoring enough (staying on the ski-lift and freezing to death) or just having to deal with being the bottom team in the league's best division (climbing down the lift and getting eaten by wolves, yes that really happens in the movie). They might have a shot at survival, but something has to change in a hurry.
Columbus Blue Jackets – The Silence of the Lambs
The FBI is struggling to track down a vicious serial killer by the name of Buffalo Bill and can't seem to find any answers. Then they enlist the help of a maniac and everything turns around. This one really writes itself.
Dallas Stars – The Texas Chainsaw Massacre
Could it be anything else? The Stars keep scoring and scoring and scoring and are currently sitting at the top of the Western Conference. They still have defensive weaknesses and teams will have to expose them to win.
Detroit Red Wings – Dracula
Like a classic that stands the test of time, the Red Wings keep finding ways to reload and make the playoffs every single season. Like Dracula's victims, making the playoffs just seems to come easy for Detroit. Look for more of the same this year.
Edmonton Oilers – Leprechaun
Did you know Jennifer Aniston is in this movie? She is a generational talent. The movie still wasn't that good, but she turned out to be something special. Maybe she will appear in a remake of Leprechaun and it will be a great movie.
Florida Panthers – Alien
Because there is just no way that Jaromir Jagr is from this planet, right? Heading into Wednesday, he was tied for 10th in NHL scoring and sixth in goals scored this season. The ageless wonder has a lot of young talent around him and the Panthers look poised to make the playoffs this season.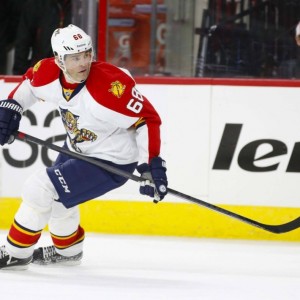 Los Angeles Kings – The 2014 Eastern Conference Semifinals
Did you all see this one? Current King forward Milan Lucic actually starred in this one and it was chilling. After the Boston Bruins lost game 7 to their hated rivals the Montreal Canadiens, he told Dale Weise "I'm going to [expletive] kill you next year". Luckily the sequel hasn't come out yet but the suspense in that first one was insane.
Minnesota Wild – The Cabin in the Woods
One of the better horror movies in recent memory just like the Wild, who are performing well to start the season. If they can get over the Chicago Blackhawk playoff curse, this team is going places.
Montreal Canadiens – Friday the 13th
A masked man terrorizes everyone in sight? Sounds a lot like Carey Price. The Canadiens are 9-1 thanks in large part to the continued dominance of Price who is an early favorite to repeat his Vezina trophy victory from last season. Oh and PK Subban could easily be the star of a slasher film.
Nashville Predators – Oh no I've already used Predator..umm…PREDATORS
These Predators get you to come to their island and when you do, they feast. Perhaps the most sound defensive team in the NHL, they don't make a ton of mistakes. If you are going to beat them, you have to outplay them. They aren't going to give it to you, good luck.
New Jersey Devils – Paranormal Activity
It certainly isn't a terrible movie or anything. It is a pretty average movie, it just is really slow and incredibly boring at times to watch.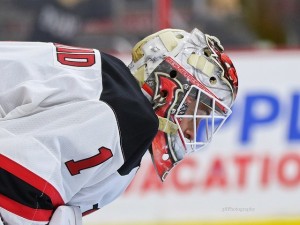 New York Islanders – Halloween II
I enjoy the Halloween series and the second one is actually a pretty solid film. Unfortunately it will always play second fiddle to the first Halloween. The Islanders have gotten off to a great start and look to be a contender in the East.
New York Rangers – Halloween
Yet another masked man who inflicts pain on others? Sounds like Henrik Lundqvist. The Rangers are rolling in the early goings with a Metropolitan Division-leading 14 points.
Ottawa Senators –  The Strangers
Much like the masked killers in the film, it is tough to figure out who the Senators are. They are 3-3-2 so far in this young season and have already endured a ton of ups and downs. Andrew Hammond has not been good but starting goalie Craig Anderson has put together some solid performances. This team is still searching for its identity.
Philadelphia Flyers – The Birds
While they may not be the Broad Street Bullies anymore, this current Flyers team chirps with the best of them. Seemingly after every whistle players such as Ryan White, Wayne Simmonds, Claude Giroux or Radko Gudas are in the faces of an opponent, trying to stir the pot. Giroux has actually made pigeon sounds in a game so I really couldn't pass this one up.
Pittsburgh Penguins – Scream
After last season's offensive woes, they thought adding Phil Kessel would be the piece that allows this team to start scoring. Unfortunately for them, those woes just keep coming back to terrorize them. Heading into Wednesday's games, the Penguins were second to last in goals scored on the season. With Kessel added to a team that has Sidney Crosby and Evgeni Malkin, it is quite surprising that they can't find a way to score. We will wait and see if they can finally get away from this nightmare.
San Jose Sharks – Jaws
It was between this and An American Werewolf in London. If they would have named that one A Canadian Werewolf in California it would have won.
St. Louis Blues – Frankenstein
Just as the monster in Frankenstein is patched together with many parts, the St. Louis Blues are experiencing that this season with all the injuries they have suffered. They are currently missing Jaden Schwartz, Paul Stastny, Kevin Shattenkirk and Patrik Berglund. Old veterans such as Scottie Upshall and Scott Gomez have come in and performed valiantly while Troy Brouwer is looking like a great replacement for T.J. Oshie. Despite being patched together at the last-minute, this Blues team is looking like they could still be a monster in the Central.
Tampa Bay Lightning – From Dusk Till Dawn
Perhaps one of the best vampire movies of all time, the Lightning really capture the spirit of this movie. They were just minding their own business, slowly developing all of their players and then BAM. Everyone is hitting their stride at once and Tampa Bay is now one of the most exciting teams to watch in the entire NHL. They are getting great goaltending from Ben Bishop, have a ton of offensive capabilities and Victor Hedman might just take home a Norris this season.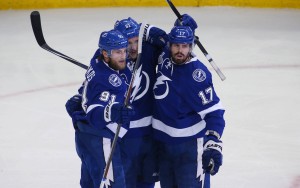 Toronto Maple Leafs – Final Destination
You have to hand it to them. They are putting forth a lot of effort every single game and are fighting to stay out of last place. Ultimately, however, that is where they will likely end up. This team was supposed to fail from the beginning and no amount of intervening will be able to change their fates.
Vancouver Canucks – The Shining
Do I really have to explain this one?
Washington Capitals – The Exorcist
Are Justin Williams and T.J. Oshie the final pieces that will help the Capitals purge their playoff demons? So far, so good as they currently sit third in the Metropolitan Division with 12 points in just seven games. They are a pretty popular pick to win it all this year and are posting great possession (I'm so sorry) numbers. The Capitals might just finally break through and enjoy some playoff success.
Winnipeg Jets – Carrie
Games with the Winnipeg Jets will leave you feeling like all of those high school students at Carrie's prom. They hurt you physically and are one of the hardest hitting teams in the NHL. It isn't always clean either, as Dustin Byfuglien has skirted the line of legality more than once with some of his hits. One thing is for sure, if you leave a game with the Jets and you physically feel alright, you got very lucky.
There you have it, every NHL team as a scary movie. Think I messed one up? Comment below with your ideas! Thanks for reading and Happy Halloween.
Jordan has been covering the Stars for The Hockey Writers since February 2015. He is originally from Iowa City, Iowa. You can follow Jordan on twitter @jordan_dix