Just 10 days after calling his team a fragile hockey club after a loss to the New York Rangers, head coach Glen Gulutzan left some people wondering about his own coaching skills. At a crucial point during the Flames' recent game against the Buffalo Sabres, he neglected to call a timeout to refocus his team and rest his notoriously shaky penalty killers. Was it an extremely poor oversight or a petty attempt to punish his players?
A Meltdown on Special Teams
At the time, the Flames were playing their second game in as many nights against a team that hadn't scored more than two goals in its last ten outings. They held a 1-0 lead and were dominating in even-strength situations thanks to an intense forecheck from their bottom three lines and an 18-save performance up to that point from the much-maligned Brian Elliott.
All of this came on the heels of losing star forward Johnny Gaudreau, who fractured his finger thanks to 11 different slashing hacks during a recent game in Minnesota. But, the Flames rallied around that incident with three of their four lines playing as a solid group, forcing turnovers and creating scoring opportunities in the three most recent games. Against Buffalo, only the top line of Sean Monahan, Troy Brouwer and Sam Bennett was struggling and that was mostly because they weren't skating or playing nearly as well defensively as the rest of the team.
Then the wheels came off. It was at the midpoint of the second period when the Flames were called for two minor penalties at the same time. Regardless of whether you think they fell victim to the "Wideman Effect" and were unfairly targeted by the referees is another question, but they nonetheless ended up with five straight penalties called against them in an eight-minute span.
The Coaches Set the Tone
That's when Gulutzan and his coaching staff stood by and did nothing to help this (in their own words) fragile team. They could've easily called a timeout at any point during the minute and 41 seconds where the Sabres scored any one of their three consecutive power play goals to stop the bleeding, but for reasons unexplained they refused to do so.
Gulutzan, however, seemed oblivious to his role in the problem in a post-game interview with the Calgary Herald.
"For me, it's more about finding a way to lose," said Gulutzan. "Midway through that second period, we were fine. We get to four-on-four and we were out there for 50 seconds, we turn over a puck, we end up taking a penalty and then during that little moment, we take another one. And now, the game changes.
"On the five-on-three goal, we lose a stick and it ends up in our net. Then we bust a stick on the third one, and it ends up in our net. So you can't put yourself in those situations."
Monahan failing to get the puck out of the zone allowed Evander Kane to get the entry which led to the 5-on-3.

Good catch by @Kent_Wilson pic.twitter.com/mXlKeNoTy8

— AOL Keyword: Mike (@mikeFAIL) November 22, 2016
Executing on special teams has been a continual problem for the Flames so far this season, with the team ranking 29th in the league at 72.7% on the penalty kill and last in the league at just 8.4% on the power play. But their performance last season wasn't much better and while Gulutzan, former Senators head coach Dave Cameron and Paul Jerrard were all hired to fix that problem and others, the results have yet to materialize.
That's not to say some things hadn't been going well for the Flames. After all, up to that point in the game and in the two previous games versus the Red Wings and the Blackhawks, the Flames had success using a strong forecheck and a high intensity style that was reminiscent of their best play from the last two seasons. Rookie Matthew Tkachuk was wreaking havoc and scoring points while players like Mikael Backlund, Michael Frolik and Matt Stajan were chipping in offensively to fill the gap left by Gaudreau.
All of those good things came crashing down with the Flames' failure on special teams, and that failure to execute does lie mostly with the players. However, coaches taking zero responsibility for the performance of their team is not just unfair, it's unprofessional. A poor carpenter blames his tools. Also, let's not forget the Calgary Flames are a very young team with only a few veterans.
What is the Philosophy of This Team?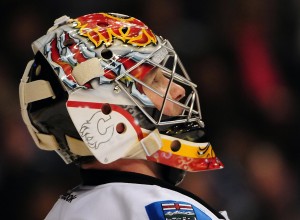 The Flames are a team that is trying too hard and right now they have a mentality focused on fear. They aren't consistently playing with confidence, they're not being disciplined on the ice and even though they've shown flashes of brilliance, they are being coached away from playing the gritty forechecking style of play that has previously made them successful.
Gulutzan and his coaching staff need to sit back and look at the skills that currently reside on the Flames' roster (grit, determination, forechecking) rather than trying to mold them into a preconceived vision of the puck-possession team they wish they were.
Perhaps they need to take a trip down the street from the Saddledome to the stables at the Stampede to see who can teach them how to turn a team of wild stallions into the elegant show ponies they seem to want.