Bay Area fans and press have a reputation for being soft on their underperforming sports stars and franchises until they hit rock bottom. Teams from cities like New York, Chicago, Boston, Philadelphia, and others, consistently feel pressure to win a championship. But being competitive seems to be enough to satisfy Bay Area sports fans, regardless of the sport.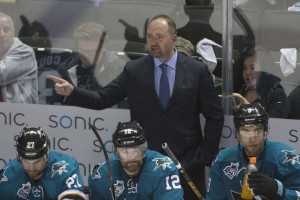 After the 2014-15 season, and prior to hiring Peter DeBoer, San Sharks general manager Doug Wilson issued a statement that said, "I want players that want to play here, not just live here." At that time, the Sharks organization had a reputation for keeping its star players happy and sheltered. Today, with little comment or concern voiced by the GM, the coach or the players, the organization has once again created a sheltered environment for their players. That 2014 complaint by Wilson about the attitudes of some players should be made again before the 2016-17 season gets away from the team.
Yes, it is early in the season, but the Sharks must put pressure on their existing players. The fans need to demand more from the team. The press must analyze the team's performance and not simply report events. The players need to know that mediocre play is not acceptable. With so many aging players and potential unrestricted free agents, a sense of urgency is required. The goal for 2016-17 must be winning a Stanley Cup.
Internal Options Available
The Sharks have internal candidates in the American Hockey League that are available to shake up the NHL roster.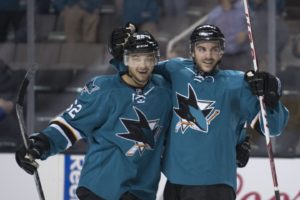 Recent call-up Kevin Labanc, the then leading scorer on the AHL's San Jose Barracuda was promoted to the big club to add offense to a team with trouble scoring. However, after scoring a goal and performing at a plus-two through six games, the Sharks chose to sit Labanc after calling up Danial O'Regan. Sitting Labanc is further evidence that the front office and coach are not willing to apply pressure on underperforming veterans.
I am confident that O'Regan is a fine person and a hard-working player, but he is redundant in the Sharks' lineup. The hockey prospect website Hockey's Future describes O'Regan as "an undersized but skilled offensive player who is among the better playmakers in the Sharks' system. He has an accurate if not overpowering shot, significant puck skills, and the ability to control the puck at his top speeds." This is a similar scouting report someone could give for Tommy Wingels, Matt Nieto, Chris Tierney, Melker Karlsson and Mikkel Boedker. Being that O'Regan was placed on the fourth line and had limited ice time, only 5:35 in a game never in doubt, in his debut, why bother promoting him or benching Labanc.
It is Time for Goldobin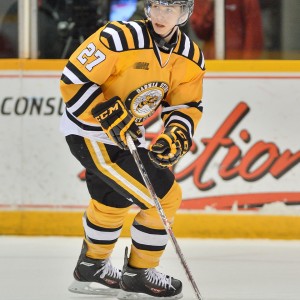 The injury to Tomas Hertl demanded that the Sharks recall Nicolay Goldobin and give him a top-six forward position. Of course, they did not. Hockey's Future calls Goldobin "a gifted sniper with the potential to be a big-time scorer in the NHL with his excellent wrist shot." While Goldobin has defensive zone challenges, he clearly has the biggest offensive upside of any prospect in the Sharks organization. If the Sharks are not going to promote Goldobin when scoring is their number one challenge, when will they?
With so many scoring challenges, the now healthy Timo Meier should also get a roster spot. After recovering from his illness, Meier has returned to score six points and play at a plus-three through nine games. Meier is also playing with an edge the Sharks are missing, as he has 22 penalty minutes since his return.
A convincing argument can be made that Wingels (a potential unrestricted free agent that could be a trade chip for the Sharks to move), Nieto, Tierney, the banged up Karlsson, and the struggling Boedker are all underperforming so far this season.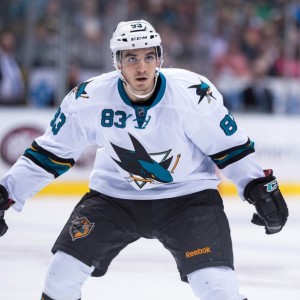 In fact, Tierney, Nieto, and Wingels have established what they are and will be with the Sharks, nice players with a limited offensive threat. Karlsson, when healthy, has not matched the offensive potential he showed when he first arrived in the NHL during the 2014-15 season. The jury may still be out on Boedker's Sharks career, but history shows him to be an inconsistent scorer. At the very least, some combination of LaBanc, O'Regan, Goldobin, and Meier deserve not only a promotion to the NHL but an extended run with more than limited fourth line playing time.
On defense, the AHL does not offer as much help but perhaps a puck moving defenseman like the maturing Tim Heed, or dare we say, Mirco Mueller should get a shot. Better yet, the Sharks should consider promoting Julius Bergman, a 22-year-old physically impressive defenseman with excellent skating skills.  Bergman is not afraid to join the rush and is more than holding his own in the minors this season.
External Help Available
Last season to combat the lethargic start, the Sharks made roster changes that significantly impacted their regular season and contributed greatly to their playoff success. Early in the 2015-16 season, the Sharks picked up a veteran player familiar with DeBoer's style in Dainius Zubrus. Later in the season, the Sharks picked up physical defenseman Roman Polak and speedy defensive forward Nick Spaling. While these three acquisitions did not significantly increase scoring, certainly not as much as the return of Logan Couture from injury, these changes put the existing roster on notice that changes were needed. The three acquisitions were given consistent playing time at the expense of players who were with the team from the start of the season.
As they did last season, the Sharks can look outside their organization at potential unrestricted free agents that could be acquired via trade. Rumors have the St. Louis Blues shopping 27-year-old defenseman Kevin Shattenkirk, who would immediately improve the power play and the offensive skill set on the Sharks' blue line.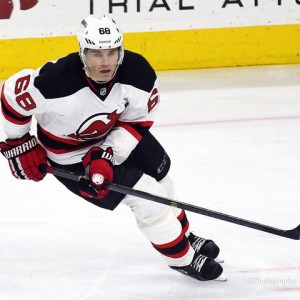 Perhaps Jaromir Jagr, ageless at 44, wants another playoff run before his career is completed. Jagr is not slowing down but his scoring is down as he is playing without passing wizard Jonathan Huberdeau, at least until January.  Could Joe Thornton's high hockey IQ be just what Jagr needs to regain his scoring touch?
Other unrestricted free agents for the Sharks front office and their fans to watch include: defensemen Dennis Wideman (33-year-old in Calgary), Mark Streit (38 years in Philadelphia who has found the fountain of youth this season), Cody Franson (29 in Buffalo) and forwards Brian Bickel (30 in Carolina with a ring from his time in Chicago), Milan Michalek (31, the former Shark was recently waived by Toronto), Brian Boyle (31, Tampa Bay's proven playoff performer) or Brian Gionta (37, a veteran winding down his career in Buffalo with nothing to play for right now).
While the Sharks have their own key pieces in the last year of their contracts, notably Thornton, Brent Burns, Patrick Marleau and Tommy Wingels, the team's successful roster adjustments last season should empower them to consider adding upcoming unrestricted free agents with an eye towards playoff success in the current season.
It is never too late to start thinking about winning a championship.