To say that the Mississauga Steelheads' 2016-17 season got off to an underwhelming start would be a massive understatement. In possession of a seemingly endless number of high-quality players, as well as highly-ranked draft prospects, the Steelheads, to date, have failed to live up to their lofty expectations.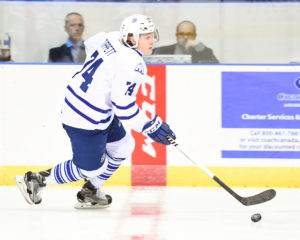 Led by the elite talent of Michael Mcleod, Nathan Bastian, Owen Tippett, Ryan McLeod and Nicolas Hague, the Steelheads were projected to become a major contender in the Central Division, yet have thus far failed to do so.
As if this immeasurable talent was not enough, Mississauga also added defenseman Vili Saarijarvi, a third-round choice of the Detroit Red Wings in the 2015 NHL Draft, to bolster their back-end in the offseason.
Then, further, despite the Steelheads already boasting a fantastic roster, Jacob Moverare, a prospect of the Los Angeles Kings, committed to the team early in August of 2016, providing Mississauga with an even more lethal blue-line, and one that could contribute offensively too.
However, despite a Steelheads' roster overflowing with skill, the results, thus far, have simply not been there. Sure, the odd player, particularly Saarijarvi, has missed time due to injury, yet this reason alone cannot be to blame for the team's play to date. The inability of the Steelheads to come together as one, play with chemistry, and emphasize their defensive game on a consistent basis has been the downfall of their season to date.
Yet, with defense being a major issue for the Steelheads, the impending return of Saarijarvi from injury should help turn the Steelheads in the right direction.
BREAKING NEWS: Vili Saarijarvi will make his 2016-17 @OHLSteelheads debut this Friday vs @OHLHoundPower

— Kyle Liberto (@Kyle_Liberto) November 21, 2016
A Painful Setback
After injuring his wrist during play at a prospects camp in the summer of 2016, Saarijarvi underwent surgery to repair the damage and was estimated to be out of action for three months.
At the time, Saarijarvi was coming off of just his second season of play in North America, and first with the Flint Firebirds of the OHL. In his rookie season in the 'O' in 2015-16, Saarijarvi was a force on the blue line, as he netted 12 goals and 43 points in 59 games played, a substantial total.
Having originally arrived in the United States Hockey League from Finland in 2014-15, Saarijarvi impressed during his short 59-game stint with the Green Bay Gamblers, after which he was chosen by the Firebirds ninth overall in the CHL Import Draft. In his only season in the USHL, Saarijarvi scored six goals and 23 points, while adding 21 points in 19 various international games with Finland.
So, it is quite clear that Saarijarvi's play has been on the rise in recent years, and that his subsequent wrist injury truly did throw a wrench into his momentum on the ice.
However, now healthy, Saarijarvi is set to make his 2016-17 OHL debut come Nov. 25, and it is one that has been highly anticipated by both the Steelheads and the league itself.
Ready to Roll
Fully recovered, Saarijarvi's return comes at an incredibly important time in Mississauga's season. With the team struggling to find both its identity as well as wins, Saarijarvi's presence on the blue line presents a massive and much-needed addition to a team already flush with high-end skill.
Known as an aggressive player, Saarijarvi's presence on the Steelheads' blue line will bring much-needed speed and skill. As the only Mississauga defender under 6′ tall, Saarijarvi's ability to move the puck, as well as direct his booming shot on net, will result in an immediate influx of offensive scoring opportunities. Further, Saarijarvi's mobility, speed, and on-ice vision will aid Mississauga defensively, and allow the team to generate crisp and efficient breakouts.
Yes, he is only 5 feet 10 inches and 170 pounds, but Saarijarvi's play will bring much-needed change to an otherwise heavy blue line. Gifted with a great mix of speed and creativity, Saarijarvi will likely see considerable power-play time and mesh well with Hague, another highly offensive defender who patrols the Mississauga blue line.
In all, Saarijarvi's return from injury should provide a major boost to a largely stagnant Steelheads team. Struggling to piece together wins and falling incredibly short of its realistic expectations, Saarijarvi's insertion into Mississauga's lineup should be exactly the shot in the arm the team needs to turn its campaign in the right direction. And, with the recently-acquired Spencer Watson also due to return from injury in the near future, the Steelheads could finally ice the complete roster which they have long envisioned.
The Steelheads have the skill and the will to become a legitimate OHL contender in 2016-17, however, it remains up to the Steelheads players themselves to generate the results which they know they can, and should, achieve.