Tomas Jurco is nearing his return to the Red Wings' lineup, as the team assigned him to Grand Rapids yesterday for a two-game conditioning stint. He'll play for the Griffins tonight and on Friday, then return to Detroit sometime this weekend.
With the team in the midst of a four-game losing streak, some fresh legs could serve as a boost. At the same time, it's fair to question both Jurco's impact and his place on the team. The reality is that the 23-year-old Slovak has yet to find his feet with the Red Wings.
Same Old Song and Dance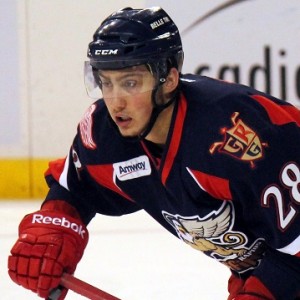 Stop me if this all feels a bit familiar. Questions regarding Jurco's place in the Wings' lineup have popped up ever since he became a mainstay on the roster. The skilled forward showed some promise during the 2013-14 season, registering 15 points through 36 games with the Red Wings.
Due to his success, former head coach Mike Babcock fought to find a spot for the Slovak forward heading into the 2014-15 season. While other promising prospects like Xavier Ouellet were sent back to Grand Rapids, the team wanted to explore Jurco's potential. While he received some time on a scoring line with Riley Sheahan and Tomas Tatar, he spent the majority of his season skating with Luke Glendening and Drew Miller on the Wings' fourth line.
Despite a rough year, current head coach Jeff Blashill expressed confidence in Jurco early last season:
'Jurks is somebody who has done some real good stuff for me in the past. I believe lots in Jurks,' Blashill said. 'I think there's still another level with Jurks, but what we're trying to do is give him some stuff, get him to where he's skating at the level I think he needs to skate at in order to be effective out there.'
However, his utilization over the course of the season turned out similar to that of the previous year. Again, while he was able to skate with Sheahan and Tatar at times, he spent most of his year on the fourth line with Glendening and former Red Wing, Joakim Andersson.
Though it is fair to question his usage, Jurco has only generated 26 points through the 114 games he has played over the past two seasons. His skillset does not lend itself to a role as a grinder, but management does not appear comfortable in using him in a top-nine role, either.
Better Options Up Front?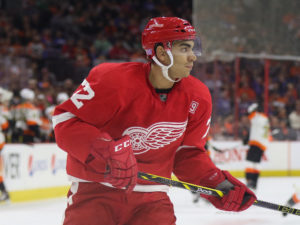 Heading into the season, it was widely accepted that Jurco would serve as a depth forward for the Red Wings. With Darren Helm out of the lineup for at least six weeks, the opportunity for the Slovak-born forward to step into a top-nine role is there, but others may have already beaten him to the punch.
Both Andreas Athanasiou and Anthony Mantha represent the future of the Wings' group of forwards, and have found success with the team this season.
Athanasiou has chipped in four goals and one assist this year, despite limited use on the power play and only playing an average of 12:06 per game. Currently sidelined with a knee sprain, he could return to the lineup within the next week or so.
That same knee injury resulted in the Wings recalling Mantha from the AHL. Through four games, the hulking winger has notched two points, while receiving ample time on the power play and a chance to skate on the team's top line.
Though both players can safely pass through waivers, Helm's injury will allow the Wings to keep one of the two in Detroit, even with Jurco on the roster.
I am a writer from Windsor, Ontario who has covered the Detroit Red Wings for The Hockey Writers. I have had the pleasure of doing so since February of 2015. Previously, I have written about Red Wings prospects for Hockey's Future. I am always up for chatting about the Red Wings and hockey in general, so leave me your comment and/or tweets. Follow me on Twitter at @BrandonPeleshok.