Will Butcher, a defenseman from the University of Denver, will reportedly become a free agent next month. Adrian Dater of BSNDenver reported the news, that was confirmed by Butcher's agent, Brian Bartlett.
Butcher was drafted by the Colorado Avalanche in 2013 and won the Hobey Baker Award this year. After four years at university, he will forgo signing with the Avalanche and will test free agency on August 15.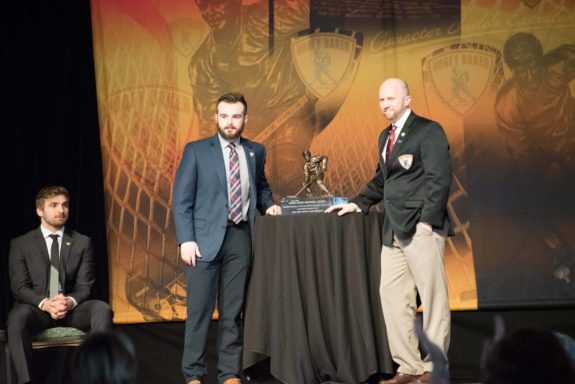 Butcher is the latest "big-name" collegiate player to hit free agency. Last summer, Jimmy Vesey signed with the New York Rangers and Cal Petersen recently signed with the Los Angeles Kings. Now, it's Butcher's turn. Here are five possible landing spots for the left-handed defenseman:
Buffalo Sabres
The Buffalo Sabres are still in the process of rebuilding. They've shored up their defense core with the additions of Marco Scandella and Victor Antipin this offseason. The Sabres also have returning defenders in Rasmus Ristolainen, Zach Bogosian and Jake McCabe, to name a few. Newcomer Nathan Beaulieu is an RFA. But is that enough? Butcher could be another solid young piece on the blueline for Buffalo.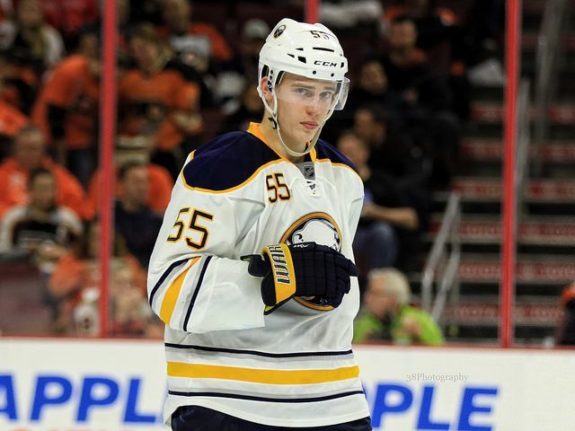 In his years at Denver, Butcher proved himself as an effective two-way defenseman at the collegiate level. Regardless of where he lands, it's a risk and his game will have to transform to the NHL level. He could do that in Buffalo, among a few players he's already familiar with. Butcher played alongside Jack Eichel and Hudson Fasching at the 2015 IIHF World Junior Championships. Eichel captained the team, while Butcher wore an A. Butcher's transition to the NHL could be made easier by playing with guys he's already somewhat familiar with; it certainly can't hurt.
The Sabres also have a new general manager at the helm, Jason Botterill, who has a track record of signing college free agents from his time with the Pittsburgh Penguins. The Sabres also have plenty of cap space to accommodate Butcher. Could he be wearing the blue and gold come October?
New Jersey Devils
The New Jersey Devils could also throw their hat in for Butcher. They have an imminent need for defensemen, with only five NHL defenders under contract. Andy Greene and John Moore, both lefties, are set to play for the Devils next season. Damon Severson, another young promising defender, is an RFA. The Devils definitely have a spot open, and Butcher would get his shot at the NHL right away in New Jersey.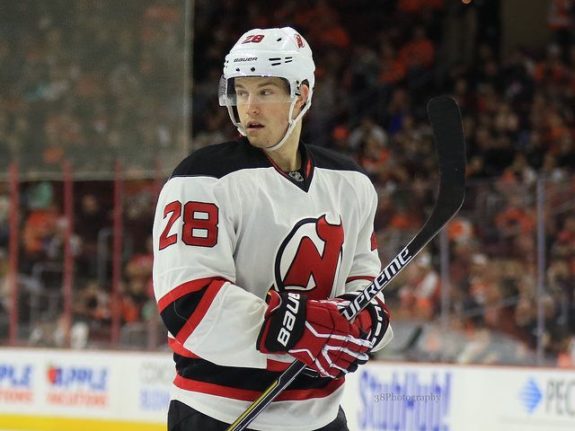 In addition, New Jersey could be a lucrative spot for Butcher thanks to some other young talent they've got. For starters, they've got first-overall pick Nico Hischier but there's also talent in forwards including Taylor Hall, Pavel Zacha and Marcus Johansson.
If he signed with the Devils, Butcher would be part of a young core group helping make the Devils relevant again. He'd be a huge boost for their blue line but can also bring an offensive side to his game. While the Devils have several defensemen in the pipeline, none are quite at the NHL-ready level. Butcher would immediately slot in and would also likely see solid ice time, something he may not get with some teams.
Chicago Blackhawks
Butcher hails from Sun Prairie, Wisconsin, roughly 155 miles from Chicago. The Blackhawks are, for all intents and purposes, Butcher's "hometown team." If he wishes to play near his hometown, the Blackhawks may be just what's he looking for. Unlike some of the aforementioned teams, the Blackhawks are also (recent) proven winners, which may be tempting for the young defenseman. After all — who doesn't want to go to a winner?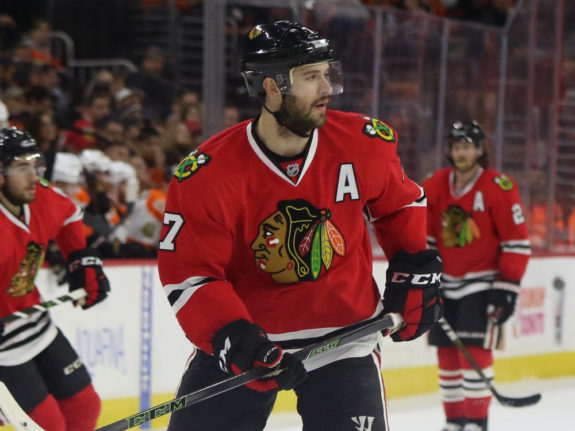 In addition, the Blackhawks have a need for defensemen, with arguably only five NHL defensemen under contract. That list includes lefty Michael Kempny, whose place in the NHL isn't guaranteed, and fellow lefty Duncan Keith. Butcher could slot in and see some second- or third-pair action.
In addition to being close to his hometown, Butcher's already at least a little familiar with Chicago. The United Center is where he and his Denver team won the NCAA Division I Championship earlier this year, beating Minnesota-Duluth 3-2.
However, there are two issues with Butcher's potential signing with Chicago. First, the Blackhawks already have salary cap issues. As of July 30, they're in the negative by $34,795. Butcher's contract won't be massive, but it will be an entry-level deal worth a maximum of $925,000 plus bonuses. Signing Butcher will force the Blackhawks' hand in moving some other pieces.
Finally, Butcher isn't likely to see top ice-time in Chicago. With some teams, he'll be a bigger name; with the Blackhawks, he'll be more of a small fish in a big pond. He could like the idea of going to a winning team and developing over the years, becoming one of those bigger pieces. He could also prefer being part of a rebuild and stepping right into the spotlight immediately. If it's the latter, he'll be less likely to sign with the Blackhawks.
Minnesota Wild
Another potential landing spot for Butcher: the Minnesota Wild. Similar to Chicago, he wouldn't be too far from his hometown – under four hours' drive – and the Wild could use another left-handed defenseman.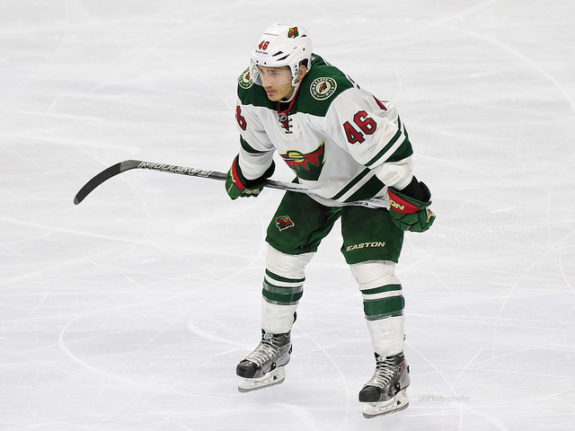 Ryan Suter is the lone left-handed NHL defenseman under contract with the team as of July 30. Butcher could fill in and, while he likely wouldn't be a top-pairing guy, would see decent ice time with the Wild. In addition, while some teams may show concern over Butcher's size, the Wild probably wouldn't mind. They've already got one small defenseman in 5'9″ Jared Spurgeon; Butcher is one inch taller.
Regardless of where he signs, Butcher will get a two-year entry-level deal (as determined by his age), so he'd already be locked in for a few seasons. The Wild have three defensemen set to become free agents in July 2018, so this would be one more piece in the pipeline going forward.
Colorado Avalanche
At this point, it seems unlikely that Butcher will sign with the Avalanche, but it's still a possibility. His agent specifically said they are not ruling it out. Butcher's current situation gives him a chance to see what other teams may be interested in him and allows him to make the final choice. Depending on what other teams show interest, and what potential bonuses could be in store, Butcher could still choose to head to Colorado.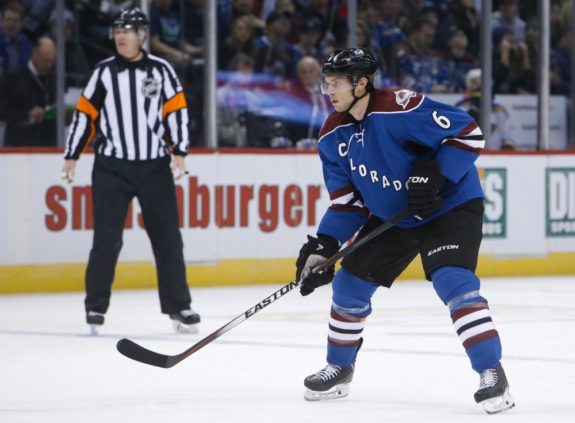 The Avalanche would be a fitting spot for Butcher, who is already familiar with Colorado after playing four years in Denver. The transition to the NHL would be an adjustment regardless of team, but Butcher's already familiar with the locale and atmosphere in Colorado.
In addition, the Avalanche have an imminent need for defensemen. Erik Johnson, Tyson Barrie and Mark Barberio are the three NHL defensemen signed for next season; Nikita Zadorov remains an RFA. With this, there's certainly a spot for Butcher to get an immediate crack at the NHL. He'd also be likely to see solid ice time as a second-pairing guy.
Other than the obvious choice to hit free agency, there have been a few other points of contention between Butcher and the Avalanche. During his junior season at Denver, the team told Butcher's family they were not interested in signing him. It's believed this train of thought came from then-coach Patrick Roy, who is no longer with the team.
Then, back in April, Butcher told Avalanche GM Joe Sakic he didn't want a contract yet but wanted to sit down with his family and the team and discuss his future. Could this whole situation leave a sour taste in Butcher's mouth and make him less likely to sign with Colorado? Sure. Could Butcher's decision to test free agency also leave a sour taste in the Avalanche's mouth? Sure. In the end, it still doesn't necessarily mean he won't end up back in Denver.
Regardless of where Butcher signs, his rookie season will be one to watch, especially if he ends up on a team where he'll see a lot of ice time. Many NHL teams will likely show interest in Butcher once August 15 hits. No matter where he signs, it will be a two-year, entry-level deal worth a maximum of $925,000 before bonuses. Which offer will be the most lucrative for the young defenseman? We'll find out sometime after August 15.