In about two months, the Detroit Red Wings will open the 2017-18 NHL season in their new home: Little Caesars Arena. But before the new season opens, Ken Holland and the Red Wings have a bit of roster tweaking to do.
It's no secret that Detroit is in salary cap trouble and that they still need to sign Andreas Athanasiou. It's a given that at least one player from the current roster will not start the new season with the Red Wings organization in order to comply with salary cap rules. But who?
In this week's edition of The Grind Line, The Hockey Writers' Red Wings coverage team builds Detroit's opening night roster with the salary cap, injuries, and other factors in mind.
Tony Wolak
| | | |
| --- | --- | --- |
| LW | C | RW |
| Anthony Mantha | Henrik Zetterberg | Dylan Larkin |
| Andreas Athanasiou | Frans Nielsen | Tomas Tatar |
| Gustav Nyquist | Riley Sheahan | Evgeny Svechnikov |
| Justin Abdelkader | Darren Helm | Martin Frk |
| Tyler Bertuzzi | Luke Glendening (LTIR) | Luke Witkowski |
| | | |
| --- | --- | --- |
| LD | RD | G |
| Danny DeKeyser | Trevor Daley | Jimmy Howard |
| Xavier Ouellet | Mike Green | Petr Mrazek |
| Niklas Kronwall | Nick Jensen | |
| Ryan Sproul (LTIR) | Robbie Russo | |
Forwards
Back when Pavel Datsyuk and Henrik Zetterberg were in their third and second seasons, respectively, the two played on the second line with Brett Hull. Sergei Fedorov had just left for Anaheim, Steve Yzerman's career was winding down, and Datsyuk and Zetterberg were still coming into their own. The two were clearly talented, but hadn't yet developed into gamebreakers. Playing in an impact role with Hull helped Datsyuk and Zetterberg speed up their development and become superstars.
A parallel can be drawn to today's Red Wings. Though the team is less talented and does not have the benefit of a Brendan Shanahan-Steve Yzerman-Robert Lang top line, two young players can learn the way Datsyuk and Zetterberg did over a decade ago.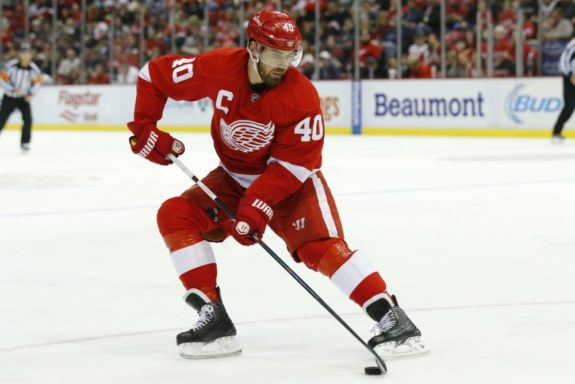 Having Anthony Mantha and Dylan Larkin play on the top line with Zetterberg will advance their development as the Red Wings organization continues to rebuild. Playing against top competition night-in and night-out will teach the two to constantly find new ways to generate offense. With a future Hall-of-Famer in Zetterberg guiding them, Mantha and Larkin could progress substantially this year.
As for the rest of the forward lineup, Frans Nielsen is a lock to center the second line. Having offensive-minded players like Tomas Tatar and Andreas Athanasiou on his line should bode well for the two-way pivot. Additionally, with Luke Glendening possibly beginning the year on long-term injured reserve, prospects like Tyler Bertuzzi, Martin Frk, and Evgeny Svechnikov will have the opportunity to play right away. Svechnikov will only make the Red Wings if there's a spot in the top-nine open, otherwise he'll be heading back to Grand Rapids to play top line minutes. Alternatively, Detroit could play Justin Abdelkader on the third line, Tyler Bertuzzi on the fourth, and have Ben Street in reserve if they think Svechnikov would be better off with the Griffins to open the year.
Defense
On defense, you'll notice Jonathan Ericsson is missing. With Detroit needing to move a player to become cap compliant—even with Glendening, Johan Franzen, and Ryan Sproul—on LTIR, Ericsson will be the player to go. Holland will find a taker for the veteran defenseman by packaging him with a middle-round draft pick in exchange for a seventh-round pick. It's wasteful to trade a pick like this, but keep in mind Detroit has an extra 2018 second-round pick from the Brendan Smith trade and could add more selections by moving Mike Green and others at the trade deadline.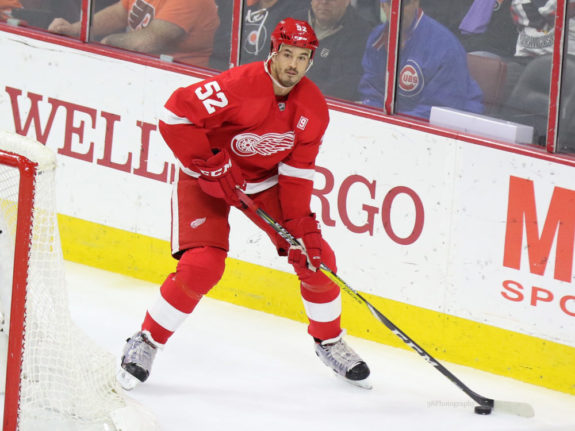 When the Red Wings open the season against the Minnesota Wild, expect Trevor Daley and Danny DeKeyser to see move of Minnesota's top line. They will be Detroit's shutdown pair at first, with Green and Xavier Ouellet as the preferred offensive pair. Playing Niklas Kronwall on the third pairing, rather than in more strenuous situations, will help the veteran deal with his balky knee. Also having the speedy Nick Jensen as his defensive partner will allow Kronwall to play a more passive role.
Brandon Peleshok
| | | |
| --- | --- | --- |
| LW | C | RW |
| Gustav Nyquist | Henrik Zetterberg | Anthony Mantha |
| Tomas Tatar | Frans Nielsen | Dylan Larkin |
| Andreas Athanasiou | Darren Helm | Justin Abdelkader |
| Tyler Bertuzzi | Riley Sheahan | Luke Witkowski |
| | Luke Glendening (LTIR) | Martin Frk |
| | | |
| --- | --- | --- |
| LD | RD | G |
| Trevor Daley | Mike Green | Jimmy Howard |
| Danny DeKeyser | Nick Jensen | Petr Mrazek |
| Xavier Ouellet | Jonathan Ericsson | |
| Niklas Kronwall (LTIR) | Ryan Sproul (LTIR) | |
Long-Term Injured Reserve
Without a doubt, Red Wings' general manager Ken Holland needs to find a way to shed some cap. In an ideal world, he would find a way to pull off a trade. Unfortunately, the team has accumulated a number of "bad" contracts over the years (some with no-movement or no-trades clauses). Combine that with the fact that Holland has completed just 27 trades since the NHL instituted the salary cap in 2005-06, and it's fair to remain skeptical about his ability to get a deal done.
Holland has used LTIR to ease cap issues in the past, and it's possible he does the same before opening night. Kronwall's knee issues limited him to 121 games over the past two seasons, and he's gone on record to say he doubts he'll "ever be pain-free". It's entirely possible the 36-year-old will experience some kind of setback during training camp, giving Holland a band-aid solution at the start of the season.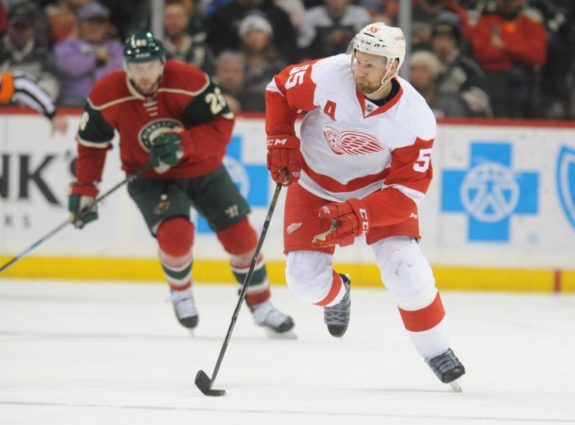 Forwards
The Red Wings experimented with several combinations for their first line last season, but keeping Mantha with Zetterberg feels like a no-brainer. I struggled between using Tatar and Gustav Nyquist as the third man on the line, though I opted to go with the latter. A second line of Tatar, Nielsen and Larkin gives the team a balanced line full of speed and goal-scoring potential. While the Red Wings' want to see Larkin develop into a center, I'd like to see them use him as a winger while he regains some confidence.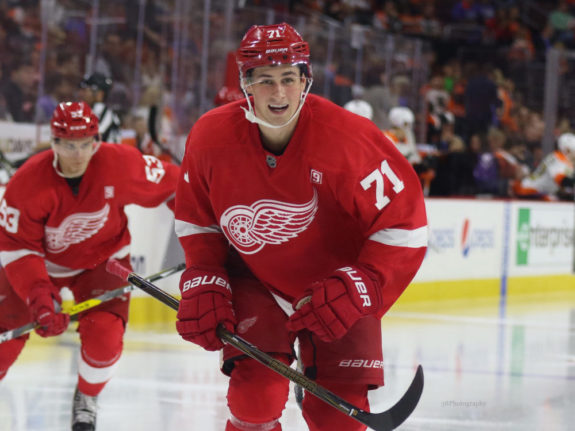 With head coach Jeff Blashill's criticism of Athanasiou last season, it's difficult to imagine him starting in the Wings' top-six on opening night. Using the 22-year-old forward on a line with Darren Helm and Abdelkader should give him the freedom to carry the puck. Helm can take care of the middle of the ice while Abdelkader serves as a net-front presence. It's easy to see Athanasiou eventually moving into the team's top-six group, especially if he can find himself on Blashill's good side. That leaves a fourth line of Bertuzzi, Riley Sheahan and Luke Witkowski to play a physical game and establish a strong forecheck.
Defense
There's no dancing around it – the Red Wings' defense corps is a mess. According to Dobber Hockey, the most common defense pairing the Red Wings used last season was DeKeyser-Green (20.75 percent). Despite Blashill going back to it so often, the pairing often struggled, so using Daley with Green is worth a shot. The two are likely to have issues of their own (shot suppression), but he may present as the Wings' best option in that role. A second pairing of DeKeyser and Jensen has the potential to give the 27-year-old rearguard a chance to play fewer minutes and regain some of his confidence. Not to mention, Jensen was one of the team's better defenders last season, and his speed should help DeKeyser out of a few jams. That leaves a bottom pairing of Ouellet and Ericsson. Like Jensen, Ouellet stood out in a positive way last season, and has the potential to move up in the lineup if others fall short.
What do you think the Detroit Red Wings opening night lineup will look like? Comment below with your lines.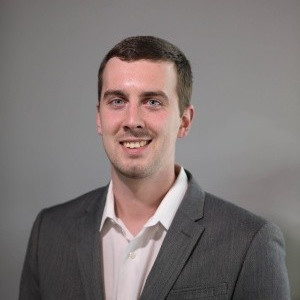 Tony Wolak is based in the Washington D.C. area and covers the Detroit Red Wings for THW. As a former junior and college hockey player, Tony has a unique perspective on Red Wings topics.