As we all know, the Leafs are in a bit of  salary cap pickle.  They sit $1.2 million under the cap today, which makes it hard enough to add any players this year, but the real problem is that they must re-sing Cody Franson, Nazem Kadri and Johnathan Bernier for next season.  They also have only seven forwards under contract for 2015-16, but the expiring forward salaries are likely only enough to sign Kadri and a couple league minimum guys, forget about the fact they'd still need to sign four or five more forwards in addition to Franson and Bernier.
One obvious move the Leafs must at least try to make is to find a new home for David Clarkson.
This will prove almost impossible, for several reasons:
1. The contract un-buy-outable. Since the majority of Clarkson's deal is structured as a signing bonus, buying him out would only in effect clear up a roster space and not cap-space.  More on this from James Mirtle.
2. Clarkson's cap hit is $5.35 million, and in return for that last year he got 11 points. This year – supposedly a 'bounce back' – he has nine goals and three assists in 34 game, or roughly one point every three games.  This despite averaging almost 15 minutes of ice time per night and just 20 seconds less time on the Power-play per night than Nazem Kadri.
Clarkson also has – via stat.hockeyanalysis.com – a CF% of 45.7 and a PDO of 101.8 suggesting that not only has he been bad, but he's been lucky as well – the worst possible combination, and one that suggests he will only get worse.
3. Clarkson inexplicably has a no movement contract. He cannot be sent to the minors and he cannot be traded to 16 of the NHL's 30 teams. Meaning that -when you exclude the Leafs – there are only 13 teams he can be traded to.  This contract, by the way, runs until 2020.
To sum up: He is not very good, he's expensive, the contract is eternal and he can only be traded to slightly more than 1/3 of the NHL's teams.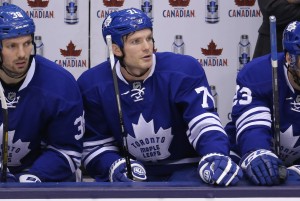 Who Could Take Him:
Unlikely as it may be, it's worth looking at a selection of teams with the cap space to take him on.
1. Calgary Flames – The Flames are an intriguing choice. They are run by Bryan Burke, noted analytics doubter and old school hockey fan. There is a chance that the Flames could want to take a chance on Clarkson improving out of the home town pressure cooker. They also have $22 million dollars in Cap Space and are a rebuilding team.  Perhaps they could be persuaded to take the hit if the Leafs could send them a prospect or something to smooth things over. To be honest, I am convinced this is the only real possibility and if faced with the prospect of losing Cody Franson, I'd be willing to send the Flames a good player and a second round pick in order to get this done. If you could lottery protect it, a first rounder wouldn't be out of the question since we're talking about losing Cody Franson here.
2. Ottawa Senators – The Senators are unlikely as they have an internal salary cap and a cheap owner. They do however have slightly more cap space than the Flames. I can't think of another good reason why they would take this contract, but their cap space makes it a (ever so slight) possibility and perhaps the Leafs could in some way intrigue them. If they aren't going to use their full cap otherwise, maybe they could be talked into it.
3. Arizona Coyotes – You'd think they'd be on his no-trade list, but Arizona is a great place to play, so maybe not. Also, they have a ton of cap space they are likely to never use and the Leafs are (or ought to be) interested already in Hanzal and Yandle. Mayhap the Leafs could overpay for those two and work something out where the Coyotes agree to take this off their hands. Its unlikely, as is anyone taking this contract at all, but if the Leafs can be creative, it's a possibility.
The only other teams that currently have over $15 million in cap space (I can't see anyone with ten or less using up half of what they have on this contract, no matter the situation)  are the Sabres and Predators. The Sabres are another intriguing option due to their young team and the fact that if they move out Stewart and Myers as it is rumored they will, they will have to a contract to make the cap floor.
To conclude, it appears that there are only five teams in the entire NHL at this time who could even hope to take on the Clarkson contract if they wanted to. It also appears that most of those teams would be teams likely to make up his no-trade list.  What this ultimately means is that David Clarkson is probably going to be a Maple Leaf for a long time. There may be more options next year, but by that time the Leafs will probably have already had the worst contract in the history of their team cost them one of their best players.
I said it in another article earlier – it wouldn't be the worst idea in the world to consult with Blue Jays GM Alex Anthropoulos on this as he once found a taker for Vernon Wells who was on a contract that was considered at least equally immovable as this one.
Thanks for reading.
*All salary cap info from Capgeek and all advanced stats from Stats.HockeyAnalysis.com*