Bob Hartley is now firmly at the helm as head coach of the Calgary Flames, as evidenced by the dismissal of assistant coach Craig Hartsburg by the organization this past week and the hiring of his replacement Jacques Cloutier. General Manager Jay Feaster is definitely expected to be active at the upcoming NHL Entry Draft in Pittsburgh as rumors have been flying over the Flames no longer shelling out a cap-capacity payroll, with a big ticket player expected to be on the block. The Flames cannot help but give off a sense of transition and change as they look to return to relevancy in the Western Conference, a welcome sight in the eyes of many fans. However, while the organization is seemingly making moves that look appealing on paper one cannot forget that the actual game is played on ice.
While speculation gives way rumors, it is truly impossible to evaluate how the Flames will perform this upcoming season. Numerous players will be lost to free agency and predicting how successful a rookie campaign Sven Bartschi has is next to impossible as he technically has still yet to solidify a permanent spot on the roster. There are a few certainties that can be made though, and they can be explored to a certain extent.
By his own admission, Hartley promises to change the style of play. Employing a less than enthralling dump-and-chase and defensive oriented hockey the last few seasons under former head coach Brent Sutter, the incoming Hartley employs hard-working hockey that emphasizes puck possession. Should he still don a Flames jersey next season, beleaguered defenseman Jay Bouwmeester may prove to be the greatest beneficiary of this new system. One of the few aspects of his game that has not come under fire in Calgary are his smooth skating and hockey sense which are the two primary ingredients utilized to successfully carry out a puck possession style. To say Bouwmeester has struggled offensively since leaving the Florida Panthers is a massive understatement and hopefully Hartley finds a way to awaken the defender's offensive potential.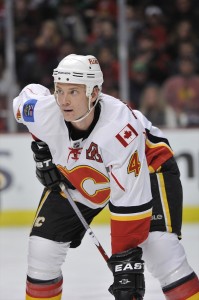 While Bouwmeester may prosper in a puck possession system, the same implication is difficult to apply to Calgary's top offensive forwards. In particular Jarome Iginla has essentially been playing the same on-ice system, or a close variant of it, for nearly a decade since Darryl Sutter took over behind the bench midway through the 2002-2003 season. It will certainly be interesting to see if Iginla can adapt to the new system successfully, as despite being in his mid-thirties he will undoubtedly be counted upon to supply another 30-goal campaign or better. To successfully adapt, Iginla may have to revert to a tertiary role on the Flames top line that is similar to his primary role on the Flames power play. Iginla's one-timer is vastly underrated and one wonders if his career in the Western Conference deterred its reputation in the press. If the Flames captain is consistently given quality line mates that can focus on gaining the offensive zone, Iginla blasting heavy pucks from the circle could be a common sight this coming season.
The biggest casualty to the new system in the forward ranks is most likely to be gritty winger Curtis Glencross. While he is coming off back-to-back 20-goal seasons, Glencross has simply flourished due to a dump and chase system and some ample power play time. With the arrival of a player of Sven Bartschi's caliber should the Swiss rookie make the team, it is difficult to imagine Glencross still managing to maintain a top-6 forward position. Glencross could still manage a gritty 20 goals, but will likely be hard pressed to hit the 50-point plateau for the first time in his career after managing 48 in 67 contests last season. He will still have a serviceable role on the team's penalty killing units and expect his time to increase when the Flames are down a man. Hartley has always loved to rely on his advanced skill players, from Joe Sakic to Peter Forsberg to Marian Hossa to Ilya Kovalchuk, and Glencross is best suited to a third line role that can sparingly play 2nd line minutes should the need arise.
Another Flames roster hopeful who could fit into this new up tempo system is forward Paul Byron, who may prove to be the key acquisition to come out of the Robyn Regehr trade to Buffalo last summer. The speedy forward is incredibly skilled with the puck on his stick, and a puck possession game could allow the blooming playmaker to replicate feats such as this. While diminutive in size, Byron has scored at a respectable level for the Portland Pirates and Abbotsford Heat of the American Hockey League and has showcased his speed at the NHL level. Should his defensive acumen stand at an NHL level, Byron could quickly find himself in good favour with the new Flames coach.
The season has yet to play out, but these are a few candidates who could find themselves to either undergo drastic changes or adapt to drastic success.