One of the strangest goals you'll ever see, but was it legal? According to the letter of the law it is. Rule 83.4 says that if a puck is 'shot on goal' during a delayed offside then the goal doesn't count (see image below). Of course all laws/rules are open for interpretation and one could make a case for saying the spirit of the rule is to not allow a goal on a delayed offside. Semantics shouldn't get in the way of the intent of the rule.
Let me know what you think.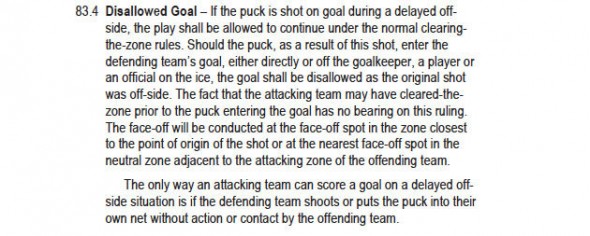 thanks to Puck Daddy for the rules image.
Serial entrepreneur who started building websites in 1995. Founded The Hockey Writers in Jan. of 2009. Traveled with family for a year, visiting 25 countries along the way.