Since he entered the NHL in 2005, Sidney Crosby has put together a resume that most NHL players would love to have at the end of their career. In his first seven NHL seasons, the Penguins' captain has won a scoring title, a Hart Trophy as league MVP, a Stanley Cup, and scored the overtime goal to give Canada the Gold Medal in the 2010 Winter Olympics. And yet, Crosby won't turn 25 for another two months.
As it's been well-documented, the last year and a half for Crosby has revolved around his health, and how coming back from a concussion and two broken vertebrae would affect his play on the ice for the remainder of his career. However, even though Crosby has missed 108 out of the Penguins' 177 games (regular season and post season) over the last two seasons, there are plenty of reasons to believe that the Penguins' captain will not only play as well as he did before his injuries, but that he will have the best year of his career in 2012-13. Here are a few of the reasons why Crosby will have a career season: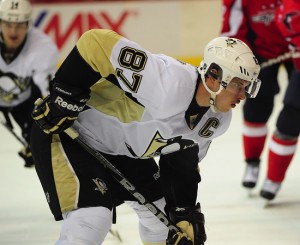 His Ability to Participate in Off-Season Workouts
For the first time in a long time, Crosby is both symptom-free and has five months where he can participate in off-season workouts before the regular season starts (and possibly longer if there is a lockout). Last summer, Crosby was asked to put a percentage on how hard he was working out, and ultimately suffered a setback in August that kept him out of game action until late November. Also, before getting hurt, Crosby had played a lot of hockey over the previous three seasons. In 2008 and 2009, the Penguins made runs to Game 6 and Game 7 of the Stanley Cup Finals respectively, and in 2010, the Penguins reached Game 7 of the Eastern Conference Semifinals. In those off-seasons, Crosby didn't have as much time to let his body rest and gear up for another season. In this off-season, Crosby is fresh enough to push himself harder than he has in years prior to get ready for 2012-13.
His Play (When Healthy) Over the Last Two Seasons
When Crosby was able to play in 2010-11 and 2011-12, his play was nothing short of extraordinary. Before Crosby suffered his first concussion in the 2010-11 season, he had a 25-game point scoring streak, and was on pace to finish the season with 64 goals, 68 assists, and 132 points. Crosby's actual stats for 2010-11 (32 goals, 34 assists, 66 points in 41 games) gave him a 1.61 points per game average, the highest since Mario Lemieux in 1995-96. In the 22 games that Crosby played in the regular season this year, he recorded 37 points (8 goals, 29 assists), which gave him a points per game average of 1.68.
His Age
As mentioned earlier, Crosby will turn 25 in two months. When Crosby's on-ice exploits were dazzling fans, teammates, and opponents alike earlier in his career, the sentiment around the NHL was that if he was able to put up the numbers he was putting up at 19, 20, and 21 years old, the though of how good his numbers would look when he entered the prime of his career was scary. Now that Crosby is entering the prime of his career, he has the ability to dwarf his previous career highs in a full 82-game season.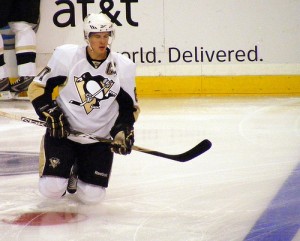 As a result of the concussions Crosby has suffered over the last two years, it's naive to think that he isn't susceptible to suffering another one, whether it would be next year, two years, or ten years from now. However, as the end of last year showed, Crosby is still the best player in the NHL. Even after missing over half of his team's games, he is the face of the NHL, and the league is in a better position with him in the on the ice than in the press box.
As bright as Crosby's first seven NHL seasons were, the future is brighter. And it starts with a career year in 2012-13.