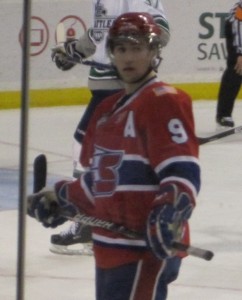 Perseverance and dedication are two words often used to describe professional, and aspiring, hockey players.  Making it to the pros is no easy feat.  Staying in the pros is even more difficult.  It is hard to find a player those words, perseverance and dedication, fit better than Tampa Bay Lightning prospect Tyler Johnson.
A culture of winning is another intangible all NHL teams strive for.  Johnson, just 21 years old, knows nothing but a winning culture.
The diminutive Johnson played his first full season for the Spokane Chiefs of the WHL at the age of 17.  He would register 13 goals and 35 points with a plus-17 rating in 69 games.  Although small in stature, his feel for the game earned him minutes in all situations.  Johnson added four power-play markers along with a short-handed tally during the regular season.  His rookie campaign was already a success, but his playoff contributions were more impressive.  Johnson scored five goals, including two short-handed, and eight points and a plus-2 rating in 21 games.  Those numbers would earn him the honor of being the WHL's Playoff MVP.  Johnson would then post a plus-2 rating in four games as Spokane captured the Memorial Cup.
The following season Johnson impressed even more.  Appearing in 62 games for Spokane, he posted 26 goals and 61 points with a plus-26 rating.  He would also don an American sweater at the IIHF World Junior Championships.  Skating in six games for the USA, Johnson recorded a goal with a minus-2 rating.  Despite his lack of size, surely his resume would garner attention at the 2009 NHL entry draft.
Any attention garnered did not manifest into hearing his name on draft weekend.  A bitter pill to swallow, but not one that Johnson wouldn't be able to get down.
His 2009-2010 season would take a similar path.  Johnson set new career highs in goals (35) and points (71) while skating in 64 games for Spokane.  He once again found himself representing the United States at the World Junior Championship, this time a touch more successful.  Johnson appeared in seven games for the Americans, scoring three goals and five points with a plus-4 rating.  He also skated away with a gold medal around his neck.  While Spokane would be eliminated in the first round of the WHL playoffs, Johnson posted three goals and eight points with a minus-1 rating in seven games.  There was no chance Johnson would be denied hearing his name on draft weekend for a second time.
Unfortunately in life, things don't always go they way we hope.  Johnson once again went undrafted despite further development.  Being passed over twice generally does not lead one down the path of professional hockey success.
With that in mind, Johnson would return to Spokane for his overage season of junior hockey.  Perhaps the 2010-2011 season would lead to bigger and better things.  Judging by the stats, that was clearly the case.  Johnson would finish the regular season with new career highs in goals (53), assists (62) and points (115).  Johnson led the supposed rebuilding Chiefs to within a point of a division title and finished second in scoring.
While amassing great numbers and leading his junior team to new heights is a great accomplishment, it would be hard to overlook March 7, 2011 for Johnson.  This would be the date his dream came true.  After twice missing out on being drafted, the Tampa Bay Lightning signed Johnson to a three-year entry level contract.
"It's always in the back of my mind wondering if I was going to get the opportunity or not," Johnson told The Spokesman-Review.  He added "the month of February for me was (tough) trying to anticipate what might happen.  Now I can focus on my own game and not worry about a contract. It's definitely a burden off my back."
Perhaps it would surprise you to know that Johnson scored 31 goals and 68 points with a plus-17 rating in 75 regular season games in his rookie season for the AHL's Norfolk Admirals.  Maybe you wouldn't expect an AHL rookie to play in all situations and post ten power-play goals and two short-handed tallies.  You may also be surprised to learn that Johnson has scored four goals and ten points with a plus-4 rating in 12 playoff games for Norfolk, who currently hold a 2-0 series lead over the Toronto Marlies in the Calder Cup Finals.  By now it most definitely should not surprise you that Johnson's team finds itself in the win column most nights.  Tyler Johnson, with no shortage or perseverance or dedication, is a winner.