They've only won one game in the Stanley Cup Finals, but the New Jersey Devils still have a pulse and will try to pull off one of the more improbable comebacks in NHL history. After winning Game 4, 3-1 in Los Angeles, spoiling the Kings championship coronation, both teams flew cross-country back to New Jersey for Saturday's Game 5.
"You know, I think we wanted to make them jump on a plane and come to New Jersey. We had to go anyway. Might as well get a game over there," goaltender Martin Brodeur would say in his postgame press conference following a 21-save performance in Game 4. "But I think it's a tough situation for us to be in.  We pulled it off, one game.  We'll take it one game at a time. But I'm sure they're not happy to make that trip. We'll try to make it miserable for them again."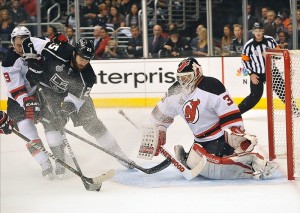 If the first two games weren't as close as they were, there'd be no doubt in my mind that the series would end in Game 5, but these Undead Devils were a flubbed shot (Mark Fayne in Game 1) and a crossbar (Ilya Kovalchuk in Game 2) away from heading to Hollywood with a 2-0 series lead rather then an 0-2 deficit.
The task is still daunting as the Kings will enter Game 5 with a perfect 10-0 road record in these Stanley Cup Playoffs, but if New Jersey wins Game 5, does a bit of doubt/pressure start to build inside these Kings' heads? Maybe, but the Devils still have a large mountain to climb, and the biggest obstacle on that mountain has been Jonathan Quick, who has been out of this world playing in the LA crease.
Adam Henrique was again a key contributor for the Devils, potting his third game-winner of the postseason, converting a brilliant cross-ice pass from David Clarkson. Those three GWGs are the most by a rookie in the NHL playoffs since 1999 (Milan Hejduk, Chris Drury). The passer, Clarkson, was elated afterwards because his phantom penalty allowed the Kings to even the game a minute after New Jersey took their first lead of the series. "That was better than scoring any goal I've ever scored. When it went off the post and in, it was the best feeling I've had of my career so far," admitted Clarkson. "I don't know if it was because I was out of the doghouse or because it went in, but it was a special feeling."
Coach Pete DeBoer made two additions to his lineup and both paid dividends: Petr Sykora (a veteran of six Finals now) replaced Jacob Josefson and played in his usual spot alongside Patrik Elias & Dainius Zubrus. Sykora played only 12 shifts, logging 12:19 of ice-time and had one shot on goal, but was on the ice when his buddy Elias scored the game's first goal.
The other addition was subbing in Henrik Tallinder on defense for Peter Harrold. Tallinder hadn't played since January 17 because of a blot clot in his leg and was very noticeable during his 29 shifts (19:21) whether it was preventing scoring chances or joining the rush as a fourth attacker. "I felt pretty good," the 6'3″ Swede said. "I was a little bit nervous to start with a lot of emotions and all that. But, as the game went on, I felt better and better and I thought I played a pretty decent game." Harrold hadn't played bad at all for New Jersey, but he's also a lot shorter (6'0") and Tallinder is a tad more experienced.
Maybe the reason the Undead Devils didn't die was Henrique's mustache, who knows at this point. Hockey players will find belief in the littlest of things and if Henrique shaving his fu-manchu down to a mustache worked for them, we might see a few more Devils looking like something out of a 1970's porn when they hit the ice on Saturday night. Ryan Carter has been using mustache power since the playoffs began and had no doubt that it also worked for Henrique, "What can you say?" Carter asked with a grin, "it got him going."
Henrique's Junior team — the Windsor Spitfires — reeled off four straight wins after losing the first three, and he believes the Devils can do the same thing. "We know we have the personnel to complete the comeback.," said the 22-year-old, who has proven to have ice-water in his veins.
Dan Rice can be reached via Twitter: @DRdiablo321 or via email: drdiablo321@yahoo.com