Matthew Murray THW Close-Up:
Date of Birth: May 25, 1994
Place of Birth: Thunder Bay, Ontario
Height: 6'4″     Weight: 159
Catches: Left
Position: Goaltender
NHL Draft Eligibility: 1st time eligible in 2012
Rankings:
NHL Central Scouting (Final):  18th (North American goaltenders)
***
* Click here for Notes Up Front for various topics covered below in the live updated NHL 2012 Entry Draft Guide – The Next Ones home page – your quintessential draft resource. 
***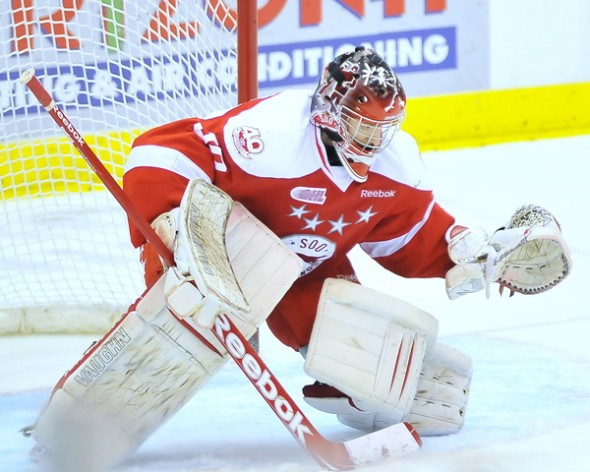 Over the years since they have been in the Ontario Hockey League, the Sault Ste. Marie Greyhounds have had significantly impressive goaltenders don their uniform.  Many of these goaltenders have graduated to appear in the NHL.  They have included the likes of John Vanbiesbrouck, Dan Cloutier, Adam Munro, Ray Emery and Robin Lehner.  In the 2012 NHL Entry Draft, another goalie can join that list.  That young man is Matthew Murray.
Murray was the second-round pick of the Greyhounds, 35th overall, in the 2010 OHL Priority Selection.  He was the second goaltender chosen in that draft; the Saginaw Spirit had chosen Jake Paterson three picks earlier.  The Greyhounds chose him out of the Thunder Bay Kings Minor Midgets and he was one of only two players from that team — Nathan Cull of the Kingston Frontenacs being the other — to join the OHL out of that minor midget organization.
Murray played his rookie OHL season in 2010-11 as the backup to veteran Chris Perugini.  He won his first OHL start on September 24, 2010, against the Ottawa 67's.  (Interestingly, his goalie coach on the Greyhounds, Seamus Kotyk, played for the 67's, winning the Memorial Cup in 1999 and an OHL championship in 2001.)  Murray also made 22 saves for his first OHL career shutout on January 29, 2011, against the Belleville Bulls.  He finished his rookie season with a record of 8-11-1-2 in 28 games, with a 3.79 goals-against average and an .887% save percentage.  As well, in 2010-11, Murray won a gold medal for Team Ontario at the World Under-17 Hockey Challenge as the backup to Daniel Altshuller.
In October 2011, the Greyhounds felt that their goaltending may have needed a boost so they made a considerable trade to acquire Jack Campbell from the Windsor Spitfires.  Having a first-round NHL draft pick as a tutor surely helped Murray in all aspects of his game but, remarkably, it was he who emerged playing more games during the regular season, especially when Campbell left for his third World Junior Championships for the United States.  In 36 games, Murray had a record of 13-19-0-1, with a 4.08 goals-against average and an .876% save percentage.  He also played at the CHL Top Prospects Game in Kelowna.
After the Greyhounds missed the playoffs for the second straight year, Murray joined Team Canada for the World Under-18 Hockey Championships in the Czech Republic.  He helped Canada win bronze, thanks mostly to a 2.72 goals-against average and a .910% save percentage. Murray also was named one of the top three players on Team Canada, joining defencemen Mathew Dumba of the Red Deer Rebels and Adam Pelech of the Erie Otters.
Murray is lauded for his NHL frame, his quickness and his mental toughness.  Conversely, he must work on rebound control and following plays.  Playing under Campbell has, according to those who have seen him most, helped make him a more confident goaltender and, in the long run, a more solid prospect.
***
Scout's Honour:
David Burstyn (McKeen's Hockey):
"Murray helped his draft stock considerably with an impressive performance at the World Under-18 Championships. He started in every game en route to a bronze medal and gave Team Canada a chance to win each contest. Murray has NHL size, standing at 6'4″ and does a great job of staying square in his net which helps him cut down angles and cover the net using his size that much more advantageously. Murray is a competitor as he doesn't stop working and battling to make saves. His biggest area of concern at this point is his lack of skating. Since his skating needs work he struggles to move across the crease especially laterally. Murray did mark considerable improvement in other facets of his game throughout the year most notably his rebound control. He played in some key games for the Greyhounds down the stretch and showed good mental resolve to shake off a bad contest and come back with solid efforts. Murray also excelled at the Top Prospects game.  Given the graduation of Jack Campbell to the pro ranks, Murray will assume a bulk of the duties next season and have plenty of opportunities to fine tune his game."
Justin Goldman (The Goalie Guild):
"When I scouted the CHL Top Prospects Game back in February, I was really impressed with Murray's performance. Most large-framed goalies around his age will struggle to control their movements against top-flight talent, but Murray appeared very comfortable and poised in the second half of the game. He made timely saves and earned the MVP award for Team Cherry. Even though his rating dropped drastically in the CSS rankings at the end of the season, I think a big reason for that was the lack of playing time behind Jack Campbell. He did struggle in some games, but I still feel like he is one of the top six or seven goalies available in this summer's draft. His drop in the rankings actually makes him somewhat of a sleeper now, which is actually better for teams that are interested in him."
Kyle Dubas (General Manager, Sault Ste. Marie Greyhounds)
"NHL frame, very strong mentally, intelligent young man, very sound technically.  Gives shooters little to shoot at."
Seamus Kotyk (Assistant Coach/Goaltending Coach, Sault Ste. Marie Greyhounds)
"Matt is a very smart and methodical kid. His intelligence and ability to understand the game has helped him during his first two years. He is very driven and focused and wants to get better. I have not seen him take a single day off or pass up a chance to better himself. For a big goalie, Matt can move around the net fairly quick. Once he fills into his frame more, he will be able to add move explosive power into his game. He is very technical in his movements as well as positioning. Like all young goalies, learning how to read plays and have better control of rebounds will be something Matt will work on and with the more game time he sees in the future the easier those things will fall into place."
***
Statistics:
Links:
International Tournaments:
2011 World Under-17 Hockey Challenge: Gold Medal, Team Ontario
2012 World Under-18 Hockey Championships: Bronze Medal, Team Canada, Top 3 Players on Team
ETA:
3-4 Years.
Risk-Reward Analysis:
Risk: 3/5   Reward: 3.5/5
NHL Potential:
Reliable backup who can find his way to a starting position.
Strengths:
* See "THW Close-Up" section above.
NHL-type build
Mental toughness
Technically sound
Battles back from adversity
Flaws/Aspects in Need of Improvement:
Rebound control
Following plays
Fantasy Hockey Potential:
Goaltender — 7/10
NHL Player Comparison:
Jonas Gustavsson
Videos:
Off the Iron (Interesting Notes):
Murray shares the exact same birthday as fellow 2012 NHL Entry Draft prospect Quentin Shore.
***
THW's The Next Ones prospect profile template design architect: Chris Ralph
***
For more stories like this, please feel free to follow me on Twitter: @MargannLaurissa.