Adjusting to life after Ryan Suter was never going to be an easy task in Nashville. It certainly wouldn't happen overnight and for the Nashville Predators it's been a trying process. Patience has been exercised in developing a means to replace Suter's minutes and play, through a depth oriented approach.
The emergence of Roman Josi from solid second-pairing defenceman to first-pairing mainstay with Shea Weber has certainly played a positive role. In the smallest scope, Josi has developed into a top-tier defenceman. When looking at his development in a broader sense, it did wonders for the patience they were able to exhibit on other, younger d-men.
With a long-term view and excellent player development, the Predators have been able to find new horses to put in their burgeoning stable of NHL ready defenders. It's been a driving force in their emergence as an offensive powerhouse and has done wonders for allowing them to play at a breakneck pace in the neutral zone. Let's take a look at how it all happened.
Setting a Foundation
Barry Trotz made the foundation. The examples can be found throughout the Preds blue line. When offensively gifted, puck-moving defenceman were presented to the defensive mastermind, Trotz worked diligently to round out their defensive game before making them full-time members of the blue line.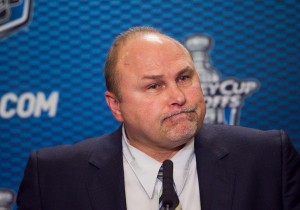 Ryan Ellis, for example, had two 30-game seasons before playing in his first full-year, last season. Seth Jones was introduced with sub-optimal deployments, but kept clear of the more difficult assignments for much of his rookie campaign last season. You can't keep a selection as high as Jones out of the lineup, but there's no need to overwhelm the prospect before he's acclimated to the NHL. Other, less heralded, young blue line studs to emerge from Nashville were given equally fair treatment.
Matthias Ekholm and Matt Barkley have been chugging along, unnoticed by most outside of Nashville. They were brought into the lineup in a similar fashion to Ellis. Small game totals for the both of them, until last season when they were introduced 50-plus game regulars. Ekholm has turned into a reliable, plus-possession defender. Bartley isn't far behind, although he's struggled to get in the black where puck-control is concerned.
I don't think I need to remind Predators fans of what an exceptional coach Trotz was. What might go unnoticed, however, was the selflessness with which he stewarded this team in his latter campaigns with the club. While many coaches, GMs, etc. will go into a series of death throw actions, aimed at increasing short-term success by mortgaging the future, Trotz had no such plans. A quick look at the remnants of a defensive corps he helped round out make this evident. When every last one of these players, with their high ceilings and puck moving ability, could have been rushed at the expense of their long-term development, Trotz resisted temptation. Imagine how difficult that was when the playoff appearances dried up…
Now Is Their Time to Shine
This young blue line has been taught the basics. Now, under the watchful eyes of Peter Laviolette, they can excel. The temperamental coach has brought with him an offensive edge that had been severely lacking for the majority of this franchises inception. Instead of aiming to clog the neutral zone up, as the previous regime did, Laviolette wants to turn it into a track-meet. There's finally a group of young forwards worth moving the puck to and that's exactly what is asked of these defencemen.
Controlled zone-entries and exits are now the norm. Where as these gifted puck-movers might be asked to eschew creativity in the name of a safe play off the boards and out, they now have that freedom to make hay in open ice. Instead of playing a dump-and-chase attack into the offensive zone, these defenceman are allowed to make plays to the sticks of racing forwards.
The tangible evidence of this style working in their favor is endless. The Preds are perched highly among the NHL leaderboard and look to make a return trip to the playoffs. They've been lucky, as evidenced by their league leading 102.6 PDO, but they're also rocking a 53% Corsi For. The torrid goal scoring might be unsustainable, but the breakneck pace and the victories seem very much so doable.