NHL 15 was a turning point in the franchise in terms of presentation as the developers at EA Vancouver locked down television broadcast rights for the first time in the game's history.
With the NBC package, including top broadcast team Mike "Doc" Emrick and Eddie Olczyk, NHL 15 boasted the most realistic presentation in the franchise's 20+ year history. Of course, it wasn't without it's problems.
Despite trying to avoid it, the commentary of Emrick, Olczyk and "between-the-boards" reporter Ray Ferraro came off as robotic and way too scripted at times. Points in the game that should've been met with excitement was instead met with the same stoic tone that fans of the series had been used to with prior play-by-play teams.
With NHL 16, a lot of the presentation work went in to making sure the commentary was more natural sounding than in years past. In order to get the type of commentary they wanted for the game, those in the audio department used a couple of different methods when it came to recording Emrick, Olczyk and Ferraro.
"One is that we reference the type of emotion that we want to hear from Doc, Eddie and Ray, and play that for them as a target," Sean Ramjagsingh, lead producer of NHL 16, said. "The other thing we do is we try and minimize the script we have them read because once they're reading a script, they're no longer doing what they do and commenting a game, they're trying to become an actor, essentially."
Ramjagsingh added that all three members of the broadcast team were really good when it came to the team giving them different on-ice scenarios, and having them record five to ten different samples of how the team envisions it playing out. It's all about making sure the game captures real emotion and performance.
"It's really getting into the right head space and getting them to delivber the right performance for us," he said.
It was confirmed that the broadcast graphics that debuted during NBC's coverage of the 2015 NHL Winter Classic will be in NHL 16. Also coming to the game are improvements to pregame scenes as well as in-game cutaways that debuted in NHL 15.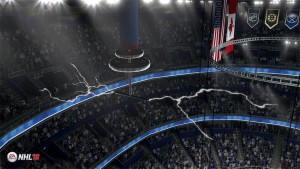 When it comes to what exactly is being touched on, it was said that the team looked at everything regarding the flyovers, cutaways and various scenes. Some were tweaked while some were flat out removed due to not being liked by the team.
"You'll see, this year, more authenticity in each environment," Ramjagsingh said. "After goals, you'll see secondary elements with each one of the arena themes going on. A lot of work was done this year both in the audio and visual aspects [of the arenas]."
Those secondary elements include things like every single official league mascot being in the crowd, reacting to various moments of the game as well as team specific rituals like the octopus in Detroit, the Tesla Coil in Tampa Bay and the cannon in Columbus. If a team uses it during the game, it's going to be in NHL 16.
One aspect that may not be complete for every team in the league is the addition of authentic goal songs. Teams like Buffalo and Vancouver won't have their songs due to failed negotiations for song rights, but more than two-thirds of the NHL will have their actual goal song in the game. The Rangers, for example, will not only have their actual song, but fans will chant a long with it and shout "Lets Go Rangers!".
When you load up NHL 16, the developers hope you will feel like you are watching an actual NBC broadcast taking place at an actual NHL arena. With the improvements added over the last year, it may be safe to assume the team is closer than ever to achieving that goal.
Michael is a former Managing Editor for The Hockey Writers. He's covered the Buffalo Sabres, along with the NHL in general, for various outlets since 2009. His work has been featured on outlets such as Yahoo, Sports Illustrated and Fox Sports.